Barbecue Fried Chicken Sliders
Recipe Source

by the Perdue Farms Culinary Team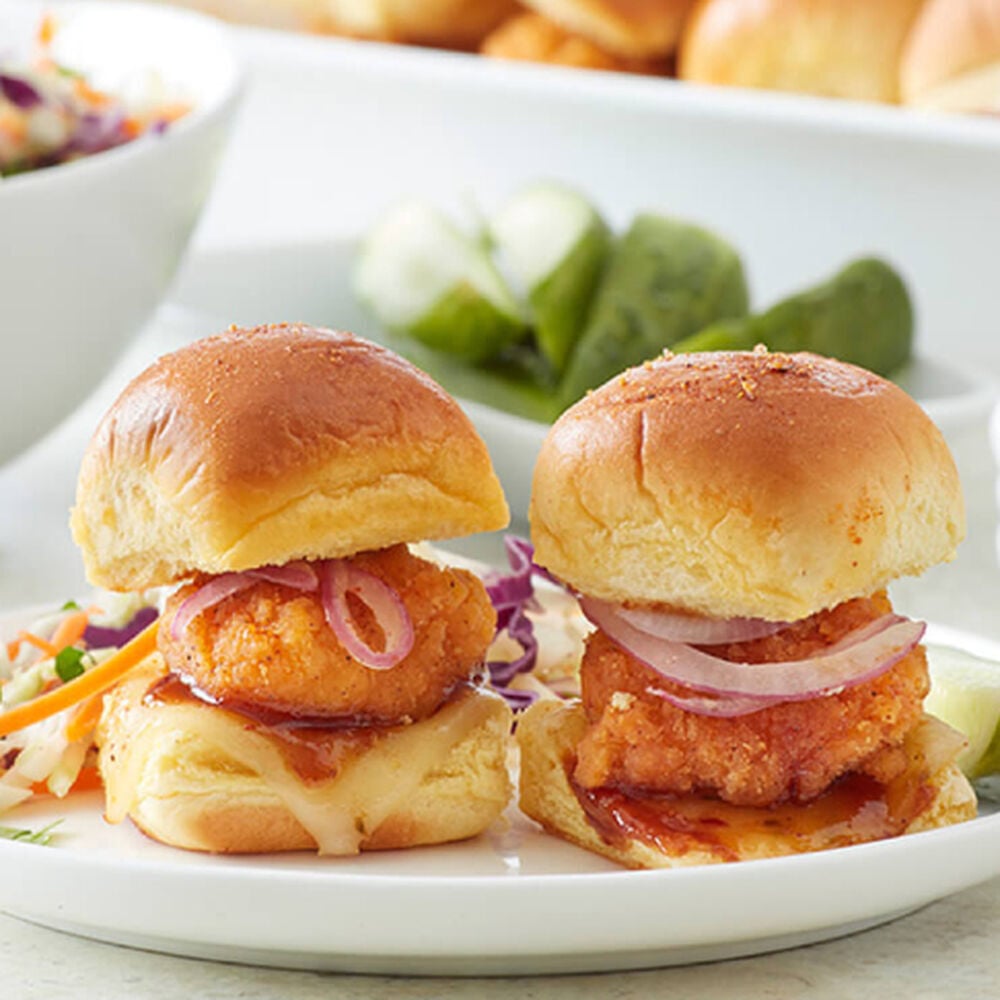 Barbecue Fried Chicken Sliders
Recipe Source

by the Perdue Farms Culinary Team
Melted pepper jack cheese and a heaping spoonful of barbecue sauce are the perfect toppings for barbecue-seasoned popcorn chicken, which is served up in a warm, buttery bun. This appetizer recipe is perfect for football parties, birthday fetes and casual gatherings, large and small.
Nutritional Information
*Percent Daily Values are based on a 2,000 calorie diet.
Ingredients
Ingredients
15 to 18 pieces Perdue Breaded Popcorn Chicken
4 to 6 slices pepper jack cheese
3 tablespoons butter, melted
2 teaspoons BBQ seasoning or rub, divided
1 package party or mini slider rolls
1/2 cup BBQ sauce
Step 1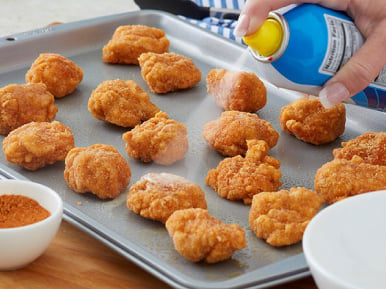 Step 1
Preheat oven to 425 F. Arrange the popcorn chicken on a foil-lined baking sheet sprayed with cooking spray. Spray the popcorn chicken with cooking spray and sprinkle with 1 teaspoon of BBQ seasoning. Bake the chicken on a middle oven rack for 14 to 16 minutes or until heated through. The internal temperature should reach 150 F to 160 F.
Step 2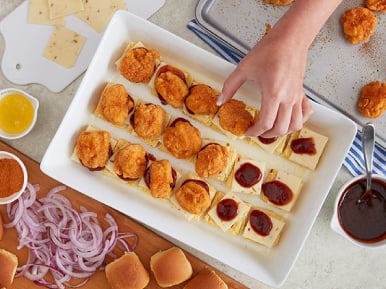 Step 2
Spray a 9-inch x 13-inch baking dish with cooking spray. Cut the rolls in half horizontally. Place the roll bottoms in the prepared baking dish. Lay the slices of pepper jack over the bottom half of the rolls. Top with the BBQ sauce. Place 1 popcorn chicken piece on each roll bottom. Cap with the roll top.
Step 3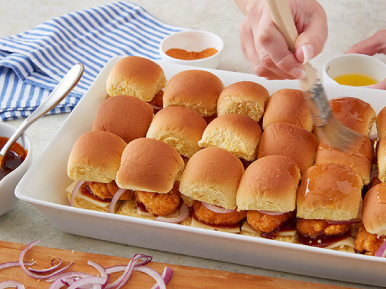 Step 3
Brush the roll tops with melted butter and sprinkle with the remaining 1 teaspoon of BBQ seasoning. Return the sliders to the oven and bake them for another 5 minutes, until the cheese is melted.
Step 4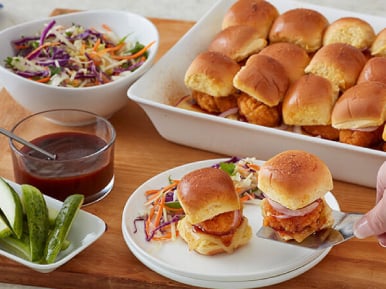 Step 4
Serve the sliders with coleslaw, pickles and extra BBQ sauce for dipping.
The Perdue Farms Culinary Team
Chef Chris Moyer, CEC, CRC, and Chef Shawn Reese, CEC, CRC, bring decades of combined culinary experience to their roles at Perdue Farms. The chefs contribute to recipe development, culinary ideation, and all culinary aspects of the company business.
MEET THE CHEFS