COOKING IDEAS
>
RECIPES
Meet the Perdue Farms Culinary Team
Chef Chris Moyer, CEC, CRC, and Chef Shawn Reese, CEC, CRC, bring decades of combined culinary experience to their roles at Perdue Farms. Day to day, the chefs contribute to recipe development, culinary ideation and all culinary aspects of the company business. "We truly love what we do," they say, "and it is exciting to be in an environment that allows us the freedom to be innovative."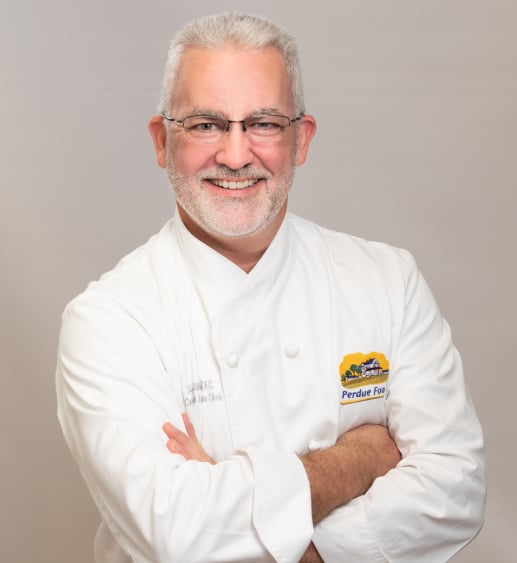 Chef Chris Moyer, CEC, CRC, Corporate Executive Chef for Perdue Farms, Inc.
Certified Executive Chef with the American Culinary Federation
Certified Research Chef with the Research Chefs Association
Year Started at Perdue Farms: 2005
Chef Chris has 31 years of professional culinary experience. After graduation from the Culinary Institute of America, he joined the Ashley Hotel group and worked at both The Inn at Perry Cabin in St. Michael's, Maryland, and Llangoed Hall, a four-star luxury hotel in the Welsh countryside. After returning to the states, Chris traveled the East Coast, securing positions as chef in restaurants from Key West, Florida, to Beaufort, North Carolina. Chris then transitioned to the foodservice equipment industry, representing such brands as Market Forge and Imperial. Before joining Perdue Farms, Chris held the position of Regional Executive Chef for Alto-Shaam, a global leader in foodservice equipment solutions.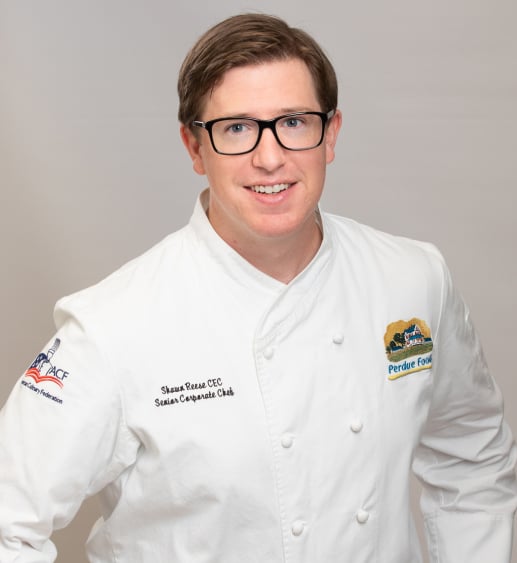 Chef Shawn Reese, CEC, CRC, Senior Corporate Chef at Perdue Farms, Inc.
Certified Executive Chef with the American Culinary Federation
Certified Research Chef with the Research Chefs Association
Year Started at Perdue Farms: 2010
Chef Shawn has 21 years of professional culinary and foodservice experience. He grew up in the restaurant industry, working his way up the ranks in professional kitchens. Although Shawn graduated with a degree in biology from James Madison University, he was drawn to a profession in culinary arts. He made the decision to further his education at the International Culinary Institute in Washington D.C. and, with a background based in science and classical cuisine, he went on to hone his skills at fine dining establishments throughout the Mid-Atlantic. By age 24, Shawn was managing large foodservice operations in the resort town of Ocean City, Maryland.

The Perdue Foods LLC Innovation Center
The Perdue Foods LLC Innovation Center, established in June 2004 and located just a few miles from Perdue's headquarters in Salisbury, Maryland, houses Perdue's research and development center for new product and packaging development, consumer sensory testing and foodservice recipe and menu development. The center is equipped with a culinary kitchen, labs, offices and space dedicated to consumer product testing and focus groups. Evaluating Perdue products against the competition and sharing those results with operations and management is key to the development process and a part of Perdue's continued launch of successful products.
Thirty-nine employees, from certified chefs to food scientists, focus on development of new chicken, beef, pork, lamb and turkey products and pet treats as well as the processes, packaging and consumer validation of products in these categories.
Ideas for new products come from many sources, including trend analysis, consumer and market research, business needs and Perdue's internal innovation process. When considering concepts, the team evaluates three important questions: consumer demand (do consumers want it?), ease of production (can Perdue make it?) and profitability (can Perdue make money from it?).
From concept to availability on store shelves, products take anywhere from 4 to 12 months to develop, depending on complexity and processing requirements (such as capital equipment). Speed to market is a priority for team members, who work tirelessly to identify new ingredient sources and sync product formulations with product claims.
According to Chairman Jim Perdue, satisfying customers is the No. 1 goal of product development. "Delivering innovation is critical to Perdue Food's growth and the Innovation Center and the functions within are ready to meet the challenge and deliver products that meet and exceed consumer expectations in a cost effective and quality way," says Parker Hall, Ph.D, Vice President of Research, Development and Innovation.
---
The Chefs' Favorite Products
---