CONNECT WITH US
Available:
Monday - Friday, 9:00am - 6:30pm ET
Closed in 2023:
Labor Day, Sept. 4
Thanksgiving Day, Nov. 23
Black Friday, Nov. 24
Christmas Day
PERDUE CONSUMER RELATIONS
P.O. BOX 788, KINGS MOUNTAIN, NC 28086
Before You Reach Out
High call volume is causing delays in our response to customer inquiries. You may find the answer to your question by taking advantage of the "Check Order" functionality, which is located on the customer login page . Please check the status of your order before you call or text our 1-800 number or send an email.
Current shipping status: NORMAL (1-3 Business Days). Once your order is shipped, you should expect tracking information via email. Shipments will be processed in the order that they are received.
Customer Concerns About Coronavirus (COVID-19)
See here to learn more about Perdue Farm's response to the pandemic
Shipping Charges
| | |
| --- | --- |
| Order Total | Standard Shipping Charge |
| $0 - $159.99 | $19.99 |
| $160+ | FREE |
Rates based on the order total AFTER all discounts have been applied.
Standard Shipping
We ship orders on Tuesday and Wednesday from our warehouse via UPS. Orders placed before 9 a.m. ET will be processed the same business day. Orders placed after 9 a.m. ET will be processed the following shipping business day (Tuesday or Wednesday).
When to Expect Your Order
Shipments take approximately five business days to reach their destination, after being processed and shipped from our facility. Although we make every effort to follow the shipping schedule provided, we cannot guarantee the delivery date. Your location, order date, and current weather conditions may affect the time it takes (up to 10 days) to process, pick, pack, and ship an order. Please rely on the link in your order confirmation email and our Check Order tool for the most accurate and up-to-date information on the status of your order.
You can rest assured that products are packed at the peak of freshness in earth-friendly packaging that features sustainable insulation and enough dry ice to keep products completely frozen in transit.
Ground (2x week shipping)
Order Date
Estimated Ship Date
Estimated Delivery (Approximate)*:
Sunday
Tuesday
Friday
Monday
Tuesday
Friday
Tuesday
Tuesday before 9 a.m. ET
Friday
Wednesday
Tuesday of following week
Friday of following week
Thursday
Tuesday of following week
Friday of following week
Friday
Tuesday of following week
Friday of following week
Saturday
Tuesday of following week
Friday of following week
*At times, Perduefarms.com orders experience delays.
Shipping Rates to Midwestern, Southwestern, and Western U.S.
The following states are required to use expedited shipping due to longer transit times. These states are not eligible for free shipping. We currently do not ship to Alaska or Puerto Rico.
| | |
| --- | --- |
| State | Shipping Charge |
| AZ | $71.30 |
| CA | $126.25 |
| CO | $56.55 |
| HI | $147.52 |
| ID | $129.08 |
| MT | $127.85 |
| ND | $71.30 |
| NE | $51.63 |
| NM | $111.87 |
| NV | $118.02 |
| OK | $39.34 |
| OR | $129.08 |
| SD | $70.07 |
| TX | $41.80 |
| UT | $120.48 |
| WA | $131.54 |
| WY | $103.27 |
Holiday 2023 Order Deadlines
For delivery on or before the holiday, orders must be placed by 9 a.m. ET on the following dates:
Labor Day: Tuesday, August 29
Holiday 2023 Schedule
Our warehouse will be closed and orders will not ship on the following days:
Labor Day: September 4
Thanksgiving: November 23-24
Christmas: December 25
New Year's Day: January 1, 2024
Shipping Special Cases
Perdue Farms products can only be delivered to residential and commercial addresses.
Our carriers (UPS and FedEx) cannot deliver packages to P.O. Boxes.
How Your Payment is Processed
Once you place an order on Perduefarms.com, we perform an authorization to ensure that your credit account is open and in good standing and has sufficient funds to cover the payment. Your bank or PayPal then places a temporary hold on the amount we specified in the authorization.
Once your order has shipped (and only then), we perform a "capture," which means we transfer the authorized sum of money from your credit account to our merchant account.
Your Shopping Experience

How to Cancel Your Order
Made a mistake? Changed your mind? No problem. If your order has not yet been processed or shipped, you may be able to cancel the order in one of two ways:
Registered User
Go to the login page and log into your account. Select the order history section on the dashboard. Find the order you wish to cancel and if your order is cancellable, a "cancel order" button will be displayed. Click the "cancel order" button and a pop up will appear so you can confirm the cancellation. Once confirmed an order cancellation popup will display with the status of the request and you will receive a confirmation email.
Guest
Go to the login page. In the Check Order tool enter the order number and the email address used when creating the order. Order history will appear with the requested order and if your order is cancellable, a "cancel order" button will be displayed. Click the "cancel order" button and a pop up will appear so you can confirm the cancellation. Once confirmed an order cancellation popup will display with the status of the request and you will receive a confirmation email.
Circumstances That May Prevent Cancellation
Orders that:
have already been cancelled
have already been shipped
include a purchased gift card that has been used
were paid for with a gift card
include purchased gift card(s) only
cannot be cancelled.
If you attempt to cancel any of these orders, you will be contacted via email if you were able to submit an order cancellation. For more information, contact Customer Service at 1-800-4-PERDUE.
Packaging
All Perdue Farms products are vacuum-sealed and frozen prior to shipment. To keep orders chilled while in transit, we place items in insulated coolers and surround them with dry ice (an amount appropriate for the temperatures in your region of the country). Coolers are then packaged inside branded boxes for an added layer of protection. In an effort to reduce greenhouse gasses and lessen our carbon footprint, we've ensured that both coolers and boxes are recyclable. Read more about our sustainability efforts here.
Our Gift to You & Mother Nature
In every box, we include a reusable and recyclable grocery bag as well as a pollinator seed packet. Why seeds? Bees and butterflies help to make one out of every three bites of food we eat. We hope that you will plant the seeds to create a robust pollinator habitat near your home! We Care
Dry Ice – Please Read
Keep Out of Reach of Children | Do Not Touch With Bare Hands
Your package will contain dry ice, which is frozen carbon dioxide. Most (if not all) of the ice should be gone when you receive your package, but if some remains, please read on.
Dry ice is extremely cold. It may cause severe frostbite if it comes in contact with bare skin. It is harmful if eaten or swallowed. If ingested or if frostbite occurs, seek medical treatment immediately. Dry ice must be handled carefully. Do not touch to skin, mouth, or eyes. Do not put in drinks. Do not eat. Do not store it in areas other than those that are open and well-ventilated. Never pick up dry ice with bare hands. Always wear hand protection: an oven mitt or heavy cloth towel will work. Do not put dry ice directly on tiles or solid surface countertop as the extreme cold of the dry ice may cause the surface to crack.
Using a towel or mitt to protect your hands, move the dry ice aside, remove the product and then put the ice back in the package it came in. Within 24 hours, the solid dry ice will convert to gas. Do not breathe the carbon dioxide gas deeply or for an extended period of time.
All Niman Ranch products should be kept frozen. Thaw in the refrigerator for up to three days before cooking.
How We Ship Pet Products
Order for pet treats only: Products, along with a free grocery tote and pollinator seed packet, will be packed in a non-insulated cardboard box.
Order for pet treats plus frozen premium proteins: Pet treats, along with a free grocery tote and pollinator seed packet, will be placed on top of proteins in an insulated box that is filled with dry ice to maintain quality of frozen products.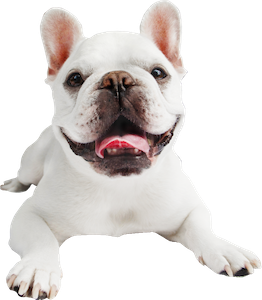 Accepting Your Delivery
You don't have to be at home! We'll leave the package at your doorstep or a place around your home that's most convenient (please indicate during checkout).
As soon as possible, bring your package inside and, if products are cool to the touch, place them in the refrigerator or freezer or consume them. Questions or problems? Call or text: 1-800-4-PERDUE (1-800-473-7383).
Shipping to Commercial Destinations: If your ship-to address is a commercial destination, please confirm that the business will be open and available to take deliveries. Include the business phone number, as drivers are often required to call businesses ahead of time to ensure that they accept packages.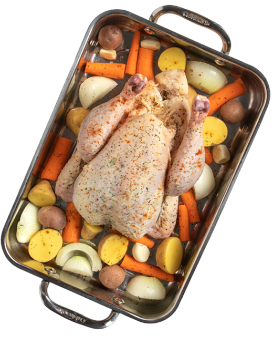 Defrosting and Cooking Instructions
See our Chicken Defrosting Guide and Beef Defrosting Guide for tips and tricks that will help you safely and effectively thaw products.
Cook all food to these minimum internal temperatures as measured with a food thermometer before removing food from the heat source.
Beef, pork, veal and lamb (steaks, chops and roasts) should be cooked to 145 F and allowed to rest for at least 3 minutes.
Ground meats should be cooked to 160 F.
All poultry (breasts, whole bird, legs, thighs, wings, ground poultry, giblets and stuffing) should be cooked to 165 F.
Source: usda.gov
For more cooking inspiration, check out our Cooking Guides and Recipe Finder .
Satisfaction Guaranteed
We freeze products at the peak of freshness, package orders in a way that maintains quality and guarantee a minimum shelf life of 30 days on all products we ship.
If for any reason, you are not happy with your order, contact us and we will be happy to replace items at no charge. Refund requests are reviewed on a case-by-case basis; customer service reserves the right to refuse a refund request or, in certain circumstances, retrieve the shipment. When retrieval is required, we will notify the carrier and schedule the pickup; the customer is responsible for ensuring that the shipment is retrieved. Refunds are issued to the original form of payment.
Please Note: You must CALL customer service to cancel your order. We will make every effort to cancel the order. However, if the carrier has already picked up the order (i.e. it has left our facilities), we cannot cancel the order.
Refund Processing:
Paypal: Almost immediately
Credit or debit card: Three to five business days
For fast customer service, call or text:
1-800-4-PERDUE(1-800-473-7383)
Available:
Monday - Friday, 9 a.m. - 6:30 p.m. ET
Closed in 2023:
Labor Day
Thanksgiving Day and Black Friday
Christmas Day
Your Account
If you wish to delete your account, please call 1-800-4-PERDUE (1-800-473-7383) to request that your account information be removed from the site.
FAQs
See here for a complete list of answers to customers' top questions.
Sales Terms & Conditions
See here for terms and conditions of sales and promotions.