Beer-Braised Pork and Vegetable Pie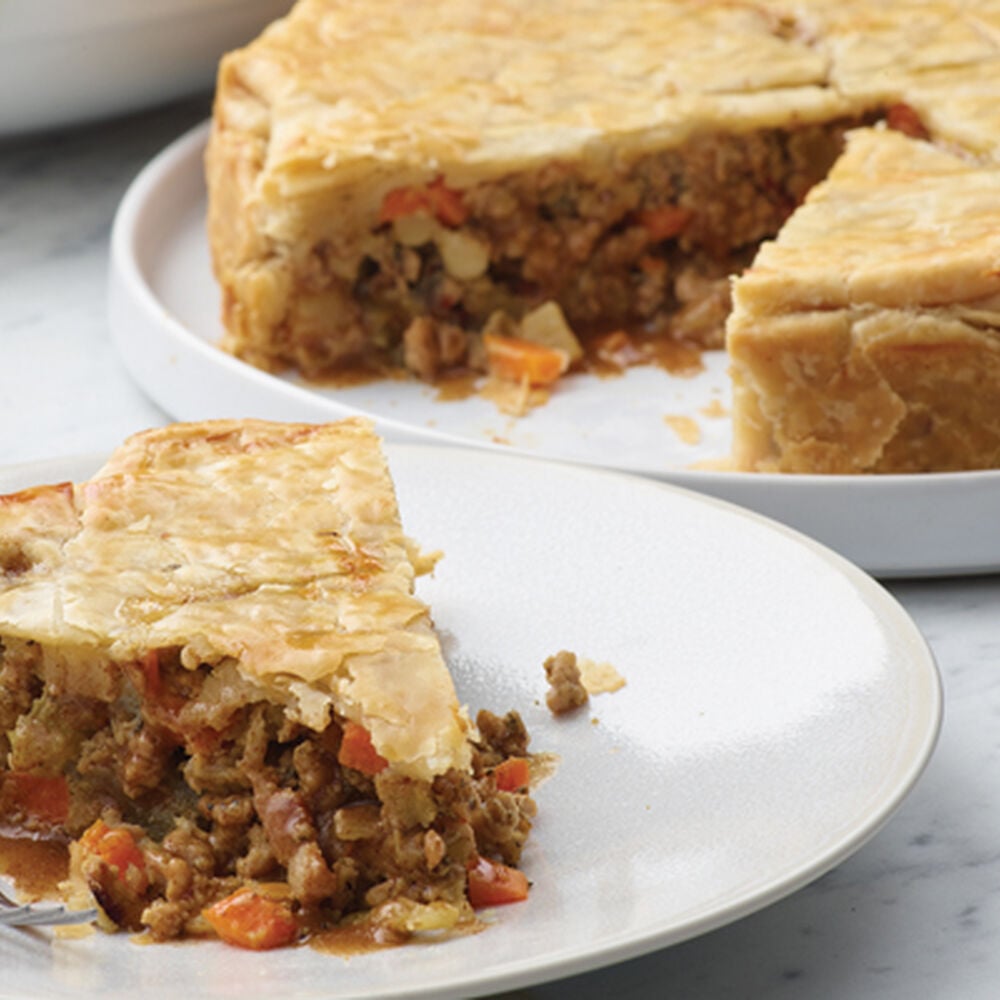 Beer-Braised Pork and Vegetable Pie
This classic pub-style meat pie is the perfect dinner for a chilly winter's day. Infused with pale ale, pie ― filled with ground pork and vegetables ― can be served warm. Leftover slices make a great lunch!
Nutritional Information
*Percent Daily Values are based on a 2,000 calorie diet.
Ingredients
Ingredients
1 pound Coleman Natural Ground Pork
4 Coleman Natural No-Sugar Applewood-Smoked Bacon slices, diced
1 onion, diced (about 2 cups)
2 stalks celery, diced
2 medium carrots, diced
1 large potato, diced
1/2 teaspoon ground sage
1 teaspoon Italian seasoning
1 teaspoon dried thyme
1 12-ounce bottle of pale ale or beer
3 tablespoons flour
1 egg
1 package refrigerated pie crust
Salt and pepper to taste
Step 1
Step 1
Preheat the oven to 350 F. In a large skillet, over medium heat, fry the diced bacon until it begins to crisp, about 5 minutes. Remove the crisped bacon and set aside.
Step 2
Step 2
Add the onions, celery, carrots, potato and salt and pepper to the remaining bacon renderings. Stir and allow the vegetables to begin to soften, about 5 to 7 minutes. Add the seasonings and ground pork. Stir and separate the pork. Continue cooking until the pork is no longer pink. Add the flour and stir. Then add ale or beer and stir. Simmer for 5 minutes until the mixture thickens. Stir in the egg. Allow the mixture to cool.
Step 3
Step 3
Meanwhile, roll out one of the prepared refrigerated pie crusts to about 10 inches. Place inside a 9-inch springform pan, making sure the crust runs up the sides of the pan, folding some of the excess dough into itself along the sides.
Step 4
Step 4
Add the cooled filling and fold over the top of the edges of the pie dough on top of the mixture. Top with the remaining pie dough crust. Fold over the edges of the crust and press the edges of the dough together to seal in the filling. Make four knife marks in the center of the dough to allow the steam from the filling to vent. Brush with an egg wash.
Step 5
Step 5
Bake for 45 minutes. Remove from the oven and allow to cool about 10 minutes before removing the springform pan and serving. This can be eaten warm or at room temperature.