Creamy Beer Brat and Peas Penne Pasta
Recipe Source

courtesy of Niman Ranch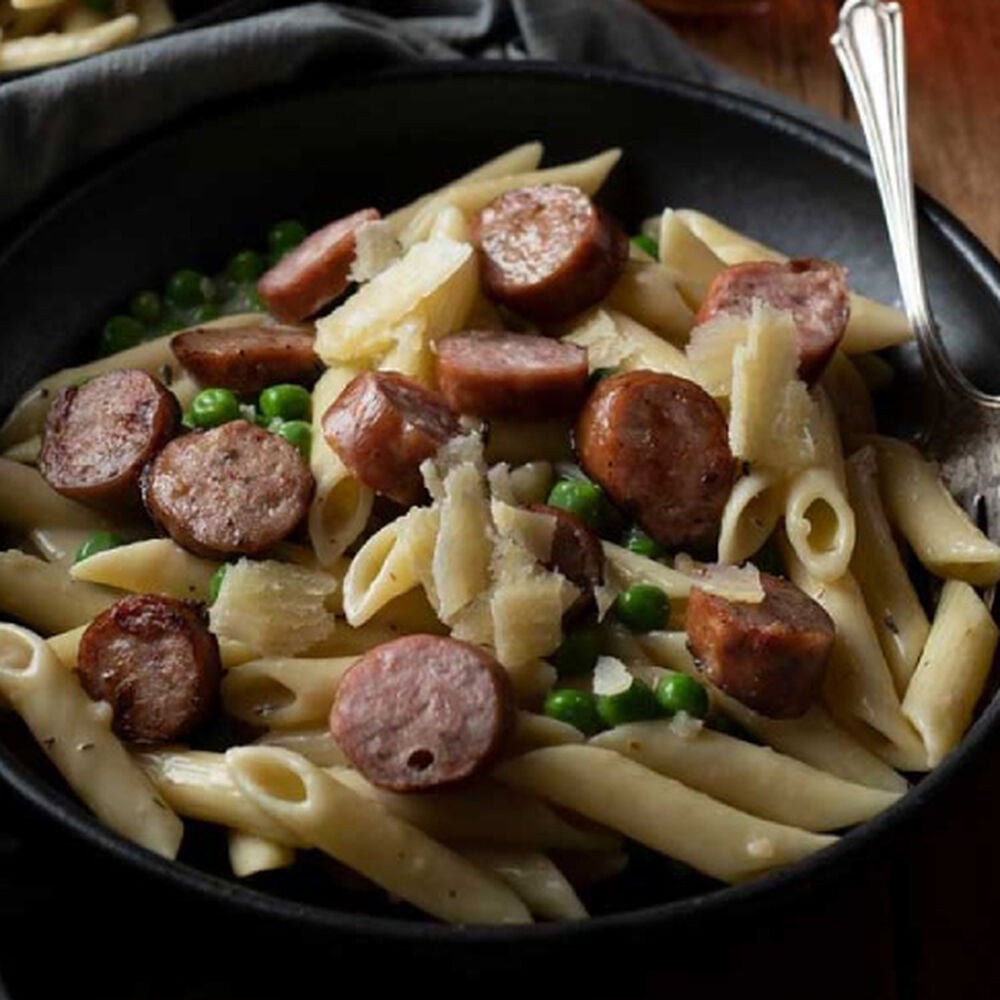 Creamy Beer Brat and Peas Penne Pasta
Recipe Source

courtesy of Niman Ranch
A quick and easy weeknight dinner, this pasta dish pairs some of our favorite flavors: the spicy goodness of bratwurst, hop bitterness and sweetness of amber ale and the rich and creamy decadence of Parmesan cheese. Peas lend a hint of color and also subtle crunch.
Nutritional Information
*Percent Daily Values are based on a 2,000 calorie diet.
Ingredients
Ingredients
4 Niman Ranch Fat Tire Beer Brats, sliced into 1/4-inch-thick rounds
1 pound of penne pasta
1 tablespoon olive oil
1 small onion, chopped
2 cloves garlic, chopped
1 12-ounce package frozen peas
2 cups heavy cream
4 tablespoons butter
Juice of one lemon
Parmesan cheese for serving
Step 1
Step 1
Bring a large pot of salted water to a boil and cook pasta according to time shown on package, or until al dente. Reserve one cup of pasta water, then drain.
Step 2
Step 2
In a large, heavy-bottomed skillet, heat olive oil and sauté onion until translucent and tender but not browned. Add garlic and sauté for one minute, making sure it doesn't brown.
Step 3
Step 3
Add peas and sausage to pan, then add butter and cream and allow mixture to simmer for 5 minutes, adding pasta water a little at a time if sauce is too thick.
Step 4
Step 4
Add cooked pasta to skillet and toss to mix thoroughly. Divide pasta into four serving bowls. Top with Parmesan cheese and serve immediately.