Grandma's Secret Buttermilk Fried Chicken
Recipe Source

by the Perdue Farms Culinary Team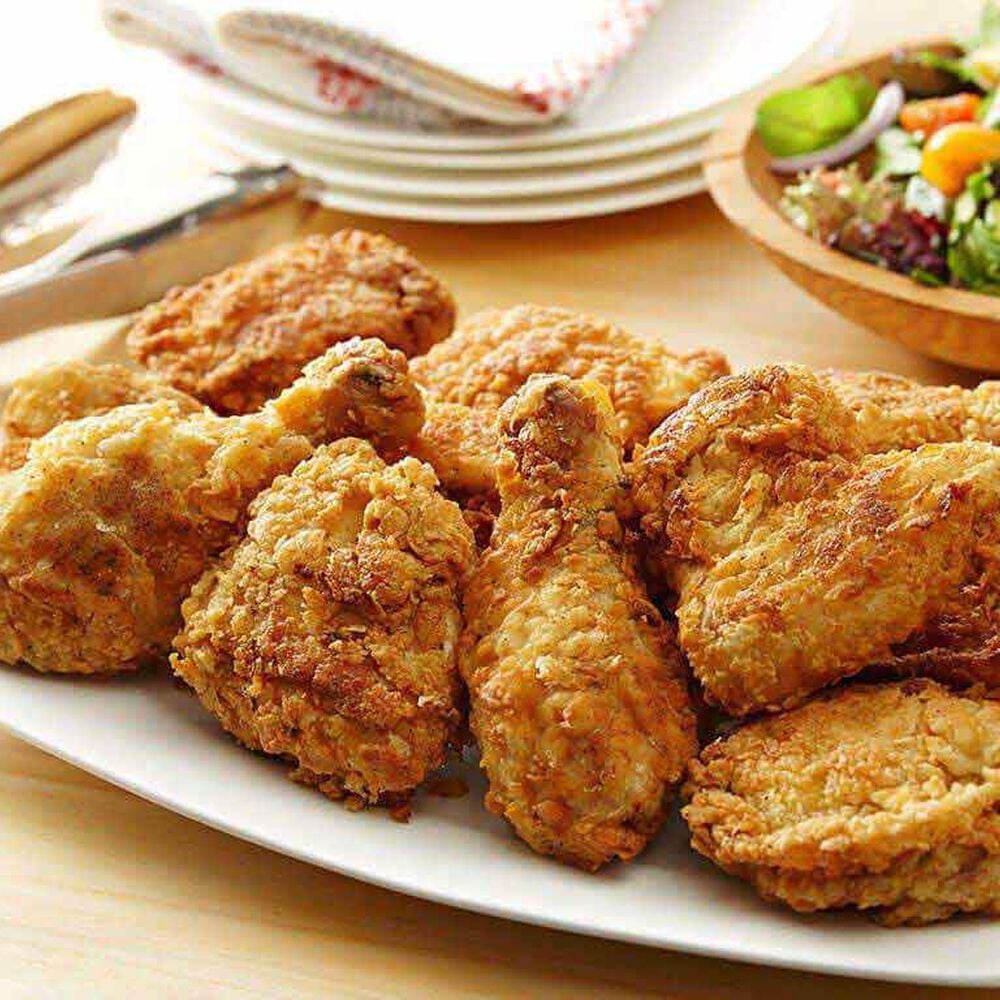 Grandma's Secret Buttermilk Fried Chicken
Recipe Source

by the Perdue Farms Culinary Team
We think this may be the best buttermilk fried chicken recipe around! A Southern comfort food classic, this recipe calls for whole chicken, which is cut into pieces and dunked in a traditional batter and deep-fried on the stove top. Delicious both piping hot and served chilled.
Nutritional Information
*Percent Daily Values are based on a 2,000 calorie diet.
Ingredients
Ingredients
1 Perdue Harvestland Organic Whole Chicken
1 teaspoon black pepper
2 cups buttermilk
3 cups all-purpose flour
1 tablespoon baking powder
1 tablespoon salt
2 teaspoons garlic powder
Vegetable oil for frying
Approx. 4-lb. plump, tender and juicy organic whole chicken
Step 1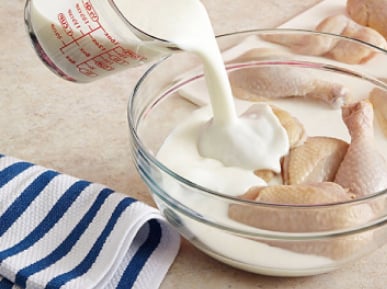 Step 1
Cut whole chicken into 8 pieces. In a large bowl or resealable plastic bag, add chicken and buttermilk. Refrigerate 1 hour or up to overnight.
Step 2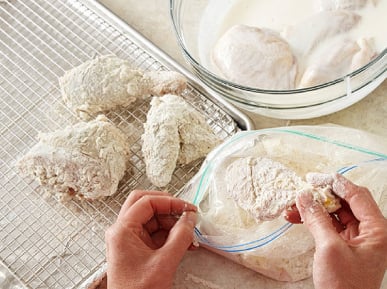 Step 2
In another resealable plastic bag, combine flour, baking powder, salt, garlic powder and black pepper. Shake to mix well. Move one piece of chicken at a time from marinade into flour mixture. Shake well to coat completely. Place on rack and continue with remaining chicken.
Step 3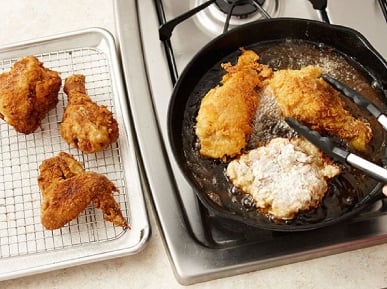 Step 3
Heat 1 inch vegetable oil in large deep skillet over medium-high heat until deep-fry thermometer registers between 350 F and 375 F. Fry chicken, a few pieces at a time, so oil doesn't cool down. Turn chicken to brown evenly and remove when golden and cooked through. Wings should take 10 to 15 minutes, drumsticks 15 to 20 minutes, breasts and thighs 20 to 25 minutes. Chicken is done when meat thermometer inserted in center reaches 170 F. Drain on wire rack to keep chicken crispy.

TIP: Don't have a deep-fry thermometer? You can tell when oil is hot enough with a wooden spoon. Stick spoon into oil so that handle touches bottom of pot. Oil will bubble around handle when it's hot enough for frying
Step 4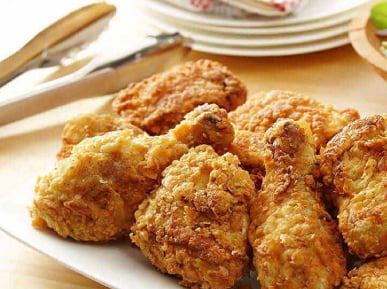 Step 4
Serve hot. Or cool chicken to room temperature. Place it in a sealed container and refrigerate to enjoy the next day.
The Perdue Farms Culinary Team
Chef Chris Moyer, CEC, CRC, and Chef Shawn Reese, CEC, CRC, bring decades of combined culinary experience to their roles at Perdue Farms. The chefs contribute to recipe development, culinary ideation, and all culinary aspects of the company business.
MEET THE CHEFS