Roasted Pork Meatballs with Chimichurri and Butternut Squash Puree
Recipe Source

by the Perdue Farms Culinary Team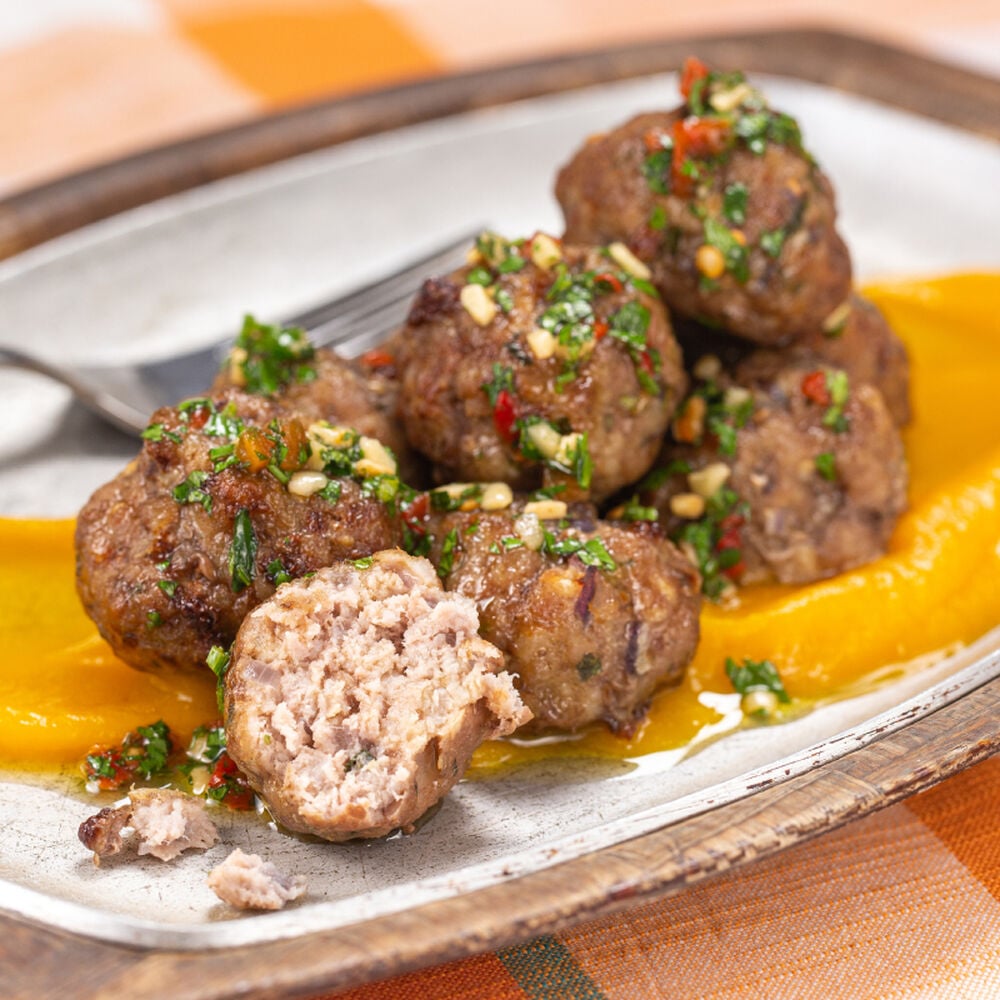 Roasted Pork Meatballs with Chimichurri and Butternut Squash Puree
Recipe Source

by the Perdue Farms Culinary Team
This recipe for ground pork meatballs is as appropriate for an elegant sit-down dinner as it is for a big football party! Butternut squash puree offers a nod to fall and chimichurri sauce lends a delicious South American twist!
Nutritional Information
4 Servings Per Recipe
Total Carbohydrate: 54.7g
18%
*Percent Daily Values are based on a 2,000 calorie diet.
The link to Roasted Pork Meatballs with Chimichurri and Butternut Squash Puree has been copied
Ingredients
Ingredients
1 pound Coleman Natural Ground Pork
1/4 cup minced yellow onion
3 1/2 teaspoons minced garlic
1 teaspoon minced ginger
2 eggs, whisked
1/2 cup unseasoned bread crumbs
2 teaspoons Worcestershire sauce
3 tablespoons chopped oregano
2 teaspoons chopped thyme
3 teaspoons kosher salt
1 1/2 teaspoons black pepper
3/4 teaspoon red pepper flakes
3/4 cup grated parmesan
1 butternut squash, halved and seeded
2 teaspoons lemon juice
1/2 cup flat leaf parsley, finely chopped
2 tablespoons extra virgin olive oil
1 tablespoon red wine vinegar
Step 1
Step 1
Mix pork, onion, 2 teaspoons minced garlic, minced ginger, eggs, bread crumbs, Worcestershire sauce, 1 tablespoon oregano, 1 teaspoon thyme, 1 1/2 teaspoons salt, 1 teaspoon black pepper, 1/2 teaspoon red pepper flakes and 1/4 cup parmesan cheese in a medium-sized bowl until well blended. Shape into 1-ounce meatballs, and place on a greased sheet pan. Cook in a preheated 425 F oven until meatballs reach an internal temperature of 155 F (approximately 15 minutes).
Step 2
Step 2
To make butternut puree, lightly brush the inside and outside of the squash halves with oil; season the inside with salt and pepper. Lay squash upside down on a greased sheet pan, and roast at 425 F for 35 to 45 minutes, or until a sharp knife passes through them easily. Once cooked, let squash cool for 10 minutes. Scoop squash from the skins, and discard/compost the skins. Puree squash in a food processor or blender with 1/2 cup parmesan cheese, 1/2 teaspoon black pepper, 1 teaspoon thyme and lemon juice.
Step 3
Step 3
To make chimichurri sauce, combine parsley, 2 tablespoons oregano and 1 1/2 teaspoons minced garlic in a small mixing bowl. Stir in olive oil, vinegar, 1/2 teaspoon salt and 1/4 teaspoon red pepper flakes.
Step 4
Step 4
To plate, create a bed of puree, place 5 or 6 meatballs on top and drizzle with sauce.
The Perdue Farms Culinary Team
Chef Chris Moyer, CEC, CRC, and Chef Shawn Reese, CEC, CRC, bring decades of combined culinary experience to their roles at Perdue Farms. The chefs contribute to recipe development, culinary ideation, and all culinary aspects of the company business.
MEET THE CHEFS