Greek Lamb-Stuffed Eggplant
Recipe Source

courtesy of Niman Ranch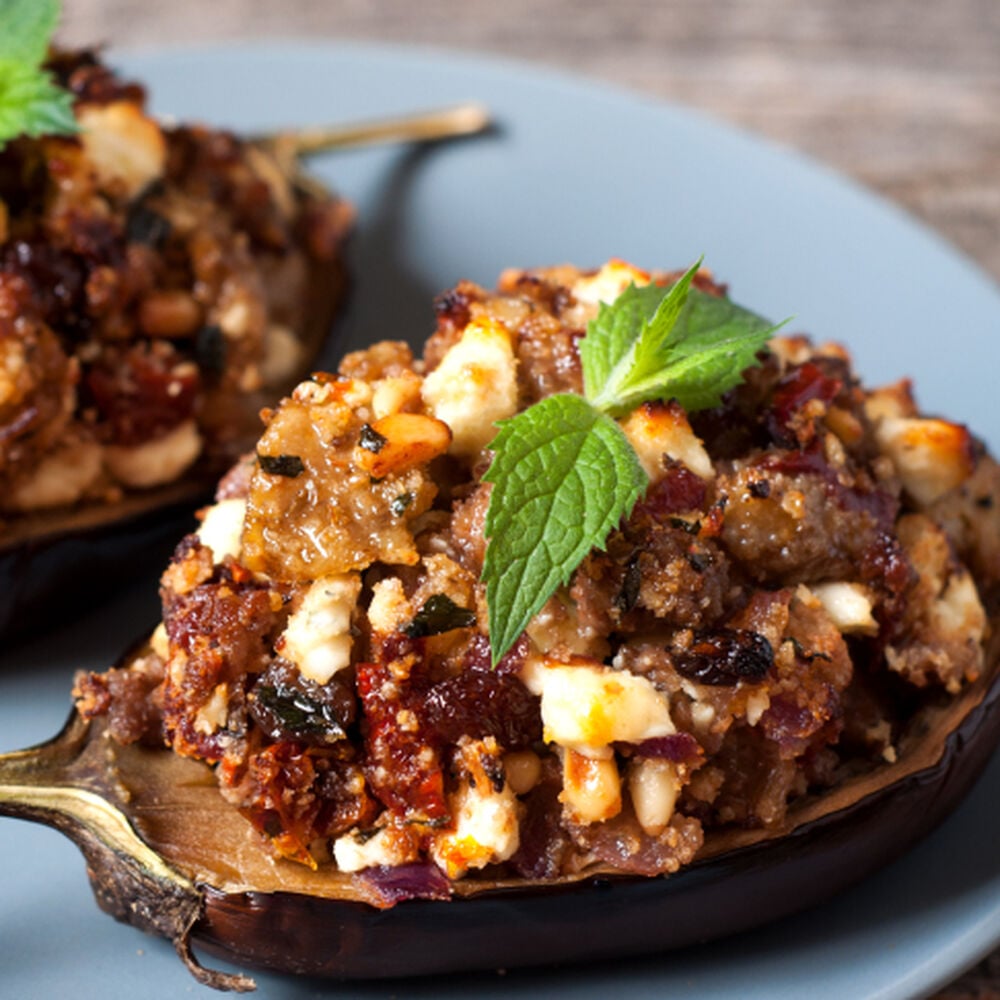 Greek Lamb-Stuffed Eggplant
Recipe Source

courtesy of Niman Ranch
Sun-dried tomatoes, feta, ground lamb and a host of Mediterranean spices lend complexity to this classic stuffed eggplant dish. While still piping hot and right before you serve, be sure to drizzle eggplants with a touch of extra virgin olive.
Nutritional Information
4 Servings Per Recipe
Total Carbohydrate: 40g
15%
*Percent Daily Values are based on a 2,000 calorie diet.
Ingredients
Ingredients
1 pound Niman Ranch Ground Lamb
2 medium eggplants or 3 smaller eggplants
1/2 cup chopped onion
2 cloves garlic, minced
1/3 cup sun-dried tomatoes, chopped
1/4 cup pine nuts, toasted
1/4 cup raisins, rehydrated in hot water
1 tablespoon fresh oregano, minced
1 tablespoon fresh mint, minced
1 teaspoon ground cumin
1/2 cup coarse breadcrumbs
8 ounces feta cheese, crumbled
Extra virgin olive oil
Salt and pepper
Step 1
Step 1
Preheat the oven to 375 F and line a baking sheet with a silicone baking mat or parchment paper.
Step 2
Step 2
Split the eggplants lengthwise and use a pairing knife to scoop out most of the flesh, leaving about 1/2 inch of flesh to form a shell.
Step 3
Step 3
Place the shells on a foil-lined baking sheet, brush with olive oil and cook until soft, about 15 minutes. Remove from the oven and set aside. While the shells are cooking, chop the eggplant and set aside.
Step 4
Step 4
Heat a large skillet over medium high heat, add the ground lamb and cook until browned. Remove the lamb with a slotted spoon to a large bowl. Drain excess fat, reserving about 1 to 2 tablespoons in the skillet. Add the onion to the skillet and cook until softened, about 3 minutes, then add the eggplant and garlic and cook until the eggplant is soft, about 3 more minutes.
Step 5
Step 5
Pour the vegetables into the bowl with the lamb and add the sun-dried tomatoes, pine nuts, raisins, oregano, mint, cumin, breadcrumbs and feta cheese. Toss gently to combine all of the ingredients. Season with salt and pepper to taste.
Step 6
Step 6
Press the filling into the eggplant shells and return the baking sheet to the oven. Cook for 20 minutes. Drizzle with high-quality extra virgin olive oil before serving.