Greek Lemon Spatchcock Chicken
Recipe Source

by the Perdue Farms Culinary Team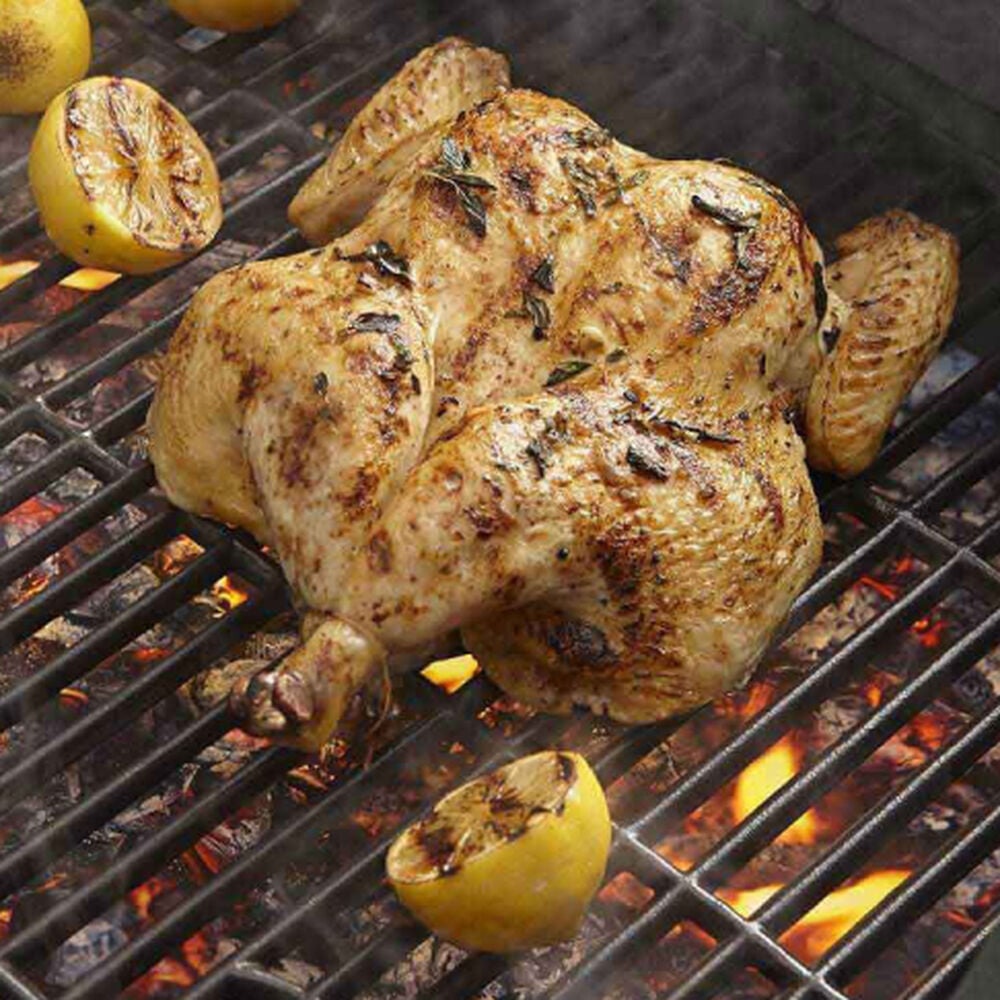 Greek Lemon Spatchcock Chicken
Recipe Source

by the Perdue Farms Culinary Team
This flavor-infused chicken, marinated in a mixture of lemon, olive oil, garlic and herbs, is butterflied and grilled until crisp and juicy. Pair with a spinach salad and orzo for a nourishing meal.
Nutritional Information
*Percent Daily Values are based on a 2,000 calorie diet.
Ingredients
Ingredients
1 Perdue Harvestland Organic Whole Chicken
4 tablespoons olive oil
3 tablespoons fresh oregano leaves
1 tablespoon chopped garlic
3 lemons
1/4 teaspoon salt
1/8 teaspoon black pepper
Approx. 4-lb. plump, tender and juicy organic whole chicken
Step 1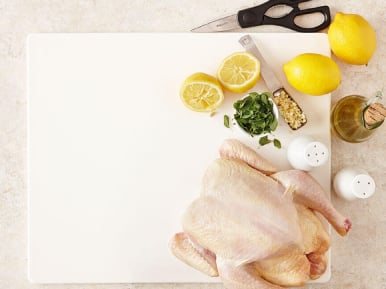 Step 1
To butterfly a chicken, place it breast-side down on a cutting board. Use kitchen shears to cut straight up both sides of the backbone from the cavity to the neck. Remove the backbone and save for chicken stock.

Open the chicken like a book and flip it over so it's breast-side up. Press down firmly on the breasts until you hear a pop. Tie the feet together with butcher twine to make the chicken easier to turn on the grill.
Step 2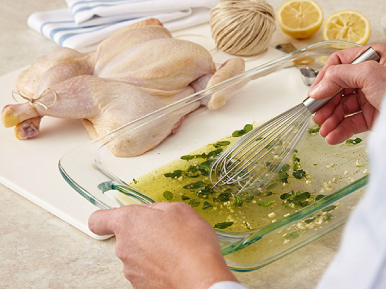 Step 2
In a glass baking dish, whisk together the olive oil, oregano and garlic, plus the zest and juice of 1 lemon. Add the chicken and turn to coat. Cover and let marinate in the refrigerator for 2 to 8 hours.
Step 3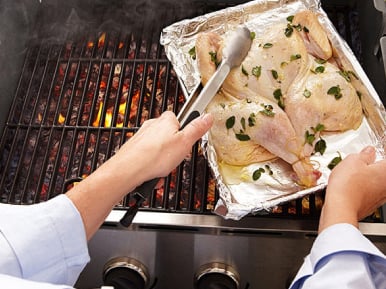 Step 3
Heat a lightly greased grill or grill pan to medium heat.

Remove the chicken from the marinade, letting the excess drip away and pat dry. Season both sides with salt and pepper. Place the chicken on the grill, bone side down, on the indirect heat area of grill. Monitor temperature of chicken with a meat thermometer, and when chicken is 80 percent cooked through, turn the direct-heat section of the grill to high. When grill thermometer registers 500 to 545 F, move chicken from the indirect to the direct heat area of the grill, placed skin side down. Let cook 1 to 1 1/2 minutes to create grill marks. Check doneness with a meat thermometer. To cook longer, move chicken back to the indirect heat area of the grill. If skin is overbrowning, flip chicken to the bone side and continue cooking. Remove from grill.
Step 4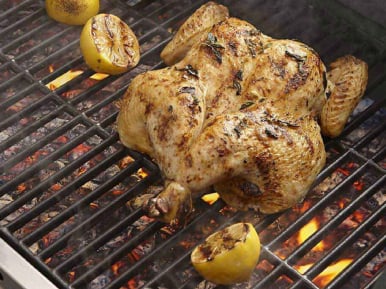 Step 4
While the chicken is resting, cut the remaining 2 lemons in half and place on the hot grill. Grill for 2 to 3 minutes until the lemons have softened and have grill marks. Cut the chicken into 8 pieces and place on a serving platter. Garnish with grilled lemons on the side. Squeeze grilled lemon juice over the chicken as desired.
The Perdue Farms Culinary Team
Chef Chris Moyer, CEC, CRC, and Chef Shawn Reese, CEC, CRC, bring decades of combined culinary experience to their roles at Perdue Farms. The chefs contribute to recipe development, culinary ideation, and all culinary aspects of the company business.
MEET THE CHEFS