Grilled Chicken and Veggie Pesto Couscous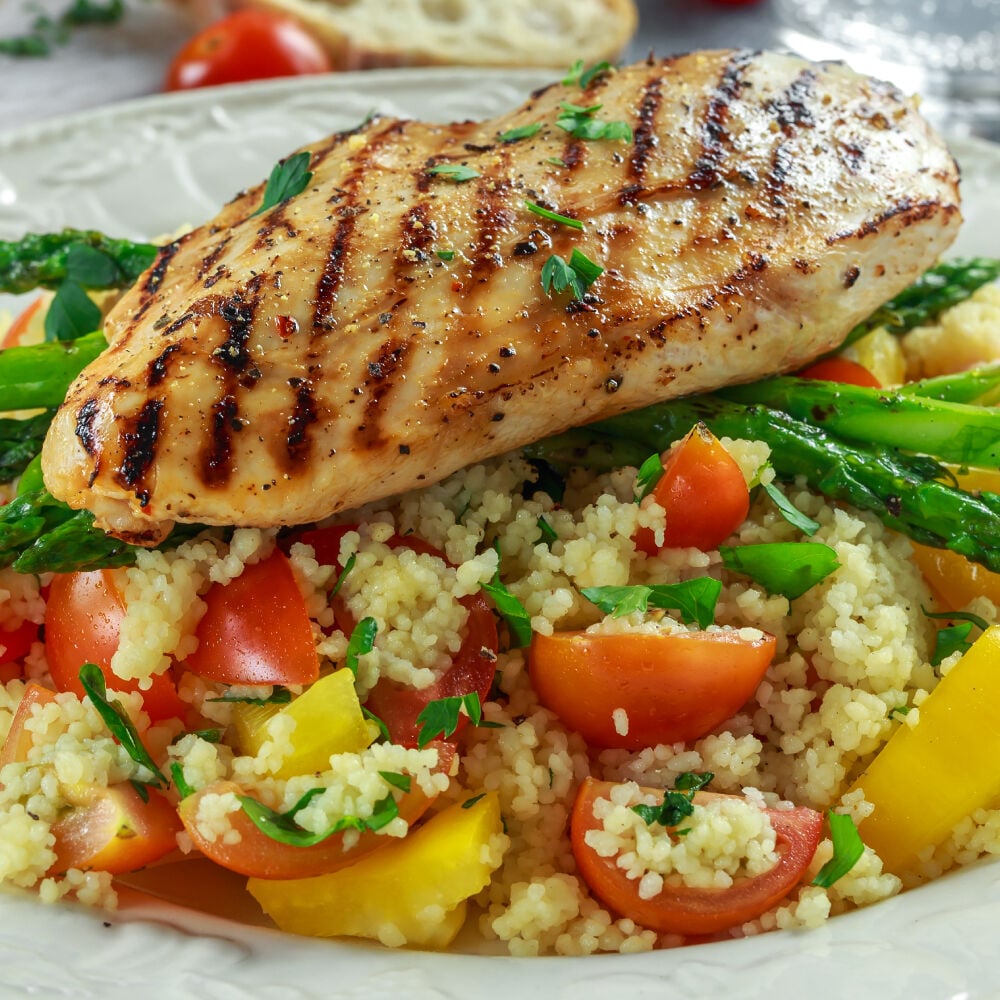 Grilled Chicken and Veggie Pesto Couscous
This summer dinner idea makes use of fresh basil and vegetables you may have growing in your garden. A homemade pesto, which flavors the vegetable and couscous mix, can also be drizzled atop grilled chicken and salad immediately before serving.
Nutritional Information
4 Servings Per Recipe
Total Carbohydrate: 60.0g
*Percent Daily Values are based on a 2,000 calorie diet.
Ingredients
Ingredients
4 Perdue Harvestland Boneless Skinless Chicken Breasts
2 cups basil
1/4 cup pine nuts, toasted
1/3 cup Parmesan cheese, grated
2 tablespoons lemon juice
1 teaspoon lemon zest
2 cloves garlic, minced
1/4 teaspoon salt
1/4 teaspoon freshly ground pepper
1/3 cup extra virgin olive oil
1 tablespoon olive oil
1/4 cup balsamic vinegar
1/2 teaspoon salt
1/2 teaspoon freshly ground pepper
1 red pepper, quartered and seeded
1 zucchini, sliced lengthwise
1 white onion, sliced into rings
1 cup dry Israeli couscous, cooked
Approx. 3-lb. pack of tender, juicy organic chicken breasts ― portioned into three 1-lb. pouches
Approx. 3-lb. pack of succulent and juicy chicken breasts ― portioned in three 1-lb. pouches
Step 1
Step 1
For pesto: Place the basil, pine nuts, cheese, lemon juice, lemon zest, garlic, salt and pepper in a food processor; pulse until finely chopped. With the motor running, slowly add the oil until well combined.
Step 2
Step 2
Preheat the grill to medium-high; lightly coat the grate with cooking oil. Whisk the olive oil with the vinegar, garlic, salt and pepper. Toss some of the mixture with the red pepper, zucchini and onion. Brush the remaining mixture all over the chicken.
Step 3
Step 3
Grill the chicken and vegetables, turning as needed, for 10 to 15 minutes or until cooked through and well-marked. Cool completely. Thinly slice the chicken and chop the vegetables.
Step 4
Step 4
Toss the couscous with the chopped vegetables and 1/3 cup pesto. Divide evenly between 4 plates and top with sliced chicken. Drizzle each salad with 1 tablespoon additional pesto. Leftover pesto can be stored in a tightly covered container for up to 5 days.
The Perdue Farms Culinary Team
Chef Chris Moyer, CEC, CRC, and Chef Shawn Reese, CEC, CRC, bring decades of combined culinary experience to their roles at Perdue Farms. The chefs contribute to recipe development, culinary ideation, and all culinary aspects of the company business.
MEET THE CHEFS