Grilled Jerk Chicken Wings with Mango Sauce
Recipe Source

by the Perdue Farms Culinary Team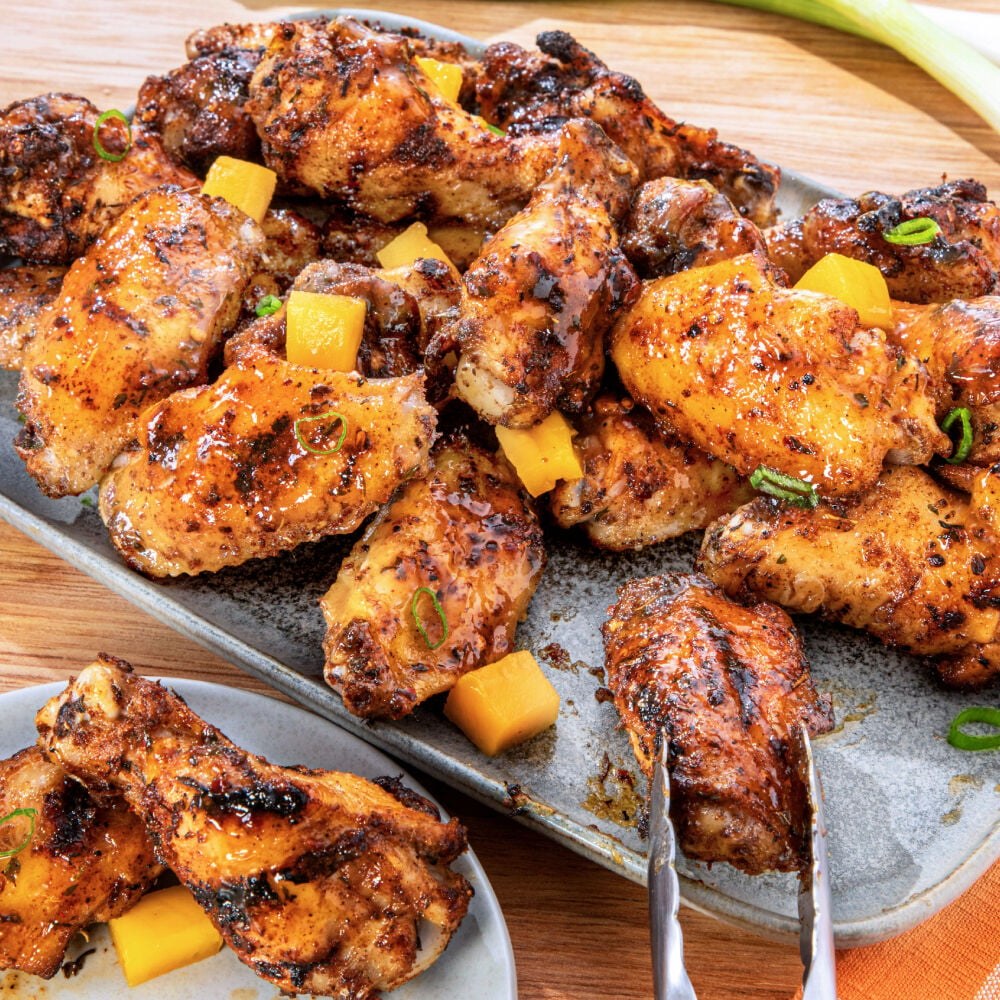 Grilled Jerk Chicken Wings with Mango Sauce
Recipe Source

by the Perdue Farms Culinary Team
An island classic is updated with citrus and mango flavors! Wings are marinated then grilled and tossed in sauce before serving. Yum!
Nutritional Information
Serving Size 4
Total Carbohydrate: 33g
11%
*Percent Daily Values are based on a 2,000 calorie diet.
Ingredients
Ingredients
2 pounds chicken wing sections
2 tablespoons Jerk dry rub
1 ripe mango
1 lime, juiced
1 tablespoon soy sauce
1 tablespoon rice wine vinegar
1 tablespoon honey
1 tablespoon brown sugar
1 clove garlic
1 teaspoon salt
1 teaspoon paprika
Approx. 3-lb. pack of juicy chicken wings ― portioned in three 1-lb. pouches
Approx. 3-lb. pack of tender, juicy organic wing segments ― portioned into three 1-lb. pouches
Step 1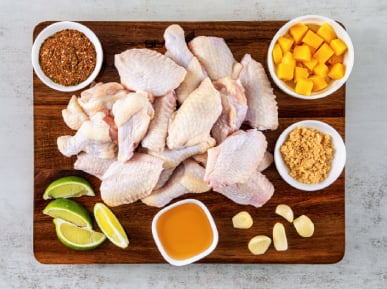 Step 1
Preheat grill to medium-high heat (about 400 F). Lightly oil grill grates to prevent wings from sticking. Using pre-made jerk rub, thoroughly coat wings and let sit in the refrigerator for one hour.
Step 2
Step 2
While wings are marinating, begin sauce. Combine ingredients three through 11 in a blender. Place mixture in a saucepan over medium heat. Cook until sauce thickens; remove from stovetop and allow to cool.
Step 3
Step 3
Place wings on grill and cook for 12 to 15 minutes, turning occasionally, or until wings reach an internal temperature of 180 to 185 F.
Step 4
Step 4
Remove wings from grill and allow to cool. Toss in sauce, garnish with cilantro and serve.
The Perdue Farms Culinary Team
Chef Chris Moyer, CEC, CRC, and Chef Shawn Reese, CEC, CRC, bring decades of combined culinary experience to their roles at Perdue Farms. The chefs contribute to recipe development, culinary ideation, and all culinary aspects of the company business.
MEET THE CHEFS