Moroccan Chicken With Tabouli Salad
Recipe Source

by the Perdue Farms Culinary Team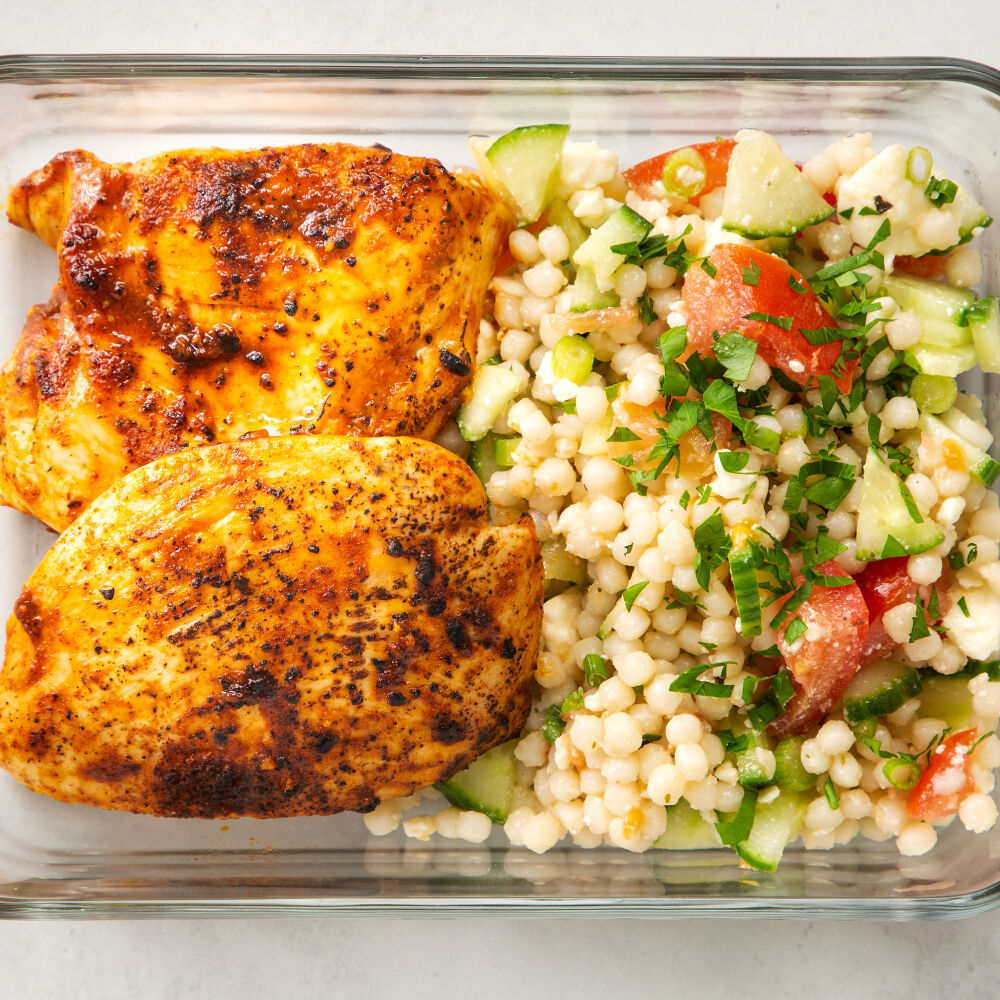 Moroccan Chicken With Tabouli Salad
Recipe Source

by the Perdue Farms Culinary Team
The perfect blend of spices and flavor, this chicken dish cooks up quickly and plates elegantly! The refreshing tabouli salad can be served as a side or saved for a lunchtime main course.
Nutritional Information
6 Servings Per Recipe
Total Carbohydrate: 27.4g
9%
*Percent Daily Values are based on a 2,000 calorie diet.
Ingredients
Ingredients
6 Perdue Boneless Skinless Chicken Breasts
1 cup pearl couscous
1 English cucumber, small diced
1/4 cup low-fat feta cheese
1 large tomato, small diced
1 small bunch green onions, chopped
3 tablespoons flat leaf parsley, chopped
2 tablespoons mint, chopped
3 cloves garlic, minced
4 lemons, juiced (zest from 2)
1/3 cup extra virgin olive oil (plus 1 tablespoon for chicken marinade)
2 teaspoons honey
1 tablespoon Dijon mustard (plus 1 tablespoon for chicken marinade)
2 tablespoons ras el hanout (plus 1 tablespoon for chicken marinade)
Salt to taste
Approx. 3-lb. pack of tender, juicy organic chicken breasts ― portioned into three 1-lb. pouches
Approx. 3-lb. pack of succulent and juicy chicken breasts ― portioned in three 1-lb. pouches
Step 1
Step 1
In a small sauce pot, bring 2 quarts of water to a boil. Add couscous and cook approximately 7 to 9 minutes or until couscous is al dente. Once cooked, strain, spread out onto a sheet pan and cool in refrigerator.
Step 2
Step 2
Preheat oven to 400 F. In a small mixing bowl, add 1 tablespoon each of olive oil, Dijon mustard and ras el hanout. Mix together and thoroughly coat chicken breasts.
Step 3
Step 3
In a large mixing bowl, add lemon juice, zest, garlic, Dijon mustard, ras el hanout and honey. Whisk 1/3 cup of extra virgin olive oil into the bowl slowly, so dressing emulsifies.
Step 4
Step 4
Place marinated chicken breasts into oven. Cook for approximately 25 minutes, or until a digital meat thermometer, when inserted in thickest part of chicken, measures 165 F.
Step 5
Step 5
Add couscous and remaining vegetables/herbs to the mixing bowl, and fold into dressing. Top with feta, and serve with chicken.
The Perdue Farms Culinary Team
Chef Chris Moyer, CEC, CRC, and Chef Shawn Reese, CEC, CRC, bring decades of combined culinary experience to their roles at Perdue Farms. The chefs contribute to recipe development, culinary ideation, and all culinary aspects of the company business.
MEET THE CHEFS