Smoked Gouda and Sausage-Infused Mac and Cheese
Recipe Source

courtesy of Niman Ranch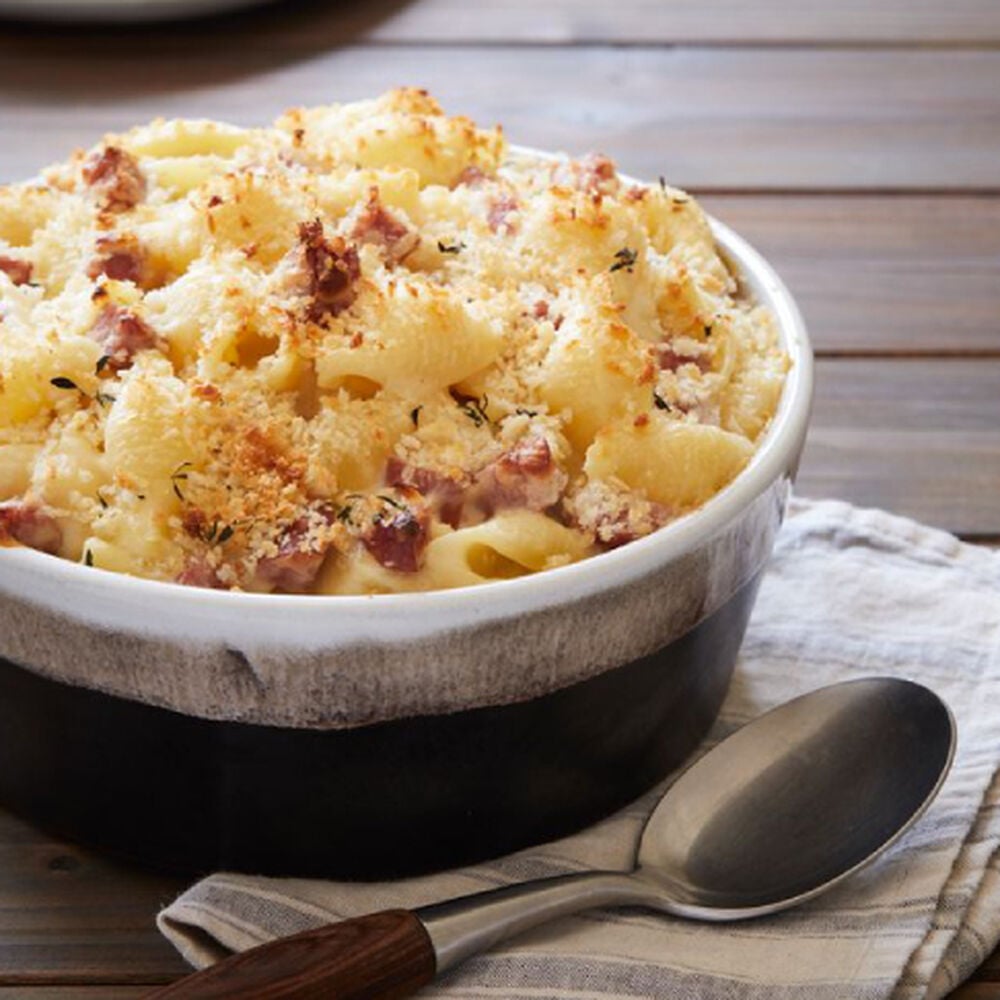 Smoked Gouda and Sausage-Infused Mac and Cheese
Recipe Source

courtesy of Niman Ranch
We think this may just be the best macaroni and cheese recipe on the planet! Why, you ask? Because we take the traditional baked macaroni and cheese recipe and infuse it with Niman Ranch's tender and juicy apple and gouda sausage, plus an extra serving of smoked gouda cheese. To cut the richness of the cheese, accompany this comfort-food dish with a glass of Cabernet.
Nutritional Information
24 Servings Per Recipe
Total Carbohydrate: 21g
8%
*Percent Daily Values are based on a 2,000 calorie diet.
Ingredients
Ingredients
4 links Niman Ranch Apple Gouda Sausage, cut into 1/2-inch pieces
1 box (1 pound) shell pasta
6 tablespoons unsalted butter
6 tablespoons all-purpose flour
4 cups whole milk, warmed
2 1/2 teaspoons kosher salt
2 cups (7 ounces) shredded smoked gouda cheese
2 1/2 cups (11 ounces) shredded Monterey Jack cheese
1/8 teaspoon cayenne pepper
1/4 teaspoon black pepper
1 cup Panko breadcrumbs
3 tablespoons olive oil
1 teaspoon chopped thyme
Step 1
Step 1
Heat oven to 400 F. Cook pasta in salted water, rinse and set aside.
Step 2
Step 2
In a large sauce pot over medium heat, melt butter. Whisk in the flour and stir until the mixture is lightly brown and smells nutty, 3 minutes. Slowly add the warm milk, whisking constantly. When all the milk has been added, bring to a simmer before stirring in the salt, cayenne, black pepper and shredded cheeses. Cook over low heat until the sauce has thickened and cheese is melted, 3 to 5 minutes.
Step 3
Step 3
In a small bowl, combine the breadcrumbs, thyme and olive oil.
Step 4
Step 4
Toss together the sliced sausage, cooked pasta and cheese sauce. Pour into a 9-by-13-inch dish or 3-quart casserole dish. Top with breadcrumb mixture and bake until top has turned golden brown and the cheese sauce is bubbling through the top, 40 to 45 minutes. Let cool 10 minutes before serving.