Recipe Source

by the Perdue Farms Culinary Team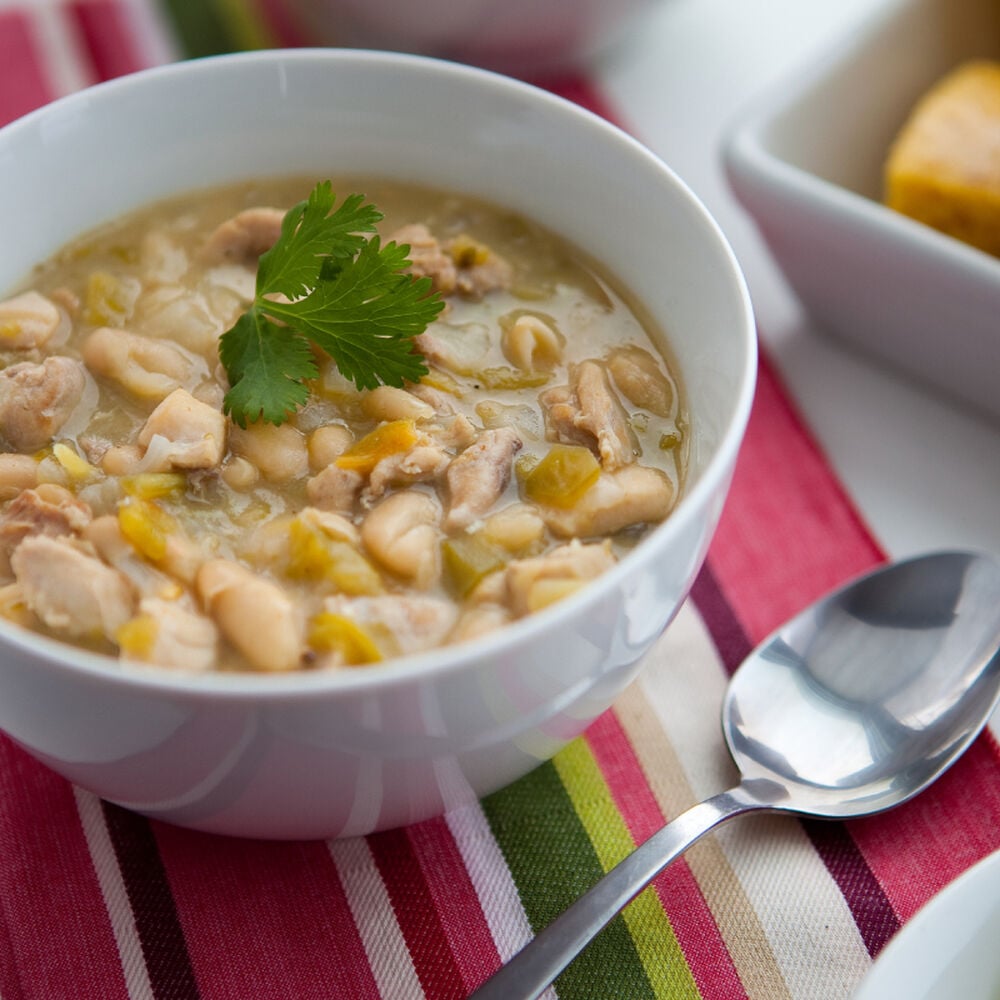 Recipe Source

by the Perdue Farms Culinary Team
This stick-to-your-ribs recipe is a crowd pleaser, for sure! Green chiles and classic seasonings add just the right Tex-Mex flavor. Serve with sour cream, fresh lime wedges and seasoned tortilla strips.
Nutritional Information
*Percent Daily Values are based on a 2,000 calorie diet.
Ingredients
Ingredients
3 pounds Perdue Boneless Skinless Chicken Breasts
2 teaspoons salt
1 teaspoon cumin
4 cups chicken stock
1/2 cup masa harina or finely ground corn meal (or 4 tablespoons corn starch)
3 tablespoons olive oil
2 cups chopped onion (1 large onion)
2 cups chopped celery (about 8 stalks)
4 cloves garlic, chopped
1 tablespoon poultry seasoning, or to taste
2 teaspoons oregano
2 cans cannellini or other white beans, rinsed and drained (15-ounce)
1 lime, juiced
1 can diced mild green chili (4 ounces)
Shredded cheddar cheese for serving
Lime wedges for serving
Sour cream and tortilla strips for serving
Approx. 3-lb. pack of succulent and juicy chicken breasts ― portioned in three 1-lb. pouches
Step 1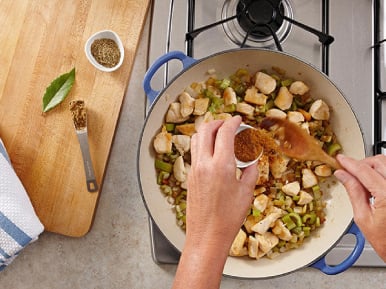 Step 1
On a plastic or dishwasher-safe cutting board, cut the chicken breast into cubes. Heat the olive oil in a large pot over medium heat. Add the chicken cubes and cook until lightly browned, 5 to 7 minutes. Add the onions, celery and garlic. Sauté until the onions soften, 2 to 3 minutes. Add the poultry seasoning, salt, oregano, cumin and the bay leaf. Stir to combine.
Step 2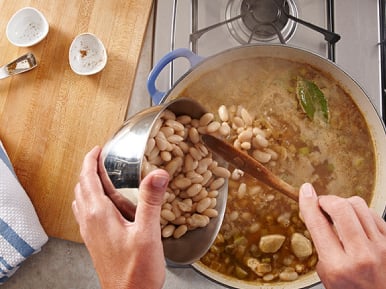 Step 2
Add the chicken stock, bring to a boil, then reduce the heat to a simmer. Add the cannellini beans and cook, covered, for 30 minutes.
Step 3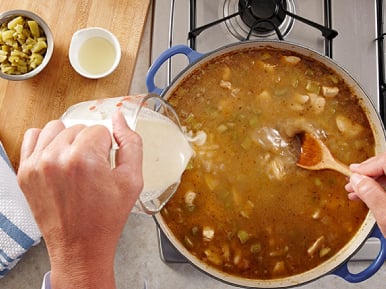 Step 3
After 30 minutes, whisk together the masa harina with 1 cup of water. Stir the masa into the chili, along with the lime juice and the green chilies. Stir and cook until thick, about 5 minutes.
Step 4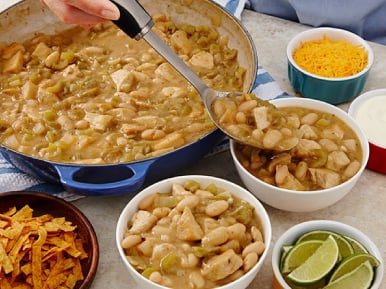 Step 4
Ladle into bowls. Serve with shredded cheddar cheese, sour cream, lime wedges and tortilla strips, if desired.
The Perdue Farms Culinary Team
Chef Chris Moyer, CEC, CRC, and Chef Shawn Reese, CEC, CRC, bring decades of combined culinary experience to their roles at Perdue Farms. The chefs contribute to recipe development, culinary ideation, and all culinary aspects of the company business.
MEET THE CHEFS