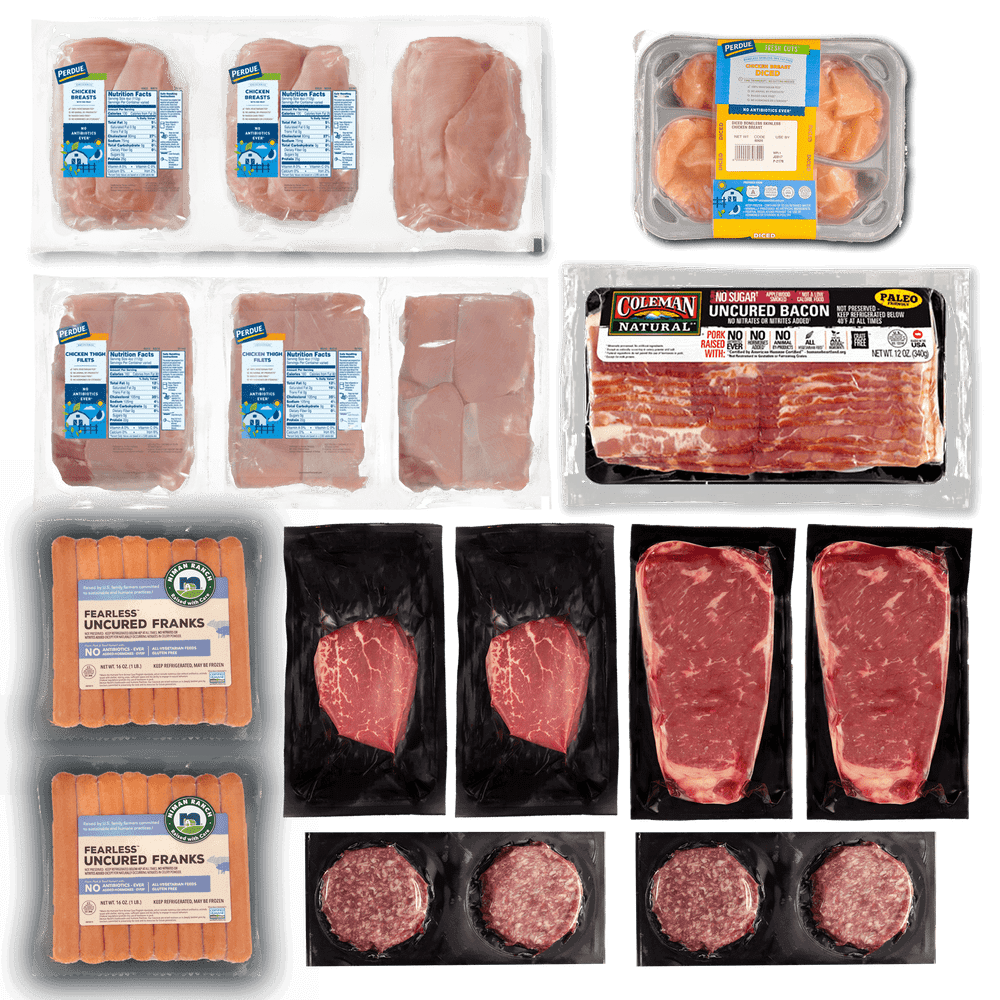 Over 13 lbs. of chicken and beef cuts hand-picked for the grill master
FREE Boneless Thighs With Every Order!
Your Price
Limited Time Only Save 14%
Regular Price
$291.89
Sale Price
$249.99
Each
---
Hand-Picked Favorites to Fill Your Freezer
Description
This beef and poultry collection — the ultimate BBQ party pack — is designed with the grill master in mind! We've included premium boneless, skinless chicken cuts: breast meat, both whole and diced (perfectly portioned for kebabs), and thighs, for those who enjoy the tender, juicy flavor of dark meat, slow cooked on the grill. Made from the finest Angus beef, our 80/20 burgers and heritage pork and beef hot dogs are must-haves at any backyard BBQ. And for the steak connoisseur, nothing but the best: 14-oz. ribeye and 5-oz. choice filet, plus no-sugar applewood-smoked bacon, which can be wrapped around proteins to seal in moisture and lend a hint of smoke.
About Perdue Farms
We believe that thoughtful animal care contributes to the quality of the products we offer. Our brands and their families of U.S. farmers and ranchers work tirelessly to ensure animals' comfort, security and nutrition and raise livestock with no antibiotics ever and on 100% vegetarian feed. All that TLC translates to cuts of meat that are juicy and flavorful. Our seafood is sustainable and fully traceable back to the source. And when it comes to sides and desserts, we chose to work with partners who make delicious dishes the old-fashioned way ― with clean, all-natural ingredients. We're so confident about the exceptional quality and taste of our products, that we offer a 100% Satisfaction Money-Back Guarantee. Give us a try – you won't regret it! Learn more about our Flavor Guarantee.
Bundle Includes (all frozen):