Jamaican Jerk-Seasoned Chicken Breasts
Recipe Source

by the Perdue Farms Culinary Team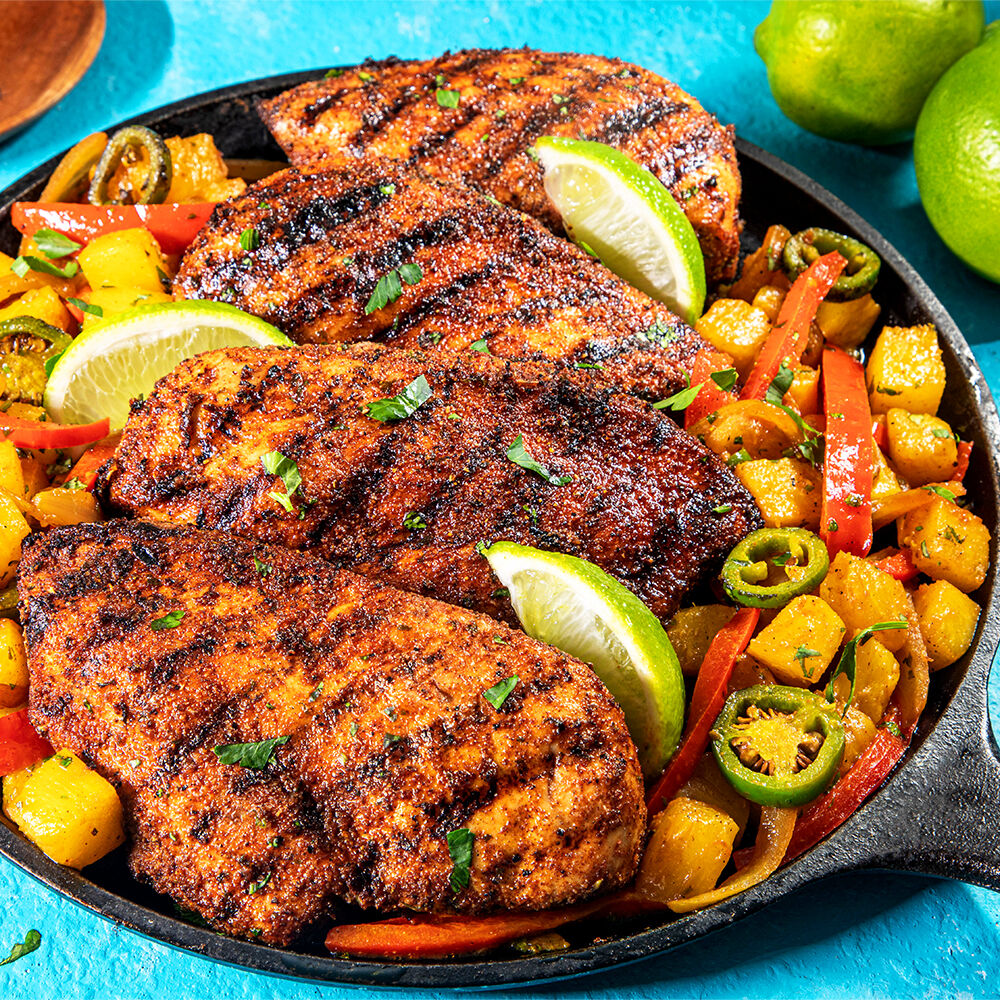 Jamaican Jerk-Seasoned Chicken Breasts
Recipe Source

by the Perdue Farms Culinary Team
A summertime classic! This spicy Carribean dry rub is all you need to bring out the tender, juicy flavor of chicken breasts. Marinate chicken for at least 1 hour, grill and serve with chilled Red Stripe beer!
Nutritional Information
Total Carbohydrate: 30.5g
10%
*Percent Daily Values are based on a 2,000 calorie diet.
Ingredients
Ingredients
4 boneless skinless chicken breasts
1 tablespoon garlic powder
1 tablespoon cayenne pepper
2 teaspoons onion powder
2 teaspoons dried thyme
2 teaspoons dried parsley
2 teaspoons sugar
2 teaspoons salt
1 teaspoon paprika
1 teaspoon ground allspice
1/2 teaspoon black pepper
1/2 teaspoon crushed red pepper
1/2 teaspoon ground nutmeg
1/4 teaspoon ground cinnamon
Approx. 3-lb. pack of succulent and juicy chicken breasts ― portioned in three 1-lb. pouches
Step 1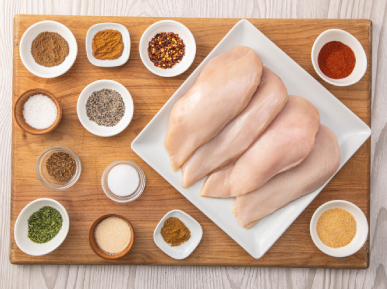 Step 1
Place chicken breasts on a tray. Mix spices together and generously season chicken breasts. Cover tray, place in refrigerator and let marinate for one hour.
Step 2
Step 2
Preheat grill to medium high. If using coal, add wood chips.
Step 3
Step 3
Remove chicken from refrigerator and lightly spray with oil. Place chicken on hot grill over indirect heat. Close lid and reduce heat to low.
Step 4
Step 4
Slowly cook chicken until the internal temperature reaches 165 F. Remove from grill and let rest for five minutes before slicing. Serve chicken over rice with a red cabbage slaw.

Nutritional information for marinade only.
The Perdue Farms Culinary Team
Chef Chris Moyer, CEC, CRC, and Chef Shawn Reese, CEC, CRC, bring decades of combined culinary experience to their roles at Perdue Farms. The chefs contribute to recipe development, culinary ideation, and all culinary aspects of the company business.
MEET THE CHEFS