Organic Grass-Fed Beef Stew Meat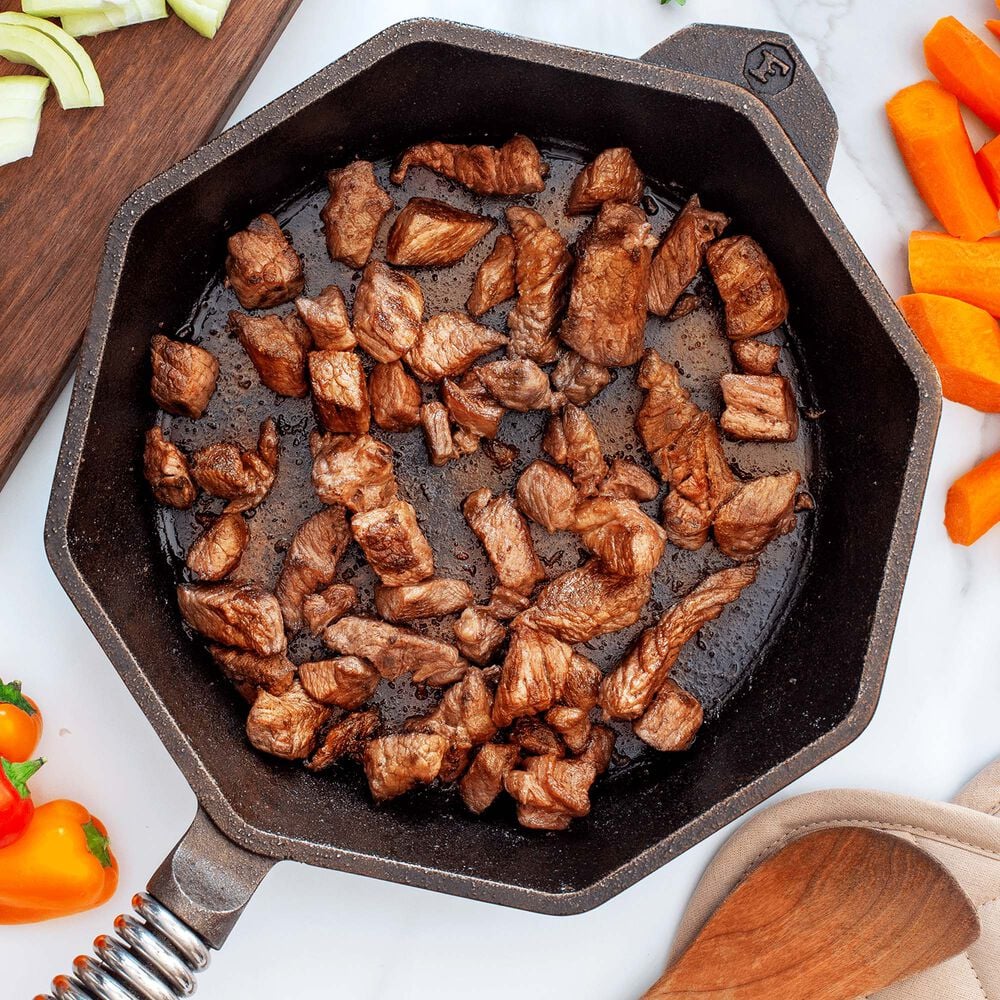 Organic Grass-Fed Beef Stew Meat
16-oz. pack of organic grass-fed beef stew meat
Offer Activated: 2 FREE New York Strips with orders $99+
---
Hand-Picked Favorites to Fill Your Freezer
Description
A cut designed to elevate the flavor of classic comfort food! These bite-sized steak chunks are sourced from organic grass-fed sirloin and round and deliver a natural, savory flavor that's unique to our grass-fed, grass-finished beef. To ensure tenderness and flavor, quickly sear stew meat before slowly simmering in broth, gravy or sauce. Beef is vacuum sealed and flash frozen at the peak of freshness to ensure optimum flavor.
About Panorama Organic
Panorama Organic, the nation's largest producer of 100% grass-fed, grass-finished USDA Certified Organic beef, works with 34 independent family ranchers across eight states and nearly one million acres of land. Ranchers raise Panorama Organic cattle on open rangelands of organic grasses and legumes and employ pasture rotation and land-management practices that promote animal health and protect delicate rangeland ecosystems. All ranchers adhere to strict organic, non-GMO and regenerative protocols. Cattle are never administered hormones or antibiotics or fed animal by-products and are animal welfare Global Animal Partnership (GAP) Step 4 approved. The result is nutritious and delicious protein ― the perfect choice for consumers who care about their health and the health of the planet. Learn more at Panoramameats.com
Quick Facts
16-oz. Vacuum Sealed and Flash Frozen Pack of Beef Stew Meat
Best When Quickly Seared, Then Slowly Simmered
Aged for up to 30 Days for Optimal Flavor and Tenderness
100% Grass-Fed, Grass-Finished Beef
USDA Certified Organic
Bird-Friendly Certified
Certified Paleo® and Paleo Approved
Whole30 Approved®
All Panorama Organic Cattle are:

NEVER Imported. 100% Born and Raised in the USA®
Global Animal Partnership Certified Step 4: Pasture Raised
No Added Hormones or Antibiotics — Ever
Product Handling
Keep Frozen
Cook and Prep
Cook beef to an internal temperature of 145°F (medium rare), 160°F (medium) or 170°F (well done). Grass-fed beef is leaner than grain-fed beef and therefore cooks 30% faster. To prevent overcooking and loss of tenderness, carefully monitor grass-fed beef as it cooks.
Ingredients
Organic grass-fed beef
Nutrition
Nutritional Information
Serving Size 4 ounces
Total Carbohydrate: 0g
0%
*Percent Daily Values are based on a 2,000 calorie diet.