Grilled Chicken Souvlaki Marinade
Recipe Source

by the Perdue Farms Culinary Team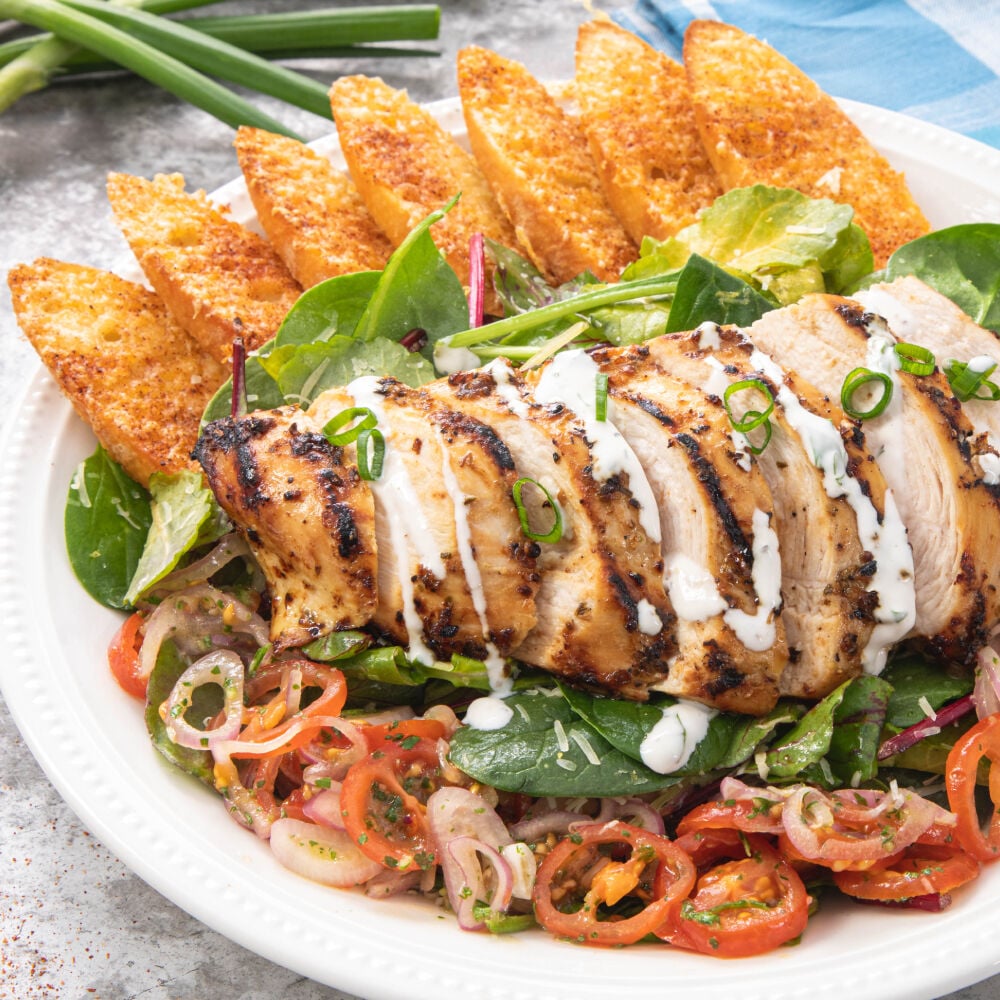 Grilled Chicken Souvlaki Marinade
Recipe Source

by the Perdue Farms Culinary Team
Classic Greek flavors paired with tender, juicy chicken is always a win! This quick and easy marinade will be your go-to seasoning when grilling any day of the week.
Nutritional Information
Total Carbohydrate: 29.3g
10%
*Percent Daily Values are based on a 2,000 calorie diet.
Ingredients
Ingredients
1 pound boneless skinless chicken breasts
1/4 cup olive oil
1/4 cup freshly squeezed lemon juice
1 tablespoon red wine vinegar
1 tablespoon honey
2 teaspoons garlic, minced
2 teaspoons dried Mediterranean oregano
1 teaspoon kosher salt
1/2 teaspoon cracked black pepper
Garnish with lemon slices and fresh parsley
Approx. 3-lb. pack of succulent and juicy chicken breasts ― portioned in three 1-lb. pouches
Step 1
Step 1
Whisk marinade ingredients together in a medium mixing bowl; add chicken. Marinate directly in bowl or transfer to a sealable plastic bag to marinate between 4 and 24 hours.
Step 2
Step 2
When ready to grill, preheat gas grill over medium high heat to 400 F.
Step 3
Step 3
When ready to grill, preheat gas grill on medium high heat to 400 F. Remove the chicken from the marinade, and pat dry. Brush some oil on grill grates to avoid sticking. Cook over direct heat while flipping every three to four minutes. Cook to an internal temperature of 165 F.

Nutritional information for marinade only.
The Perdue Farms Culinary Team
Chef Chris Moyer, CEC, CRC, and Chef Shawn Reese, CEC, CRC, bring decades of combined culinary experience to their roles at Perdue Farms. The chefs contribute to recipe development, culinary ideation, and all culinary aspects of the company business.
MEET THE CHEFS