Handmade Argentinian Empanadas
Recipe Source

courtesy of Niman Ranch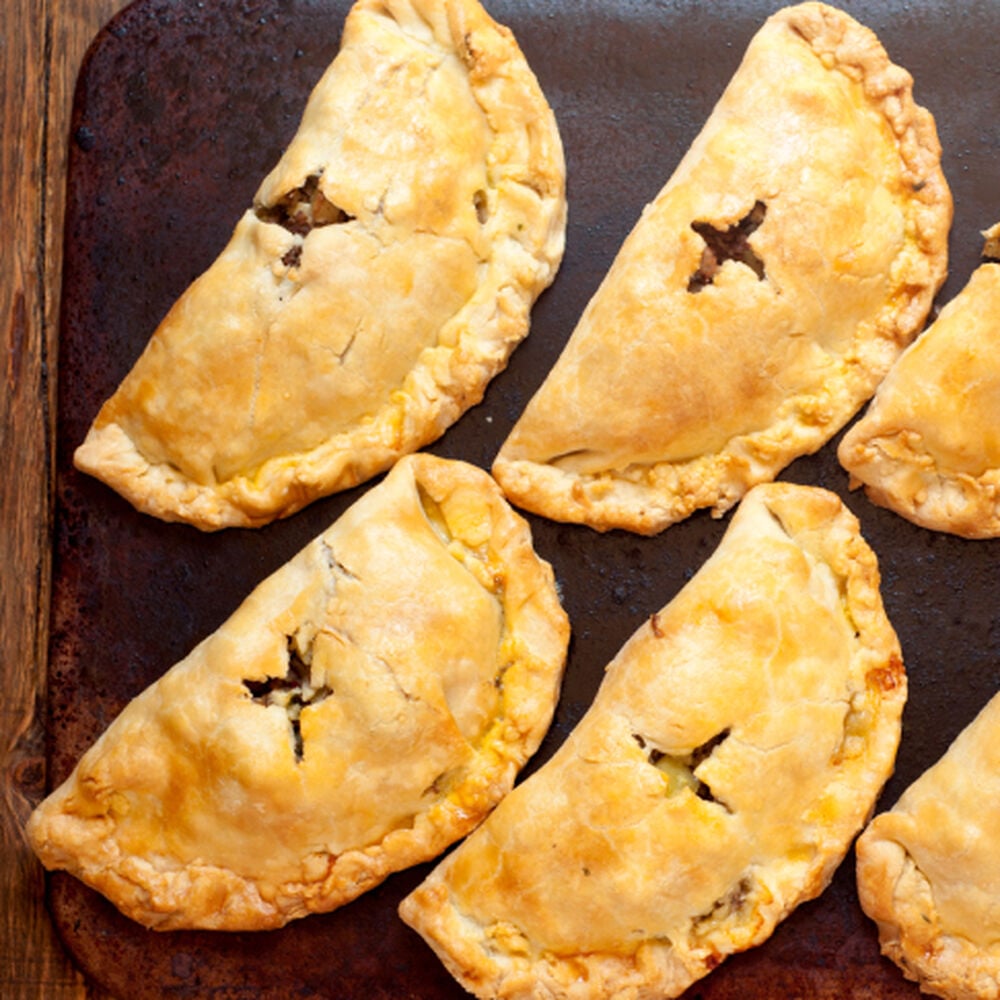 Handmade Argentinian Empanadas
Recipe Source

courtesy of Niman Ranch
Dinner wrapped up in one convenient mini pie! This unique spin on empanadas is fun to make with the family, as some assembly is required. The from-scratch dough elevates this recipes, as does the zesty filling, a mix of ground beef, potatoes, exotic spices and more.
Nutritional Information
8 Servings Per Recipe
Total Carbohydrate: 41g
15%
*Percent Daily Values are based on a 2,000 calorie diet.
Ingredients
Ingredients
1 pound 80/20 Ground Beef
3 cups flour
1/2 teaspoon salt
12 tablespoons cold butter (1 1/2 sticks), cubed
1 egg
1/2 cup very cold half-and-half
1/2 pound Yukon gold potatoes, diced
4 eggs
1 small white onion, chopped
2 garlic cloves, minced
6 green onions, thinly sliced
1/4 cup fresh parsley, chopped
2 teaspoons ground cumin
1/4 to 1/2 teaspoon red chile flakes
Salt and pepper to taste
1-lb. pack of tender and flavorful 80/20 ground beef
Step 1
Step 1
Combine the flour, salt and butter in the bowl of a food processor and pulse until the butter is broken down to very small pieces, about 12 pulses. Add one egg with the food processor pulsing, then slowly add the half-and-half and pulse until the dough starts to come together.
Step 2
Step 2
Remove the dough, pat into a disc and wrap in plastic wrap. Refrigerate while preparing the filling.
Step 3
Step 3
Place the diced potatoes and 2 of the eggs, whole with the shell on, in a small saucepan. Cover with cold water. Place over high heat, cover and bring to a boil. As soon as the water boils, turn off the heat and let stand, covered, for 10 minutes. Strain and discard the water.
Step 4
Step 4
Run the potatoes under cold water to cool them and place the eggs in an ice bath to chill completely. When cool, peel the boiled eggs and chop; set aside.
Step 5
Step 5
Heat a large skillet over medium-high heat and add the beef, onion and garlic; cook until the meat is browned, using a spoon to break up any large pieces of meat. Transfer the cooked meat to a large bowl.
Step 6
Step 6
Add the cooked potatoes, green onions, parsley, cumin, salt, pepper and chile flakes; stir together. Gently fold in the chopped boiled eggs. Cover and let cool slightly in the refrigerator before assembling the hand pies.
Step 7
Step 7
Preheat the oven to 375 F. Divide the dough into 8 equal pieces and roll each piece into an 8-inch round circle. Divide the filling mixture evenly between the 8 pieces of dough (about a scant 1/2 cup per piece), fold in half and crimp or turn the edges of the hand pies to seal them.
Step 8
Step 8
Beat together the remaining egg with 1 tablespoon of water to make an egg wash, and brush the tops of the hand pies with the egg wash. Pierce the tops of the hand pies with a knife to allow steam to escape and bake the hand pies until golden brown, about 25 to 30 minutes. Let cook for 5 minutes before serving.