Smoky Carolina Gold Air-Fried Chicken Sandwich
Recipe Source

by the Perdue Farms Culinary Team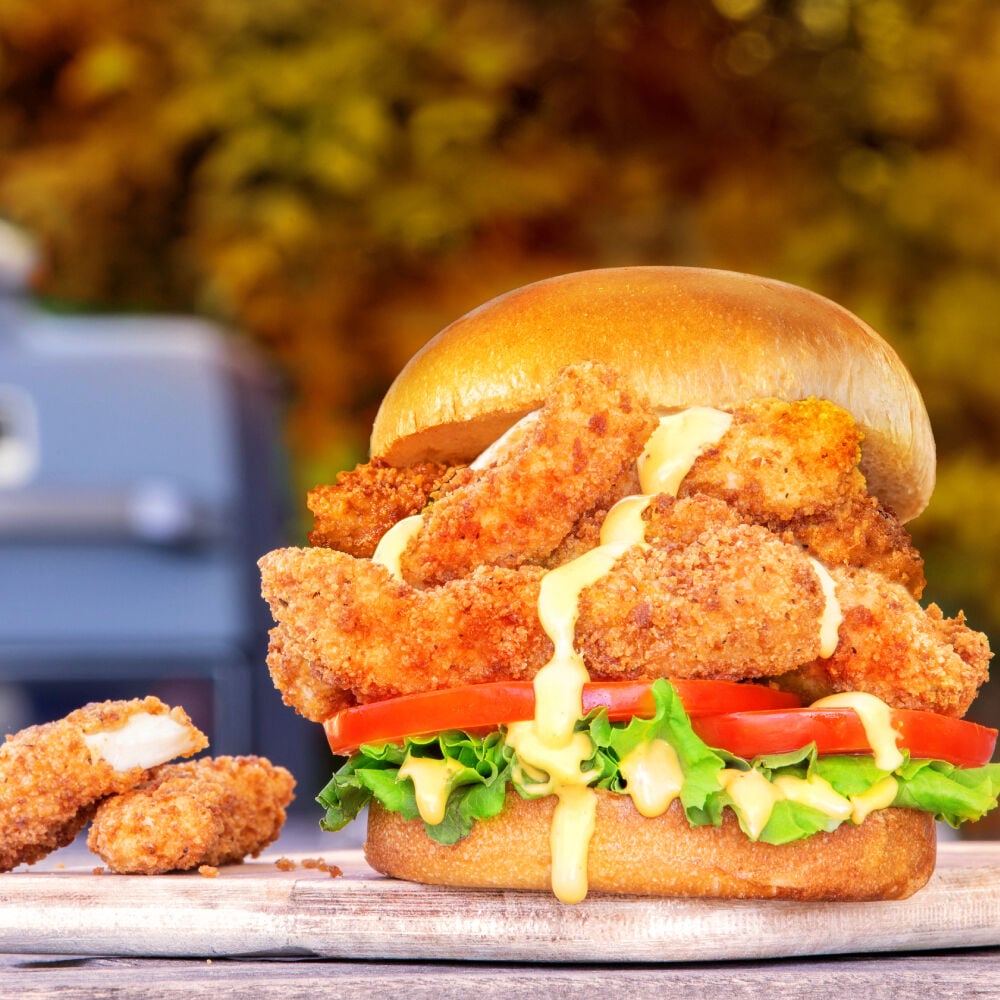 Smoky Carolina Gold Air-Fried Chicken Sandwich
Recipe Source

by the Perdue Farms Culinary Team
Hosting a game day party at home or tailgating with friends at the stadium this fall? Level up your menu with an air-fried chicken sandwich that's bursting with woodfire flavor made on the Ninja Woodfire™ Outdoor Grill.
What makes the recipe unique? Chicken breast strips are breaded, then air-fried and wood-smoked at the same time, which results in a crispy bite and just a hint of smoke flavor. Build the sandwich in dagwood-style layers of veggies and chicken, each dressed with a drizzle of classic honey and mustard-based sauce. One bite of this beyond-basic party sandwich and guests will be back for more!
To make this sensational party sandwich, stock up on tender, juicy farm-raised chicken from Perduefarms.com and place your order for the brand-new Ninja Woodfire™ Outdoor Grill from Ninjakitchen.com. This 7-in-1 outdoor grill, smoker, and air fryer gives you the versatility to whip up all your game day favorites fast and easily. Electrically powered and perfect for the tailgate – no charcoal, no propane, no hassle.
Nutritional Information
8 Servings Per Recipe
Total Carbohydrate: 58.8g
20%
*Percent Daily Values are based on a 2,000 calorie diet.
Ingredients
Ingredients
2 teaspoons onion powder
2 teaspoons garlic powder
1 teaspoon paprika
1/2 teaspoon chili powder
1/4 teaspoon cayenne pepper
1 teaspoon dried thyme
1 teaspoon kosher salt
1/2 teaspoon ground black pepper
2 cups buttermilk
1/2 cup cornstarch
2 cups panko breadcrumbs
1.25-lb. tray of Perdue Pre-Cut Chicken Breast Strips
Nonstick cooking spray
1 cup yellow mustard
1/4 cup apple cider vinegar
1/4 cup honey
1 tablespoon Worcestershire sauce
1 tablespoon soy sauce
1 tablespoon chili powder
1 teaspoon garlic powder
Kosher salt, to taste
Ground black pepper, to taste
Looseleaf lettuce
Tomato slices
8 hamburger buns
Step 1
Step 1
Plug thermometer into outdoor air fryer. To install the grill grate, position it flat on top of the heating element and gently press down until it sits into place. Place Air Crisp Basket on grill grate, then close the hood.
Step 2
Step 2
While holding the smoke box lid open, us the pellet scoop to pour pellets into the smoke box until filled to the top. Then close the smoke box lid.
Step 3
Step 3
Turn dial to AIR CRISP. Press Woodfire Flavor. Set temperature to 360 F, then select PRESET. To set the thermometer, use the right arrows to select CHIX. Select START/STOP to begin preheating. (Preheating will take approx. 8-10 minutes).
Step 4
Step 4
In a medium bowl, combine first nine ingredients and whisk to combine. In a separate medium bowl, whisk together the cornstarch, breadcrumbs and more salt and pepper.
Step 5
Step 5
Dip chicken strips into buttermilk, then place into the seasoned breadcrumbs. Press each chicken strip into the breadcrumbs for optimal sticking. Liberally spray each strip of coated chicken with the cooking spray. Insert thermometer horizontally in the center of the thickest part of the largest chicken strip.
Step 6
Step 6
When unit beeps to signify it has preheated and ADD FOOD is displayed, open hood and place chicken pieces in basket. Close hood to begin cooking. After 20 minutes, open hood and, with silicone-tipped tongs, flip the chicken strips. Close hood to continue cooking.
Step 7
Step 7
When cooking is complete, open hood, remove "fried" chicken from basket and set aside.
Step 8
Step 8
To make sauce: Combine mustard, vinegar, honey, Worcestershire sauce, soy sauce, chili powder, garlic powder, salt and pepper in a bowl. Blend well.
Step 9
Step 9
To assembly sandwich: Place one leaf of lettuce, then one or two slices of tomato atop a toasted bottom bun. Drizzle lightly with sauce. Place two or more chicken strips on top of tomatoes. Drizzle lightly with sauce. Cover chicken with toasted top bun and serve.
The Perdue Farms Culinary Team
Chef Chris Moyer, CEC, CRC, and Chef Shawn Reese, CEC, CRC, bring decades of combined culinary experience to their roles at Perdue Farms. The chefs contribute to recipe development, culinary ideation, and all culinary aspects of the company business.
MEET THE CHEFS