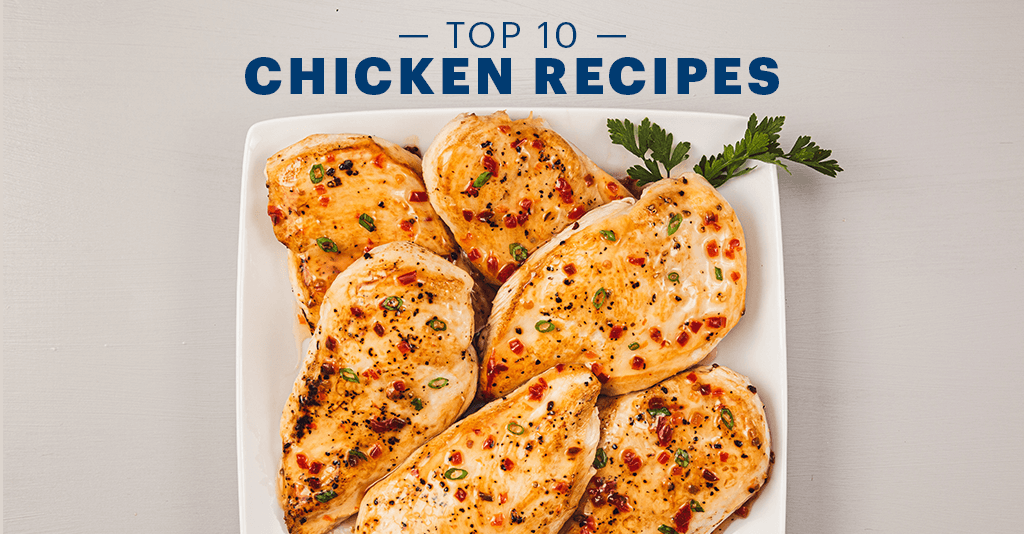 You clicked, we counted! Presenting the most popular chicken recipes of all time — clearly, you love comfort food favorites and Sunday dinner classics! We encourage you to give these recipes a try, post reviews and please upload photos — your creativity in the kitchen is so inspiring!
1. Pan-Fried Whole Chicken
Why You'll Love: A Southern comfort food classic, this recipe calls for whole chicken, which is cut into pieces and dunked in a traditional batter and deep-fried on the stove top. We're not saying this recipe is better than Grandma's (but it might be).
2. Sweet and Spicy Chicken Wings
Why You'll Love: With just 5 minutes of prep and little mess, this dinner will be ready when you get home from a long day of work or family activities. Easy to batch prep, wings stay in the freezer until you're ready to defrost and cook them.
3. Light and Zesty Grilled Chicken
Why You'll Love: Grilling season is all year round! This is the perfect dish to make on busy weeknights or weekends when you want to entertain effortlessly.
4. Classic Chicken Cordon Bleu
Why You'll Love: A new twist on a traditional chicken dish, this recipe calls for Gruyere and prosciutto in place of sliced deli ham and cheese.
5. Slow-Cooked Cornish Hens
Why You'll Love: The perfect dish for Sunday dinner, Cornish hens slow roast in a Dutch oven. Dry white wine, tomatoes, garlic and herbs form a delicious broth that can be served overtop.
Why You'll Love: We took the classic flavor of a Philadelphia cheese steak sandwich and paired it with our tender, juicy chicken for a homemade pizza that's perfect for the weekends!
7. Easy Oven-Roasted Cornish Hens
Why You'll Love: In this easy dinner recipe, crispy, oven-roasted Cornish hens are placed atop a bed of wild rice. A rich and creamy bacon and wild mushroom gravy, drizzled overtop, makes this dish a meal to remember.
Why You'll Love: This recipe is so easy, you'll want to try no matter what the season. A simple rub and thyme sprigs enhance the natural flavor of chicken, which slow roasts on the grill with partial lid cover.