Perdue Farms Classic Beer Can Chicken
Recipe Source

by the Perdue Farms Culinary Team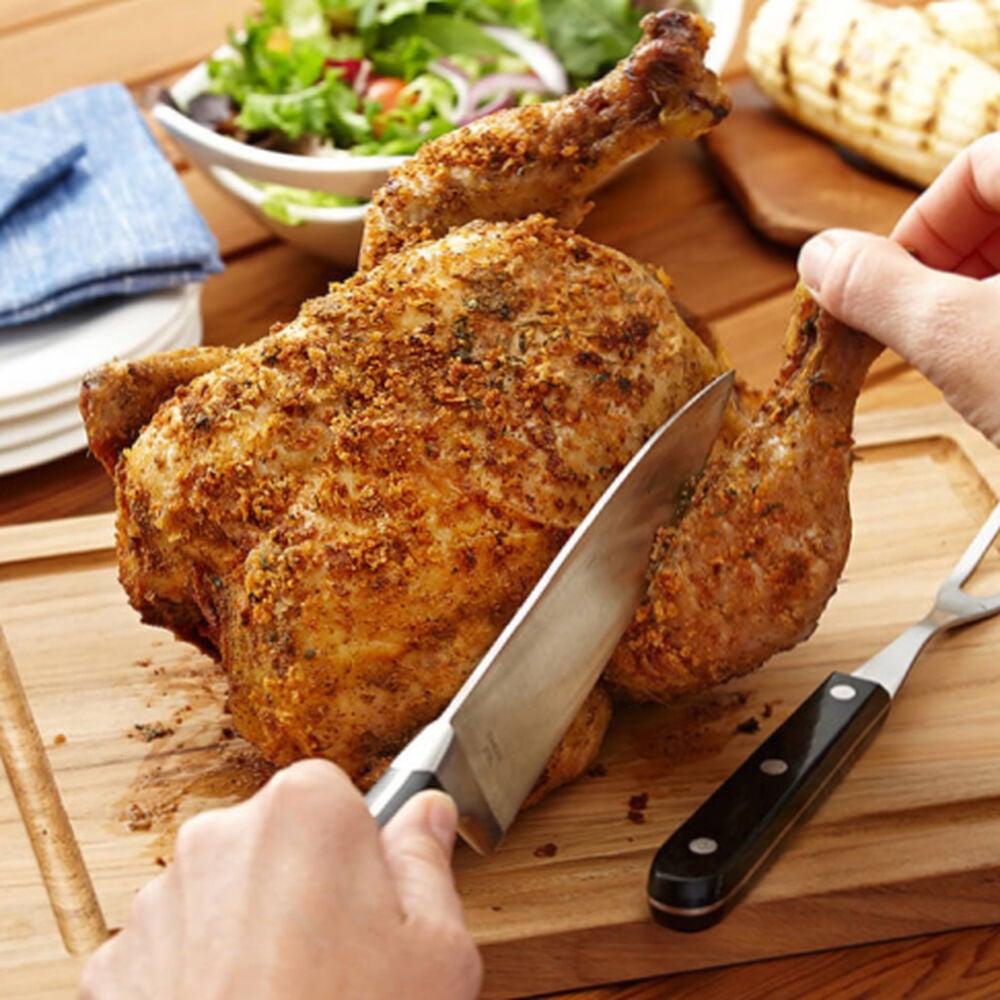 Perdue Farms Classic Beer Can Chicken
Recipe Source

by the Perdue Farms Culinary Team
This beer can chicken recipe is so easy, you'll want to try no matter what the season. A simple rub and thyme sprigs enhance the natural flavor of chicken, which slow roasts on the grill with partial lid cover. Be sure to carve and serve the whole bird immediately — meat should fall right off the bone!
Nutritional Information
*Percent Daily Values are based on a 2,000 calorie diet.
Ingredients
Ingredients
1 Perdue Harvestland Organic Whole Chicken
1 1/2 tablespoons salt
1 1/2 tablespoons plus 2 sprigs fresh thyme
1 1/2 tablespoons garlic powder
1 1/2 tablespoons onion powder
2 teaspoons black pepper
3 tablespoons vegetable oil
1 can craft beer with lime or summer brew
Approx. 4-lb. plump, tender and juicy organic whole chicken
Step 1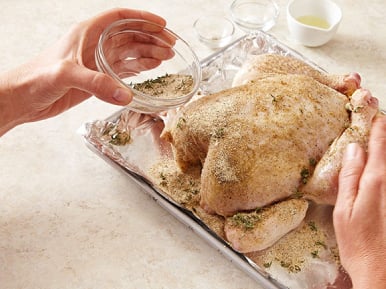 Step 1
In a bowl, combine salt, 1 1/2 tablespoons thyme, garlic powder, onion powder and black pepper. Remove neck and giblets from chicken and discard. Rub chicken lightly with oil, then rub inside and out with spice rub. Let chicken sit at room temperature for 7 to 10 minutes while grill heats up.
Step 2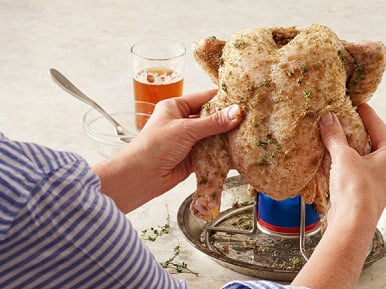 Step 2
Open beer can and remove enough beer so can is half full. Put 2 sprigs fresh thyme in beer can. Hold bottom chicken cavity above can of beer and slide over can. Bend wings back behind chicken and prop legs in front of can, supporting chicken. Chicken should look like it's sitting on beer can. Place chicken inside heat-proof pan to catch drippings.
Step 3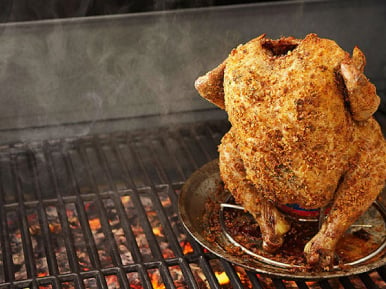 Step 3
Heat grill to high. Place pan with chicken on grill. Close top of grill so it's like an oven and turn heat down to medium low. Grill until meat thermometer inserted into thickest part of thigh registers 180 to 185 F, about 1 1/2 to 1 3/4 hours.
Step 4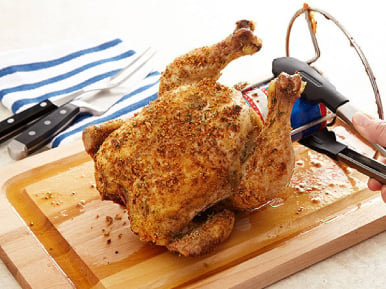 Step 4
When chicken is done, remove from grill and let rest 10 minutes. Using tongs, grab chicken under wings, remove from beer can and place on carving board. Carve and serve.
The Perdue Farms Culinary Team
Chef Chris Moyer, CEC, CRC, and Chef Shawn Reese, CEC, CRC, bring decades of combined culinary experience to their roles at Perdue Farms. The chefs contribute to recipe development, culinary ideation, and all culinary aspects of the company business.
MEET THE CHEFS