Recipe Source

by the Perdue Farms Culinary Team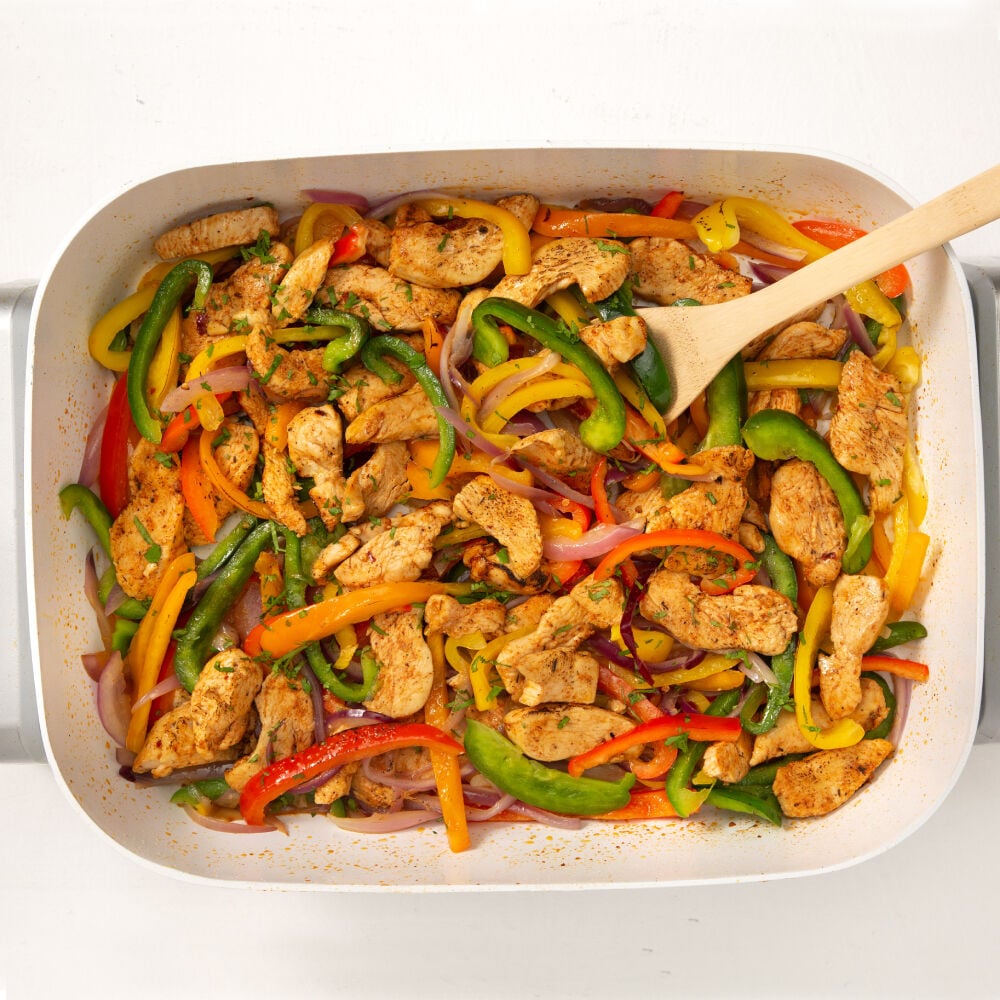 Recipe Source

by the Perdue Farms Culinary Team
A Mexican favorite made easy! This one-pan fajitas recipe can be made ahead and divided into separate lunch or dinnertime containers. Warm up torillas, set out toppings and let guests build their own!
Nutritional Information
6 Servings Per Recipe
Total Carbohydrate: 11.4g
4%
*Percent Daily Values are based on a 2,000 calorie diet.
Ingredients
Ingredients
2.4 pounds Perdue Fresh Cuts Chicken Breast Strips
1/4 cup spice rub or store-bought fajita seasoning
1 tablespoons kosher salt
1/2 tablespoons coarse ground black pepper
2 tablespoons granulated garlic
1/2 tablespoon sweet paprika
1/2 tablespoon chili powder
1/2 tablespoon cumin
2 tablespoons vegetable oil
1 22-ounce can diced tomatoes
3 bell peppers (assorted colors), thinly sliced
1/2 red onion, thinly sliced
Step 1
Step 1
To make spice rub, combine salt, pepper, garlic, paprika, chili powder and cumin. Season strips with half of rub (or store-bought seasoning blend).
Step 2
Step 2
Preheat a large saute pan on medium heat for 3 to 4 minutes. Add oil, followed by seasoned chicken strips. Spread strips out evenly to sear, and continue to cook, stirring occasionally, for about 7 to 8 minutes.
Step 3
Step 3
Add peppers and onions to pan and stir. Continue cooking until peppers and onions lightly caramelize, approximately 4 to 5 minutes.
Step 4
Step 4
Add diced tomato, followed by the remainder of seasoning. Cook down for 5 to 7 minutes, or until the liquid has reduced by about half.
Step 5
Step 5
Serve with your favorite salsa, chopped cilantro and rice.
The Perdue Farms Culinary Team
Chef Chris Moyer, CEC, CRC, and Chef Shawn Reese, CEC, CRC, bring decades of combined culinary experience to their roles at Perdue Farms. The chefs contribute to recipe development, culinary ideation, and all culinary aspects of the company business.
MEET THE CHEFS