Whole Roasted Chicken Dinner
Recipe Source

by the Perdue Farms Culinary Team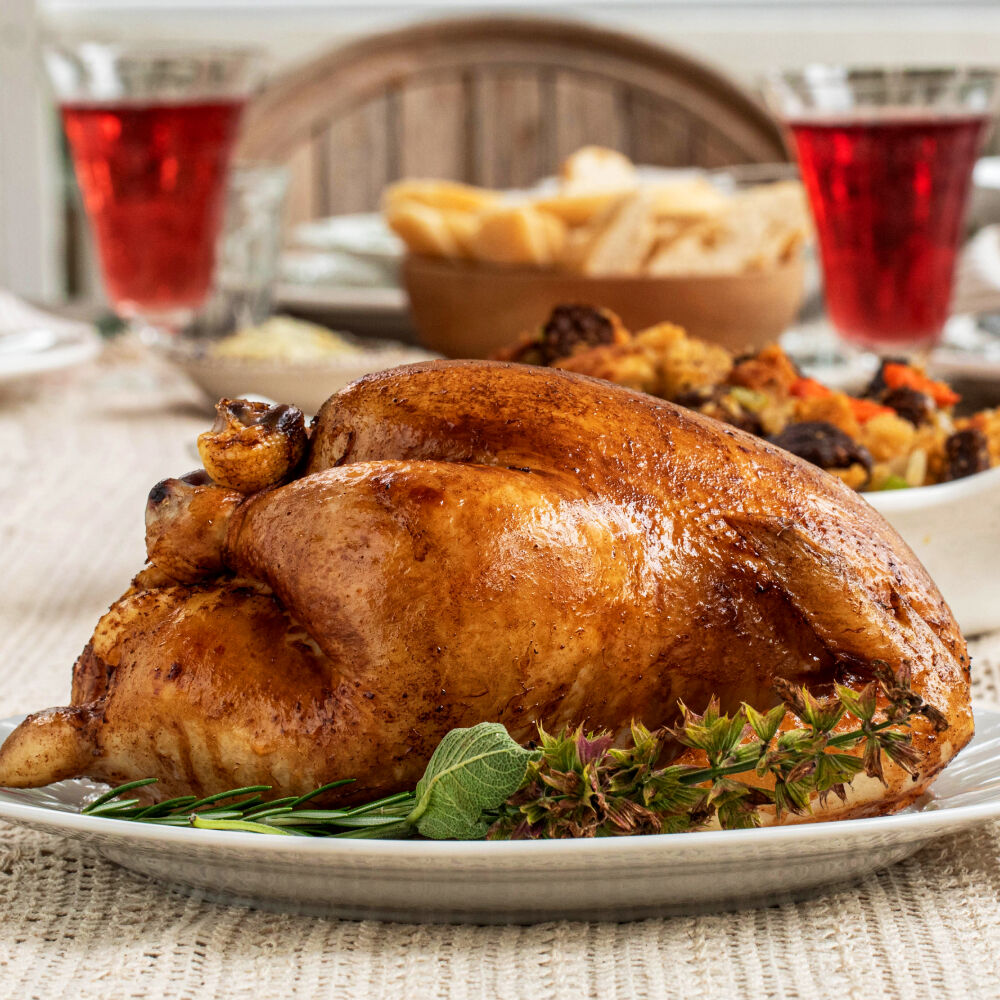 Whole Roasted Chicken Dinner
Recipe Source

by the Perdue Farms Culinary Team
Wondering how to perfectly roast a whole chicken? This recipe walks you step by step through the process. Learn how to prep the chicken, roast veggies and even create a gravy you can serve alongside carved chicken. The quintessential Sunday dinner!
Nutritional Information
*Percent Daily Values are based on a 2,000 calorie diet.
Ingredients
Ingredients
1 Perdue Harvestland Organic Whole Chicken
3 teaspoons salt
1 teaspoon black pepper
1 bunch fresh thyme
1 head garlic, cut in half crosswise
2 tablespoons butter, softened
1 lemon, cut in half
4 medium red potatoes, quartered
3 medium carrots peeled and cut into 2-inch chunks
2 medium onions, quartered
2 tablespoons all-purpose flour
1 cup chicken stock
1/2 cup dry white wine
Approx. 4-lb. plump, tender and juicy organic whole chicken
Step 1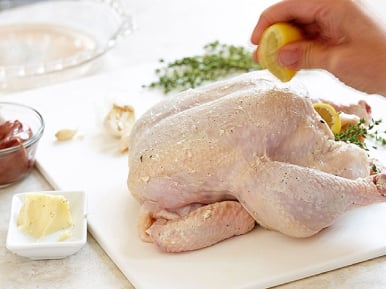 Step 1
Preheat oven to 425 F. Remove chicken giblets. Place whole roaster on plastic or dishwasher-safe cutting board. Season cavity with salt and black pepper. Stuff cavity with thyme and garlic. Rub chicken with softened butter. Squeeze juice of lemon over chicken, then place lemon halves inside cavity. Tuck wings under chicken to keep from burning.
Step 2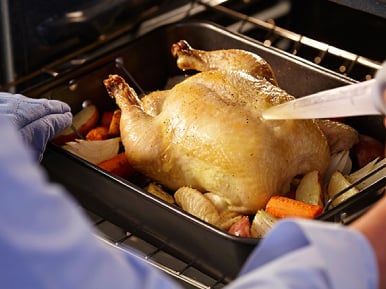 Step 2
Place chicken on rack in large roasting pan. Roast 15 minutes at 425 F, then reduce heat to 350 F. Baste chicken with pan juices, then add potatoes, carrots and onions to pan. Continue roasting chicken, basting every 20 minutes, until juices run clear, legs move easily when wiggled and meat thermometer inserted into thickest part of thigh registers 170 F. This will take about 2 1/2 to 3 hours for a 5- to 7-pound whole chicken.
Step 3
Step 3
Transfer chicken and vegetables to platter and let rest 10 minutes while you make gravy. Pour fat and juices from pan into small bowl or fat separator. Place pan directly on burner over medium-high heat. Whisk about 2 tablespoons of fat back into pan. Add flour and whisk about 2 minutes. Whisk in chicken stock, white wine and any juices from roasted chicken. Bring to boil, scraping any browned bits from bottom of pan. Cook until gravy has thickened, about 3 to 5 minutes. Season with salt and pepper.
Step 4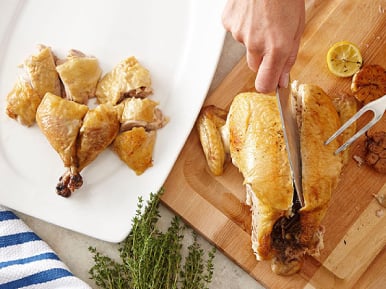 Step 4
Carve chicken and place on platter with carrots, onions and potatoes. Garnish with roasted garlic, lemon and fresh thyme sprigs if desired. Pour gravy into gravy boat and serve alongside roasted chicken.
The Perdue Farms Culinary Team
Chef Chris Moyer, CEC, CRC, and Chef Shawn Reese, CEC, CRC, bring decades of combined culinary experience to their roles at Perdue Farms. The chefs contribute to recipe development, culinary ideation, and all culinary aspects of the company business.
MEET THE CHEFS