Air-Fried Jalapeño Popper Chicken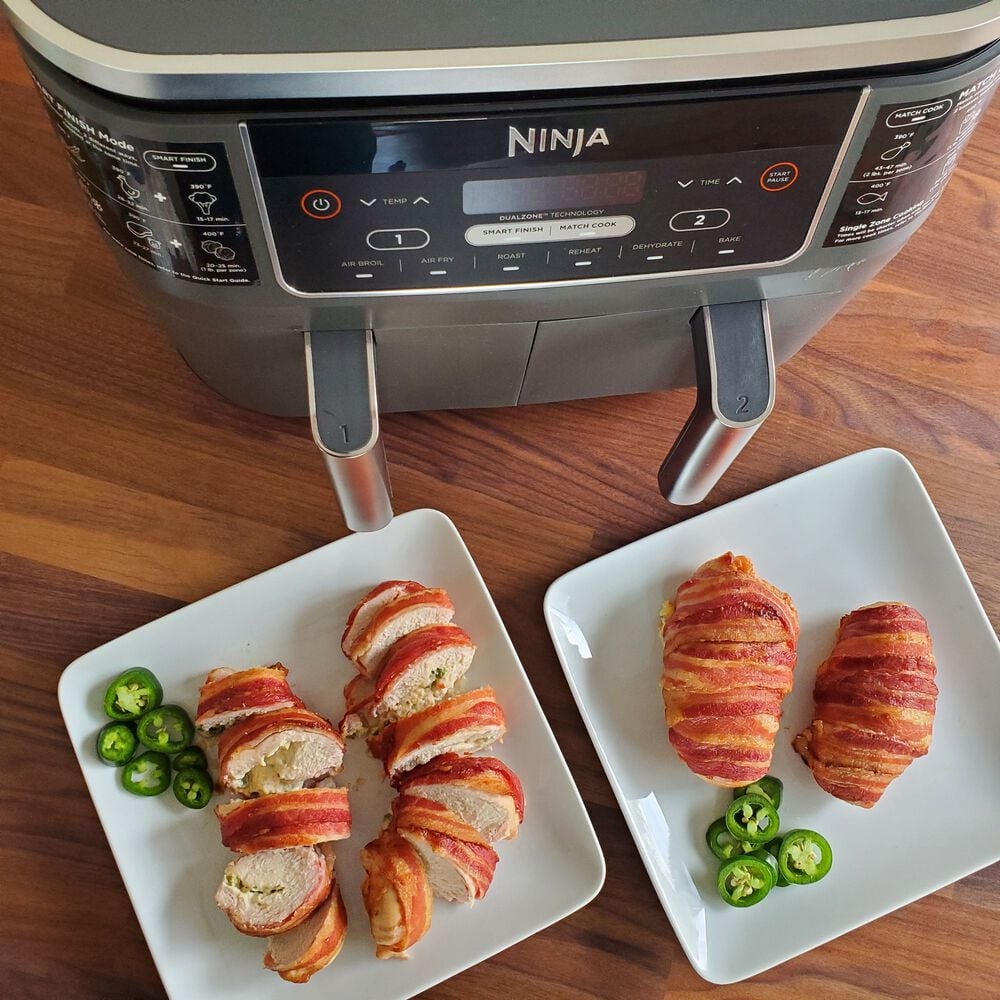 Air-Fried Jalapeño Popper Chicken
Appliance used: Ninja® Foodi™ Smart XL Grill. Tip: The bacon helps to hold the filling inside the chicken as it bakes. To secure the bacon, use a few toothpicks and tuck the ends under the chicken. If you prefer a spicier chicken, include the jalapeño seeds in the cream cheese mixture.
Nutritional Information
4 Servings Per Recipe
Total Carbohydrate: 2.2g
1%
*Percent Daily Values are based on a 2,000 calorie diet.
Ingredients
Ingredients
4 Perdue Harvestland Organic Boneless Skinless Chicken Breasts
8 Niman Ranch Applewood Smoked Uncured Bacon slices
2 ounces cream cheese, softened
1/4 cup shredded cheddar cheese
1/4 cup shredded mozzarella cheese
1/4 teaspoon garlic powder
4 small jalapeño peppers, seeds removed, diced
Kosher salt, to taste
Ground black pepper, to taste
Approx. 3-lb. pack of tender, juicy organic chicken breasts ― portioned into three 1-lb. pouches
Step 1
Step 1
In a large bowl, mix together cream cheese, cheddar cheese, mozzarella cheese, garlic powder, jalapeño and salt and pepper, as desired.
Step 2
Step 2
Cut a deep pocket in the center of each chicken breast, being careful not to cut all the way through to the other side.
Step 3
Step 3
Fill the pocket of each chicken breast with the cream cheese mixture.
Step 4
Step 4
Wrap each chicken breast tightly with two slices of bacon and secure with toothpicks, if necessary.
Step 5
Step 5
Place two chicken breasts in each Zone. Insert both baskets in unit. Select Zone 1, select AIRFRY, set temperature to 350 F, and set time to 30 minutes. Select MATCH COOK to match Zone 2 settings with Zone 1. Press the START/PAUSE button to begin cooking.
Step 6
Step 6
When cooking is complete, remove chicken breasts and allow to rest for 5 minutes before serving.