Niman Ranch Chimichurri Steak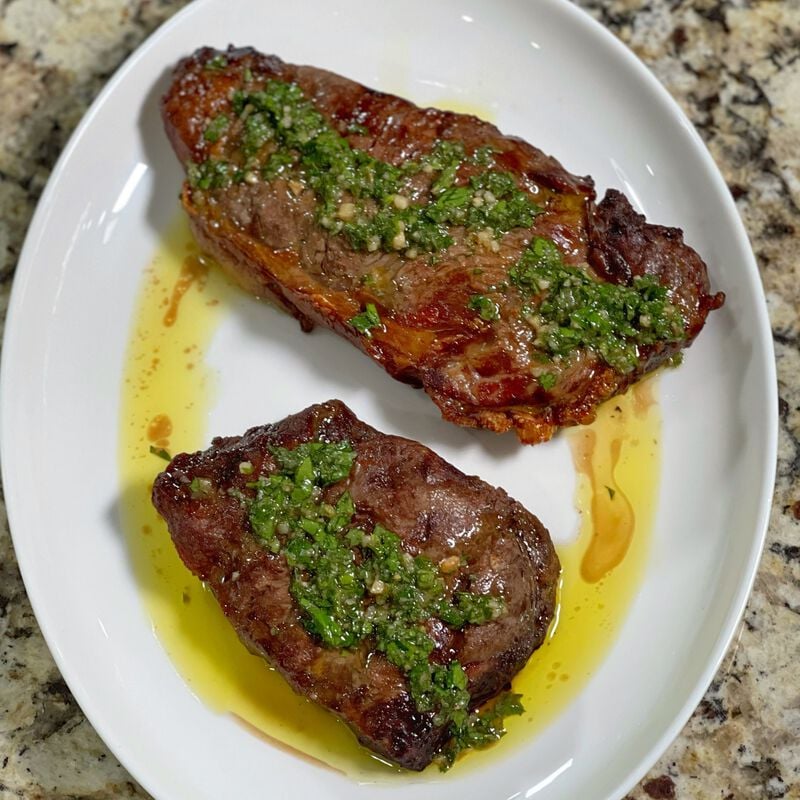 Niman Ranch Chimichurri Steak
by William Sweeney
Appliance used: Ninja Foodi Smart XL Grill. Tip: If you prefer a spicier version, add 2 to 3 tablespoons of red pepper flakes to the sauce.
Prep: 10 minutes Cook: based on desired doneness Makes: 4-6 servings
Ingredients
Ingredients
cup chopped parsley leaves
tablespoons chopped oregano leaves
tablespoons red wine vinegar
cloves garlic, peeled, minced
Ground black pepper, to taste
cup extra-virgin olive oil
Step One
Step One
Plug thermometer into unit. Insert grill grate in unit and close hood. Select GRILL. The unit will default to HI, which is the correct temperature setting for this recipe. Select PRESET. The unit will default to BEEF, which is the correct setting for this recipe. Use the arrows to the left of the display to set desired doneness. Press START/STOP to begin preheating.
Step Two
Step Two
While unit is preheating, make the chimichurri. In a medium bowl, add parsley, oregano, red wine vinegar, garlic and a pinch of salt and pepper. Mix until fully combined. Pour 2/3 cup olive oil over the mixture and let sit for at least 15 minutes.
Step Three
Step Three
Brush each steak on all sides with 1/2 tablespoon canola oil, then season with salt and pepper, as desired. Insert thermometer horizontally into the center of one of the steaks.
Step Four
Step Four
When unit beeps to signify is has preheated, place steaks on grill grate, gently pressing them down to maximize grill marks. Close hood over the thermometer cord. When unit beeps, and the display reads FLIP, use silicon-tipped tongs to flip the steaks. Close hood to continue cooking.
Step Five
Step Five
When unit beeps to signal the steaks are almost done cooking, transfer steaks to a plate or cutting board and allow to rest for 5 minutes. Top steaks with chimichurri sauce.