Asian Pork and Mushroom Burgers
Recipe Source

by Chef John Sundstrom, courtesy of Niman Ranch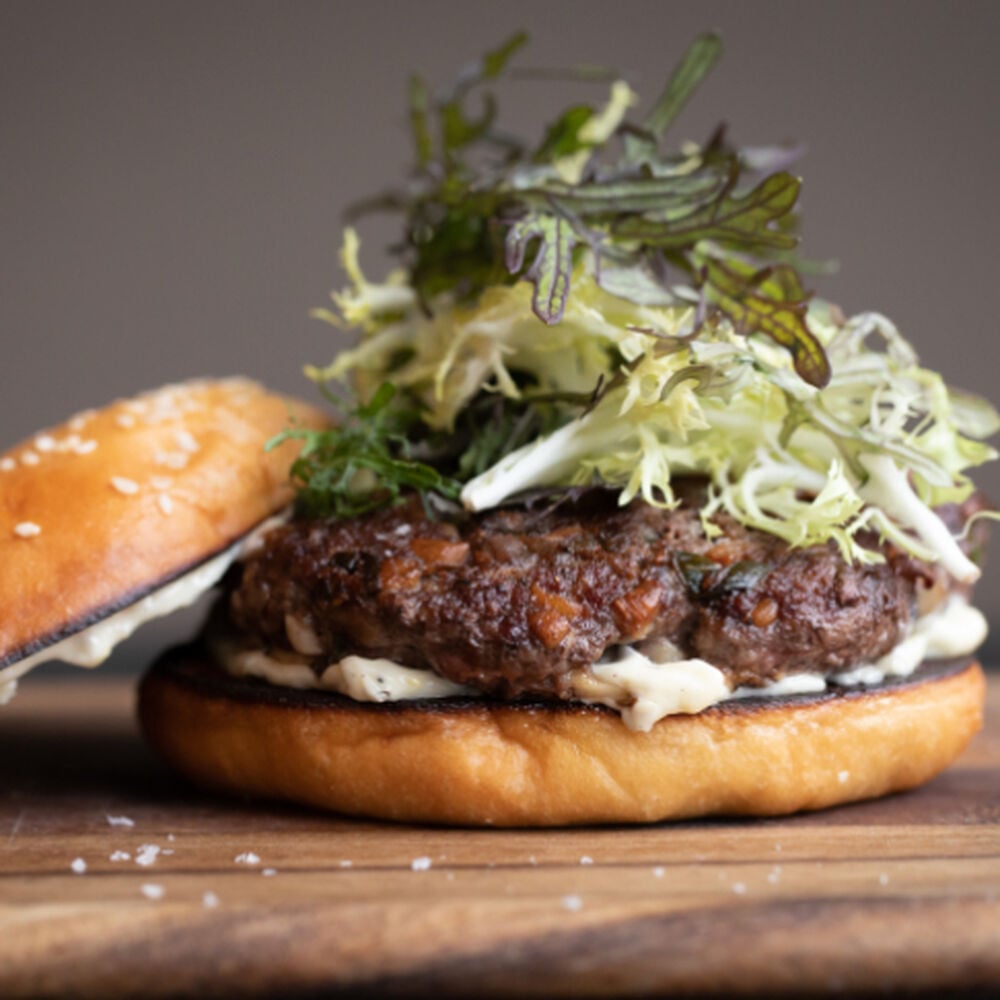 Asian Pork and Mushroom Burgers
Recipe Source

by Chef John Sundstrom, courtesy of Niman Ranch
Maitake mushrooms lend earthy flavor to these premium pork burgers, which taste best when grilled and served up with the accompanying Asian-style aioli.
Nutritional Information
4 Servings Per Recipe
Total Carbohydrate: 32g
12%
*Percent Daily Values are based on a 2,000 calorie diet.
Ingredients
Ingredients
1 pound Ground Pork
8 ounces maitake mushrooms
4 serrano peppers, seeded, finely diced
1/4 cup Kikkoman tamari
1/2 cup grilled and finely chopped green onions
1 tablespoon Kikkoman sesame oil
1 tablespoon salt
1 tablespoon black pepper
4 yolks
2 teaspoons green yuzukosho paste
3/4 cup canola oil
1/2 teaspoon lemon juice
4 sesame potato buns, lightly toasted
Mizuna greens
Step 1
Step 1
In a large mixing bowl, combine all ingredients. Using hands, divide into 6-ounce portions and form into patties. Place on sheet tray. Cover and refrigerate.
Step 2
Step 2
In a mixing bowl, whisk yolks until pale yellow and thick. Stir in yuzukosho. Steam in oil, whisking to emulsify. Add lemon and season with salt and pepper; chill.
Step 3
Step 3
Prepare and heat oven. Grill patties to desired temperature (medium) and until both sides have browned, about 6 to 8 minutes. Rest patties for 5 minutes. Spread a generous dollop of aioli on cut sides of buns. Place patties on bottoms, top with mizuna and bun top.