Asian-Style Beef-Stuffed Cremini Mushrooms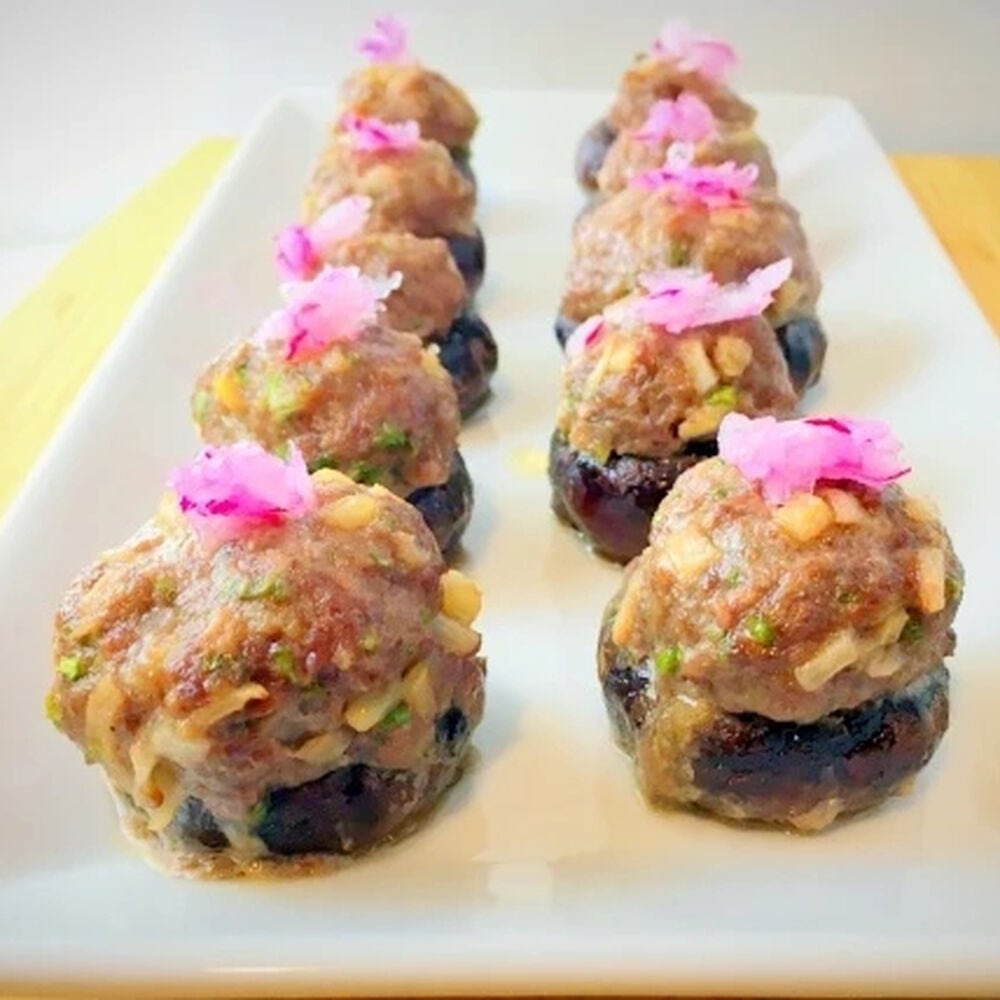 Asian-Style Beef-Stuffed Cremini Mushrooms
Here's how to bake stuffed mushrooms that your family will gobble up! Ginger, soy sauce and chili sauce give these ground-beef filled mushroom appetizers a flavorful zing. Be sure to drizzle olive oil on top of mushroom caps before you place them in the oven to retain moisture.
Nutritional Information
8 Servings Per Recipe
Total Carbohydrate: 4g
1%
*Percent Daily Values are based on a 2,000 calorie diet.
Ingredients
Ingredients
12 ounces Panorama Organic Grass-Fed 93/7 Ground Beef
3 ounces water chestnuts from a can, chopped fine
1/4 cup onion, diced
2 garlic cloves, peeled and minced or 1/4 teaspoon dried
2 teaspoons ginger
1 teaspoon honey
1 teaspoon soy sauce
1 teaspoon chili sauce like Siracha, optional
1/2 teaspoon salt
1/4 teaspoon freshly ground black pepper
1 tablespoon fresh cilantro or parsley, chopped
2 tablespoons olive oil
8 large cremini or white mushrooms (2-inch diameter), rinsed and stem removed
2 red radishes for garnish (optional)
1-lb. pack of organic grass-fed ground beef
Step 1
Step 1
Preheat the oven to 400 F. Drizzle 1 tablespoon olive oil on a large baking sheet to coat.
Step 2
Step 2
In mixing bowl, stir to combine ground beef, onion, water chestnuts, garlic, ginger, honey, soy sauce and spices. Mix well until beef sticks together, 1 to 2 minutes.
Step 3
Step 3
Form meatballs roughly the size of the medium mushrooms. Press the meatball into the opening of the mushrooms, neatly rounding the top. Arrange on baking sheet, meat side up, mushroom cap upside down. Drizzle remaining oil over the filling in each mushroom; sprinkle with salt.
Step 4
Step 4
Bake for 15 to 20 minutes, until the mushrooms are tender and the filling is firm and golden on top.
Step 5
Step 5
Garnish each mushroom with a small pinch of shaved radish; serve warm or at room temperature.