Bacon-Wrapped Hot Dogs on the Grill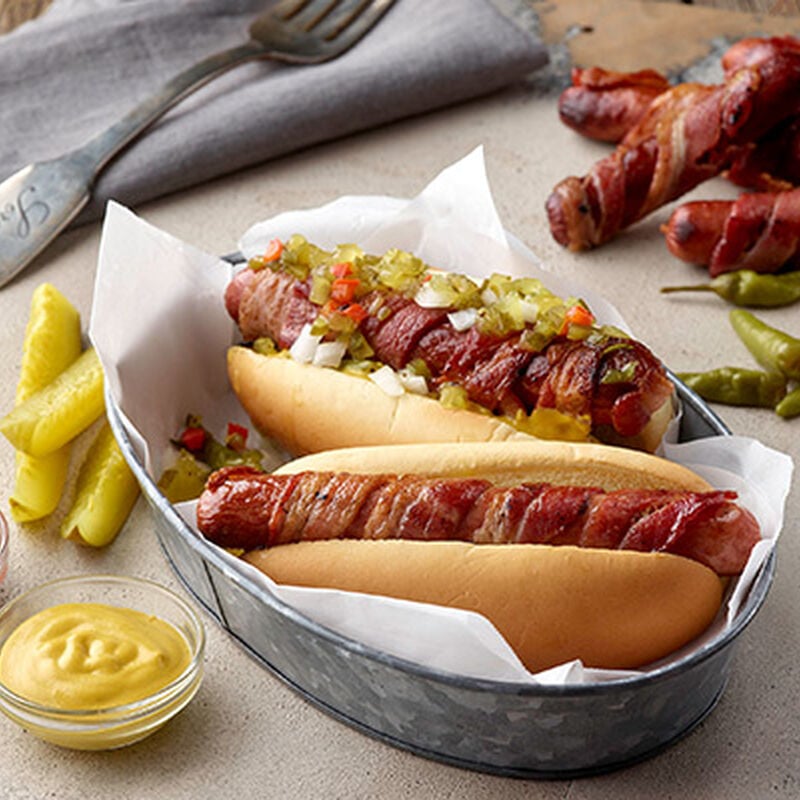 Bacon-Wrapped Hot Dogs on the Grill
You can't get much better than hot dogs on the grill. Unless you wrap franks in hickory smoked bacon! You'll love the added crunch and flavor that bacon imbues. Top dogs with your favorite condiments, or try something new, like grilled onions and pineapples, diced fine.
Nutritional Information
Calories

310

Protein

14g

Sodium

570mg

Sat. fat

7g

Sugar

7g
Nutritional Information
1 servings per recipe
Total Carbohydrate: 25g
9%
*Percent Daily Values are based on a 2,000 calorie diet.
Ingredients
Ingredients
1 hot dog
1 bacon strip
Toothpicks
Hot dog bun
Ketchup, mustard and relish (optional)
Grilled pineapple and onions (optional)
Timing
Timing
Prep
5 minutes
Cook
8 minutes
Step One
Step One
Wrap the bacon around a hot dog and secure with wooden toothpicks.
Step Two
Step Two
Using tongs, place hot dogs on grill. Cook for about 8 minutes, moving hot dogs around the grill to ensure that franks cook at the same time. Keep an eye on the grill, as dripping bacon may cause flare-ups.
Step Three
Step Three
Remove hot dogs from grill, remove toothpicks, place franks in buns and top with condiments.