Bacon-Wrapped Pork Medallions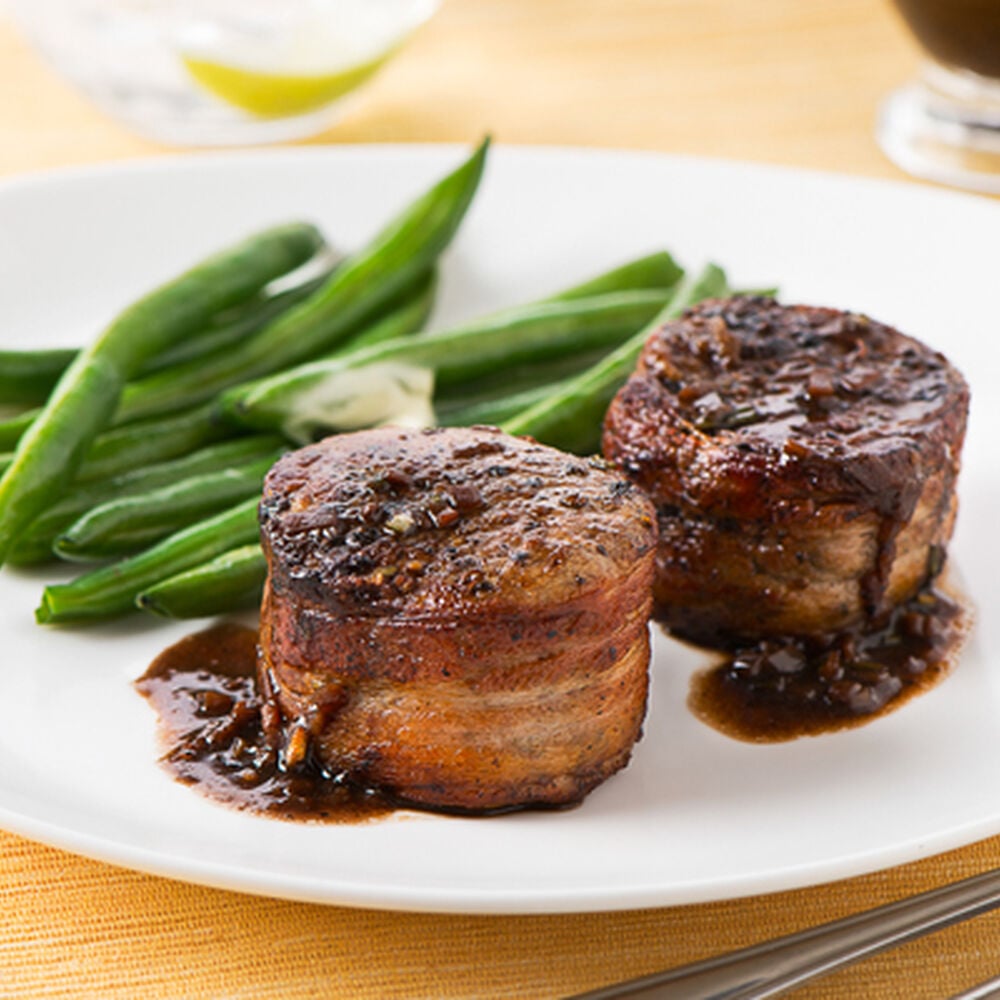 Bacon-Wrapped Pork Medallions
A main course that's ideal for special occasions and holidays! Medallions can be prepared a day ahead and refrigerated until you're ready to make dinner. A delicious red wine sauce creates the perfect topping; serve with a garden salad and mashed potatoes.
Nutritional Information
6 Servings Per Recipe
Total Carbohydrate: 5g
2%
*Percent Daily Values are based on a 2,000 calorie diet.
Ingredients
Ingredients
2-pound Coleman Natural Boneless Pork Loin Roast
6 slices Coleman Natural No-Sugar Applewood-Smoked Bacon, cut in half
2 tablespoons mixed peppercorns, crushed
1/4 teaspoon salt
1 tablespoon oil
1 shallot, finely chopped
1 teaspoon finely chopped rosemary
1/2 cup dry red wine
1 1/4 cups low-sodium chicken broth
1 tablespoon cold butter, cut into cubes
Step 1
Step 1
Preheat the oven to 400 F. Tuck the small end of the tenderloin underneath to create even thickness. Cut each tenderloin into six medallions. Rub both cut sides of each medallion with crushed peppercorns and salt. Wrap half a slice of bacon around each medallion; secure with butcher's twine.
Step 2
Step 2
Heat the oil in medium skillet over medium-high heat. Brown the medallions on all sides for 10 minutes or until golden. Transfer to a baking sheet. Reserve the skillet.
Step 3
Step 3
Roast the medallions for 8 to 10 minutes or until an instant read thermometer registers 145 F when inserted into the center of the pork and bacon is crisp. Remove the twine from each medallion.
Step 4
Step 4
Meanwhile, set the reserved skillet over medium heat. Add the shallot and rosemary. Cook, stirring constantly, for 2 minutes or until softened. Pour in the red wine; simmer for 3 minutes or until reduced by half. Stir in the broth; bring to a boil. Simmer for 10 minutes or until reduced by half. Remove from heat; whisk in the butter, one cube at a time. Place 2 medallions on each plate and top with sauce.