The Best-Ever Deep-Fried Turkey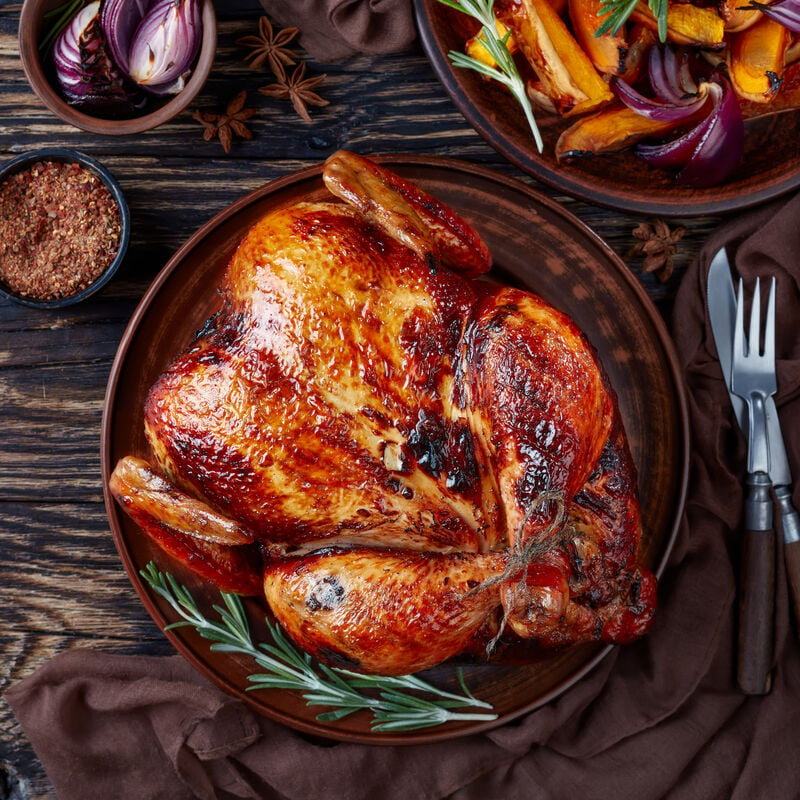 The Best-Ever Deep-Fried Turkey
Crispy, crunchy and so incredibly juicy! This recipe for deep-fried turkey guarantees a tender and delicious result every time! Be sure to set up your turkey frying station outside and away from your house and check for doneness with a digital meat thermometer.
Nutritional information
Calories

530

Protein

67g

Sodium

1320mg

Sat. fat

7g
Nutritional information
Servings per recipe: 12
Amount per serving calories: 530
% daily value
Total fat: 27 g
Saturated fat: 7 g
Cholesterol: 195 mg
Sodium: 1320 mg
Total carbs: 2 g
Dietary fiber: 1 g
Protein: 67 g
*Percent Daily Values are based on a 2,000 calorie diet.
The link to The Best-Ever Deep-Fried Turkey has been copied
Ingredients
Ingredients
tablespoons freshly ground black pepper
tablespoons red pepper flakes
Step One
Step One
Stir together first five ingredients in a small bowl. Remove giblets from turkey and rub herb mixture all over turkey. Make sure neck hole is at least 2 inches in diameter, as oil will need to flow through freely.
Step Two
Step Two
Set up turkey cooker outside, in an open area. Put 3 gallons oil into pot and set it over medium-high heat. When oil reaches 390 F, place turkey into basket and lower it very slowly into oil. (Oil temperature will decrease at this point.) Add more oil if necessary to cover turkey. Turn heat to high and let oil temperature come back up to 365 F. Fry turkey 40 to 50 minutes, or until it floats.
Step Three
Step Three
Carefully remove turkey from oil by lifting handle of basket. Let oil drain for a minute or so back into the pot. Remove turkey and place on a cutting board. Use meat thermometer to make sure thickest part of thigh registers 180 F; if not, return to fryer and fry 10 more minutes, then repeat removal process. Let turkey sit for about 15 minutes before carving and serving.