Prime Beef Meatballs
The best homemade meatballs start with premium meat: Niman Ranch's USDA Prime ground beef, the highest grade available in the U.S.!
---
by Perdue Farms Corporate Chefs
|
June 2021
|
Yield: 2 to 4 Servings
---
Ingredients
1 pound Niman Ranch Prime Ground Beef
1/4 cup minced yellow onion
2 teaspoons minced garlic
2 whole eggs, whisked
1/2 cup unseasoned bread crumbs
2 teaspoons Worcestershire sauce
1 tablespoon fresh chopped oregano
1 teaspoon fresh chopped thyme leaves
1 1/2 teaspoons kosher salt
1 teaspoon black pepper
1/2 teaspoon red pepper flakes
1/4 cup grated Parmesan cheese (optional)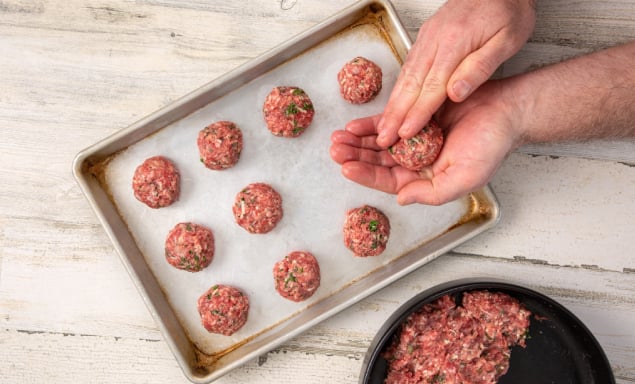 Step 1: Form Meatballs
Mix all ingredients together in a medium-sized bowl until well incorporated. Shape mixture into 1-ounce balls and place on a greased sheet pan.
Step 2: Oven Roast
Preheat oven to 425 F. Place pan in oven and cook for approximately 15 minutes or until a digital meat thermometer, inserted in meatballs, registers 155 F.
Step 3: Simmer in Sauce (Optional)
Place meatballs in a deep skillet or large saute pan, pour preferred tomato sauce overtop and simmer for 5 minutes. Serve as is or over pasta.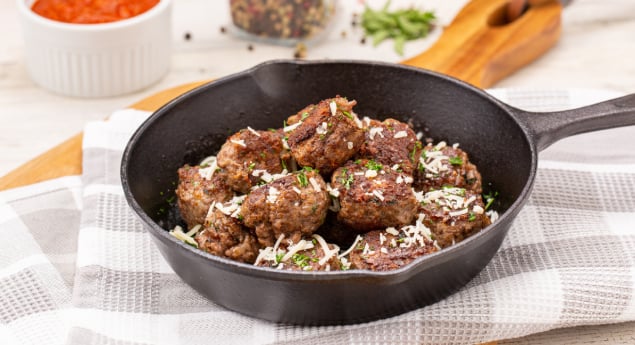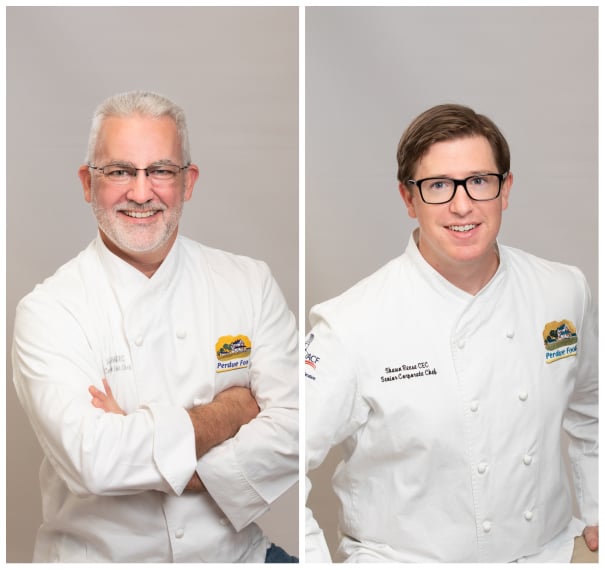 Meet the Perdue Farms Corporate Culinary Team
Chef Chris Moyer, CEC, CRC, and Chef Shawn Reese, CEC, CRC, bring decades of combined culinary experience to their roles at Perdue Farms. Day to day, the chefs contribute to recipe development, culinary ideation and all culinary aspects of the company business. Along with keeping a close eye on emerging trends, new flavors and innovations in the industry, Chefs Chris and Shawn are involved in food photography for Perduefarms.com and head up planning and preparation of meals for both internal corporate functions and external consumer-focused events. The duo represents Perdue Farms and its brands at food shows across the country and remain 100% focused on a positive consumer experience with Perdue Farms products. "We truly love what we do," they say, "and it is exciting to be in an environment that allows us the freedom to be innovative."
LEARN MORE