Garlic Buffalo Blue Cheese-Stuffed Chicken Breasts
Recipe Source

by Megan O'Brien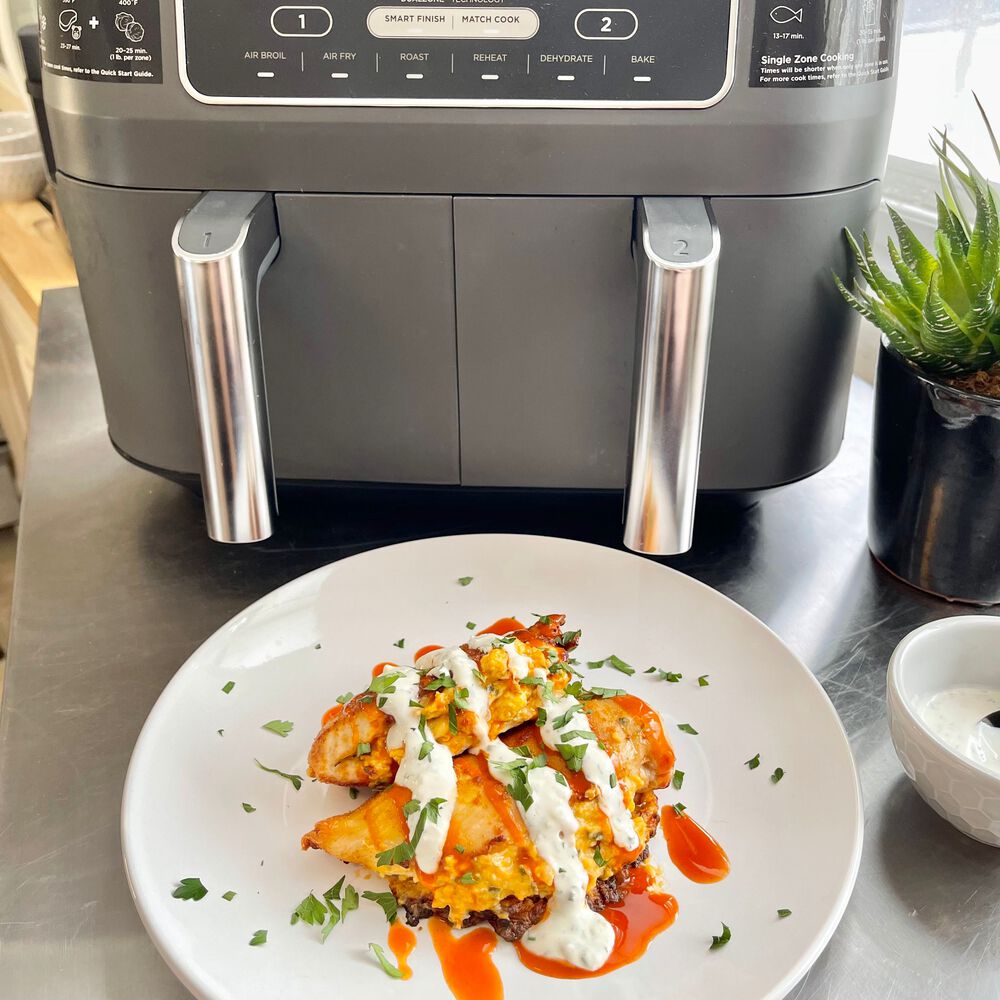 Garlic Buffalo Blue Cheese-Stuffed Chicken Breasts
Recipe Source

by Megan O'Brien
Appliance used: Ninja® Foodi® 2-Basket Air Fryer. Tip: To increase your serving size, simply double or triple the ingredients.
Nutritional Information
2 Servings Per Recipe
Total Carbohydrate: 5g
2%
*Percent Daily Values are based on a 2,000 calorie diet.
Ingredients
Ingredients
2 Perdue Boneless Skinless Chicken Breasts
1/4 teaspoon garlic powder
1/4 teaspoon onion powder
1/4 teaspoon paprika
1/2 tablespoon canola oil
2 ounces softened cream cheese
1/4 cup shredded cheddar cheese
1/4 cup blue cheese crumbles
1/4 cup Buffalo sauce
1 tablespoon dry ranch seasoning
2 tablespoons dried chives
1 tablespoon minced garlic
Toppings (optional)
Ranch dressing, buffalo sauce and fresh parsley leaves
Approx. 3-lb. pack of succulent and juicy chicken breasts ― portioned in three 1-lb. pouches
Approx. 3-lb. pack of tender, juicy organic chicken breasts ― portioned into three 1-lb. pouches
Step 1
Step 1
In a small bowl, combine the garlic powder, onion powder and paprika.
Step 2
Step 2
Place the chicken breasts on a cutting board, drizzle with oil and evenly season with the garlic powder mixture.
Step 3
Step 3
Cut a deep pocket into the center of each chicken breast; be careful not to cut all the way through to the other side.
Step 4
Step 4
In a medium bowl, add the remaining ingredients and mix until well combined. Fill the pocket of each chicken breast with the cream cheese mixture.
Step 5
Step 5
Place a chicken breast in each Zone. Insert both baskets in unit. Select Zone 1, Select BAKE, set temperature to 375 F and set time to 30 minutes. Select MATCH COOK to match Zone 2 settings with Zone 1. Press the START/STOP button to begin cooking.
Step 6
Step 6
Drizzle with ranch, hot sauce and parsley. When cooking is complete, remove chicken breasts and top with ranch, Buffalo sauce and parsley.