Bulk Chicken Breast Filets Bundle
Bulk Chicken Breast Filets Bundle
Over 11 lbs. of pre-portioned chicken breast filets that thaw and cook up quickly
Your Price
Limited Time Only Save 19%
Regular Price
$99.95
Sale Price
$79.99
Each
---
Hand-Picked Favorites to Fill Your Freezer
Description
Hate running out of protein in between shopping trips? We do too, that's why we've brought back this customer favorite! Stock up on our pre-portioned chicken breast filets (45 servings for $1.33 per serving!) and always have tender, juicy and lean white meat on hand. Our quick-thaw portions — the best choice for 30-minute meals — cook up perfectly every time, whether oven-baked, pan-fried or grilled. And we individually wrap each breast to protect against freezer burn and make defrosting quick and easy.
About Perdue Harvestland
Established in 1920 with one small mid-Atlantic chicken farm, Perdue remains a family owned and operated company that takes pride in its commitment to animal care. Together with a network of small U.S. family farmers, Perdue raises poultry for its Harvestland brand free range, on an all-vegetarian diet with no antibiotics, animal by-products or hormones – EVER! Perdue has led the way in raising healthy poultry and setting new animal care standards which meet or exceed USDA requirements. Perdue believes that raising poultry to a higher standard results in a better tasting chicken and that's a guarantee! Learn more at Perdue.com
Bundle Includes (all frozen):
Quick Facts
No Antibiotics Ever
All-Vegetarian Diet
No Animal By-Products
*No Hormones or Steroids
Chicken Hatched, Raised and Harvested in the USA
*Federal regulations prohibit the use of hormones or steroids in poultry.
Individually Wrapped Boneless Skinless Chicken Breasts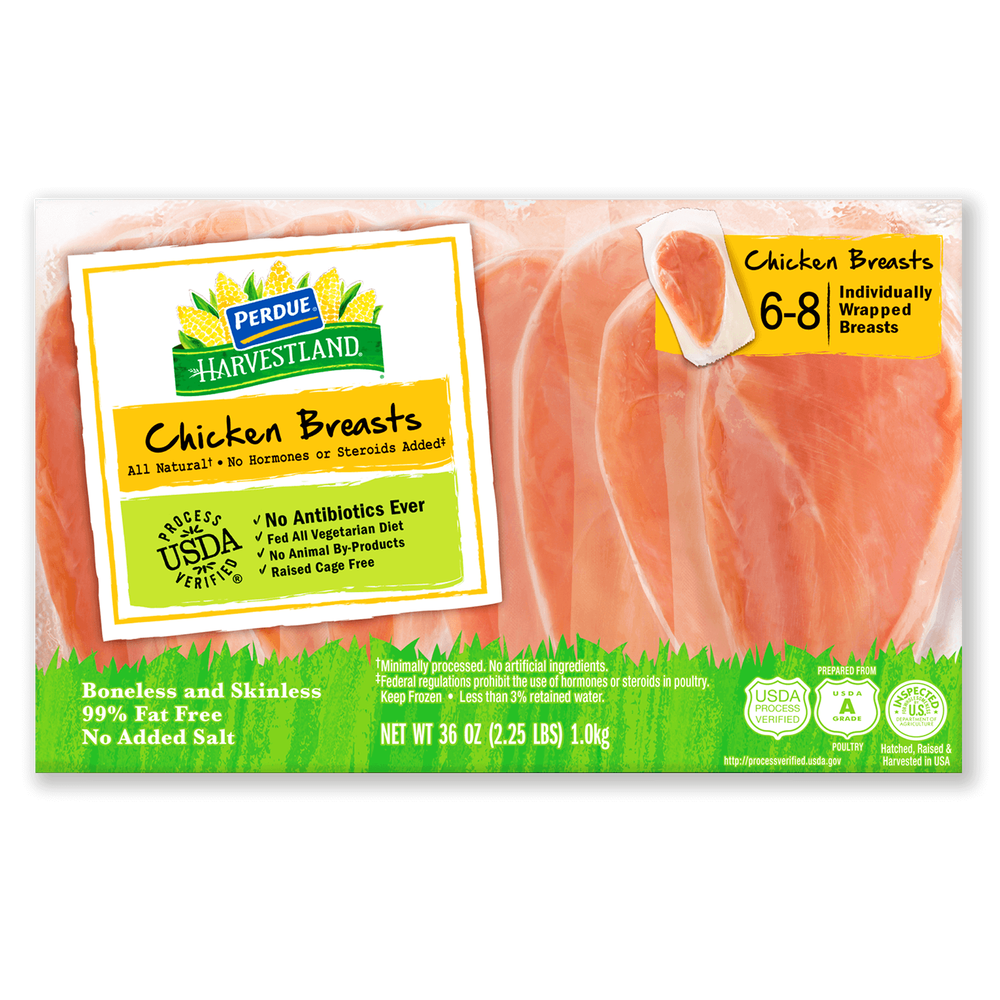 Individually Wrapped Boneless Skinless Chicken Breasts
2.25-lb. pack of boneless, skinless chicken breasts ― up to 8 total