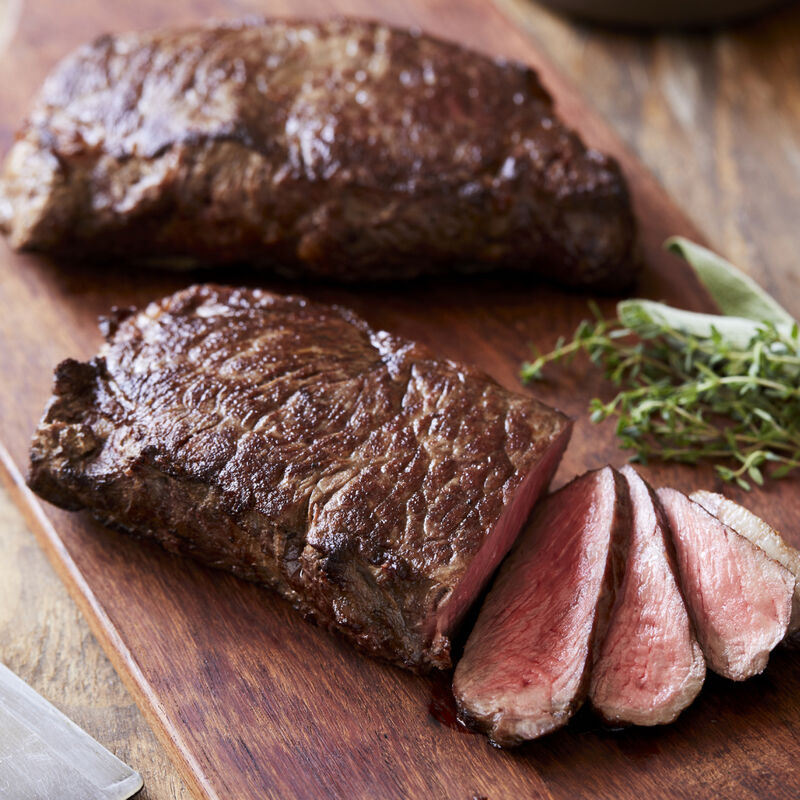 Wondering how to cook a steak in a cast iron skillet? Here, we share a recipe that calls for sirloin steak, butter, garlic and herbs. To sear the outside, cook steak in the pan on the stovetop for just a few minutes per side, then finish in the oven. Delicious!
Nutritional Information
Calories

420

Protein

33g

Sodium

3750mg

Sat. fat

13g
Nutritional Information
4 servings per recipe
Serving size 5 ounces
Total Carbohydrate: 3g
1%
*Percent Daily Values are based on a 2,000 calorie diet.
Ingredients
Ingredients
tablespoons oil with high smoking point (use Extra Light Olive Oil, Sunflower, or Safflower)
garlic cloves; Two cloves minced, one clove sliced in half long ways.
tablespoons coarse sea salt
tablespoons coarsely ground pepper
tablespoons butter, or clarified butter
Step One
Step One
Remove steaks from refrigerator, and let rest at room temperature for one hour. Steak should be cooked at room temperature to ensure even heat distribution.
Step Two
Step Two
Preheat oven to 360 F. Place cast iron skillet on the stove, and turn heat to medium high/high.
Step Three
Step Three
Pour oil over the steaks, cover evenly. Pat sea salt and ground pepper on all sides of the steaks until they are well coated.
Step Four
Step Four
Place steaks in the pan. Steak should make a loud sizzle. Cook for 3 minutes. Flip steaks. During the second 3 minutes, add the butter, minced garlic, thyme sprigs and rosemary sprigs to the pan. Baste the steaks with the melting butter during this time.
Step Five
Step Five
Remove skillet from stove and place in preheated oven for 2 to 4 minutes, depending on desired doneness. (Three minutes will yield a medium steak.)
Step Six
Step Six
Remove skillet from oven and place on stove. Cover and let rest for 5 to 10 minutes.