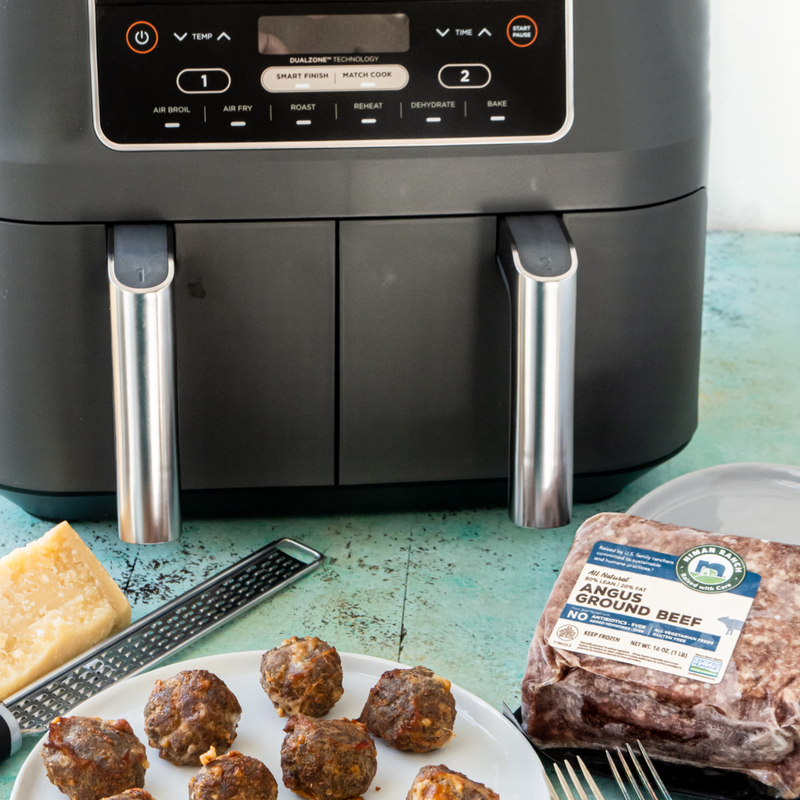 by Britni Vigil
Appliance used: Ninja® Foodi® 2-Basket Air Fryer. Make sure the meatballs stay in a single layer and aren't touching each other in the air fryer. The means that you can cook double the amount of meatballs at once!
Tip: To prevent the meatballs from sticking to your hands, lightly coat your hands with olive oil.
Prep: 10 minutes Cook: 8 minutes Makes: 12-16 meatballs
Ingredients
Ingredients
1 pound 80/20 ground beef
1 large egg, lightly beaten
1/2 cup ricotta cheese
1/2 cup grated Parmesan cheese
2 cloves garlic, peeled, minced
1 teaspoon Italian seasoning
3/4 teaspoon kosher salt
1/4 teaspoon ground black pepper
2 to 3 mozzarella cheese sticks, cut in 1-inch pieces
Timing
Timing
Prep
10 minutes
Cook
8 minutes
Step One
Step One
In a large bowl, add the beaten egg, ricotta, Parmesan, garlic, Italian seasoning, salt and pepper and mix until well combined.
Step Two
Step Two
Add the ground beef and with your hands, mix the meat and cheese until evenly combined.
Step Three
Step Three
Portion the mixture into 2-tablespoon balls, place a piece of mozzarella cheese in the center of each and form the meatball around the cheese. Repeat with the remaining mixture and cheese.
Step Four
Step Four
Install a crisper plate in both baskets. Place half the meatballs in the Zone 1 basket, then insert basket in unit. Place the other half in the Zone 2 basket, then insert basket in unit.
Step Five
Step Five
Select Zone 1, select AIRFRY, set temperature to 375 F, and set time to 8 minutes. Select MATCH COOK to match Zone 2 settings with Zone 1. Press the START/PAUSE button to begin cooking.
Step Six
Step Six
When time reaches 6 minutes, press START/PAUSE to pause the unit. Remove the baskets and flip the meatballs. Reinsert the baskets in the unit and press START/PAUSE to resume cooking. The meatballs are cooked when the internal temperature reaches 165 F.
Step Seven
Step Seven
When cooking is complete, remove the meatballs and allow to rest for 5 minutes before serving.