Recipe Source

by Britni Vigil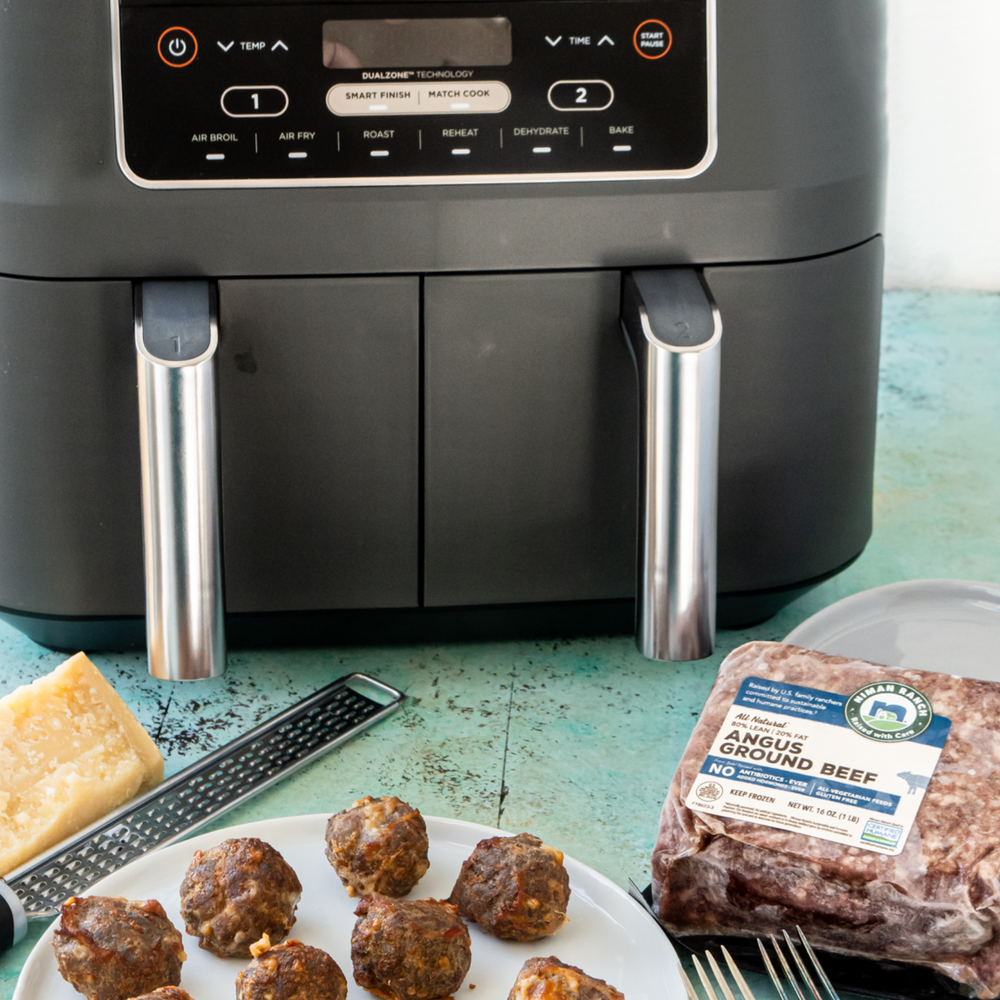 Recipe Source

by Britni Vigil
Appliance used: Ninja® Foodi® 2-Basket Air Fryer. Make sure the meatballs stay in a single layer and aren't touching each other in the air fryer. That means that you can cook double the amount of meatballs at once! Tip: To prevent the meatballs from sticking to your hands, lightly coat your hands with olive oil.
Nutritional Information
16 Servings Per Recipe
Total Carbohydrate: 2.5g
1%
*Percent Daily Values are based on a 2,000 calorie diet.
Ingredients
Ingredients
1 pound 80/20 Ground Beef
1 large egg, lightly beaten
1/2 cup ricotta cheese
1/2 cup grated Parmesan cheese
2 cloves garlic, peeled, minced
1 teaspoon Italian seasoning
3/4 teaspoon kosher salt
1/4 teaspoon ground black pepper
2 to 3 mozzarella cheese sticks, cut in 1-inch pieces
1-lb. pack of tender and flavorful 80/20 ground beef
Step 1
Step 1
In a large bowl, add the beaten egg, ricotta, Parmesan, garlic, Italian seasoning, salt and pepper and mix until well combined.
Step 2
Step 2
Add the ground beef and with your hands, mix the meat and cheese until evenly combined.
Step 3
Step 3
Portion the mixture into 2-tablespoon balls, place a piece of mozzarella cheese in the center of each and form the meatball around the cheese. Repeat with the remaining mixture and cheese.
Step 4
Step 4
Install a crisper plate in both baskets. Place half the meatballs in the Zone 1 basket, then insert basket in unit. Place the other half in the Zone 2 basket, then insert basket in unit.
Step 5
Step 5
Select Zone 1, select AIRFRY, set temperature to 375 F, and set time to 8 minutes. Select MATCH COOK to match Zone 2 settings with Zone 1. Press the START/PAUSE button to begin cooking.
Step 6
Step 6
When time reaches 6 minutes, press START/PAUSE to pause the unit. Remove the baskets and flip the meatballs. Reinsert the baskets in the unit and press START/PAUSE to resume cooking. The meatballs are cooked when the internal temperature reaches 165 F.
Step 7
Step 7
When cooking is complete, remove the meatballs and allow to rest for 5 minutes before serving.