Chicken and Apple Kale Salad With Warm Cider Dressing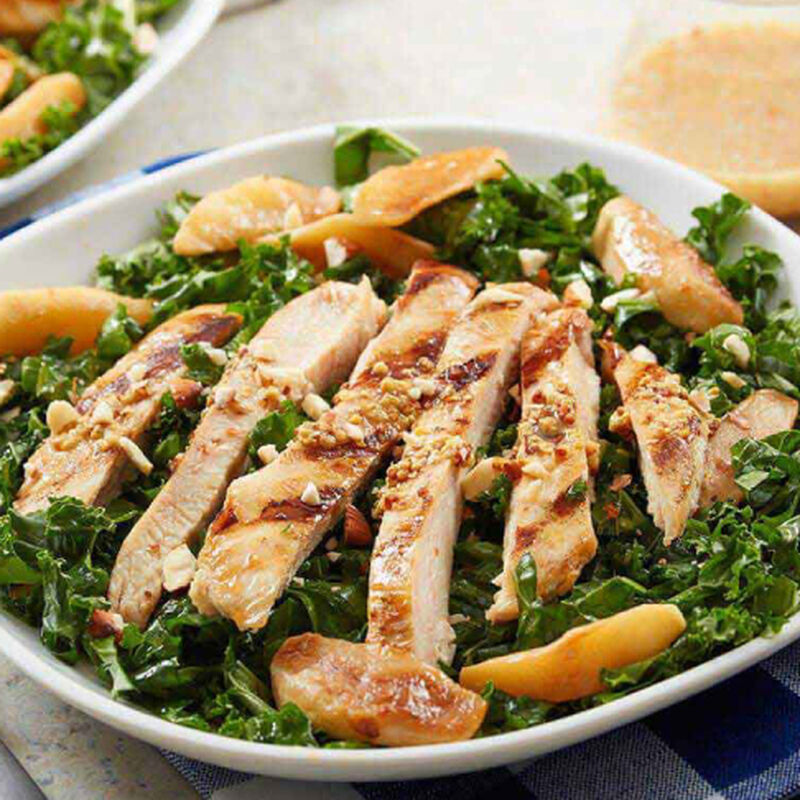 Chicken and Apple Kale Salad With Warm Cider Dressing
Apple-picking season is the perfect time to make this tangy harvest-inspired salad. Sauteed apple slices and grilled chicken top a healthy kale salad, which is dressed in a warm cider vinaigrette.
Nutritional Information
Calories

470.0

Protein

35.0g

Sodium

500mg

Sat. fat

4.5g

Sugar

17.0g
Nutritional Information
4 servings per recipe
Total Carbohydrate: 25.0g
*Percent Daily Values are based on a 2,000 calorie diet.
Ingredients
Ingredients
1 1/2 pounds chicken breasts
2 Granny Smith apples, peeled, cored and cut into 12ths
2 12-ounce bottles hard apple cider
2 tablespoons brown sugar
1 tablespoon olive oil
1/2 teaspoon salt
1/4 teaspoon black pepper
2 tablespoons unsalted butter
1 tablespoon coarse grain mustard
4 cups thinly shredded kale
Timing
Timing
Prep
10 minutes
Cook
40 minutes
Step One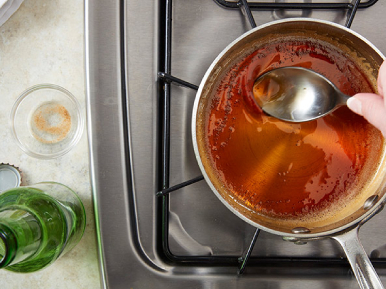 Step One
In a medium saucepan combine 1 bottle of hard apple cider and 2 tablespoons of brown sugar. Boil for about 15 minutes until reduced to 1/4 cup.
Step Two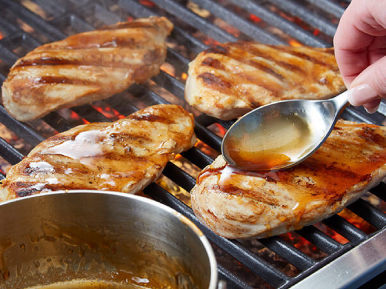 Step Two
Brush the chicken breasts with olive oil and season with salt and black pepper. Heat a grill or grill pan over medium-low heat. Place the chicken breasts on the grill and cook for 5 to 6 minutes per side. Baste with hard apple cider glaze during the last 5 minutes of grilling, being careful not to burn the glaze. Chicken is done when a meat thermometer inserted in the center reaches 170 F. Remove from grill and let rest for 5 minutes.
Step Three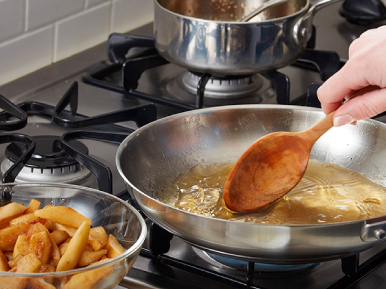 Step Three
In a medium skillet, melt the butter over medium heat. Add the apple slices and sauté for 5 to 8 minutes until browned. Transfer the cooked apples to a bowl and keep warm. Add the remaining bottle of hard apple cider to the skillet and bring to a boil. Reduce the heat and simmer for 5 minutes until dressing is reduced to about 1/2 cup. Remove from heat and swirl in the mustard.
Step Four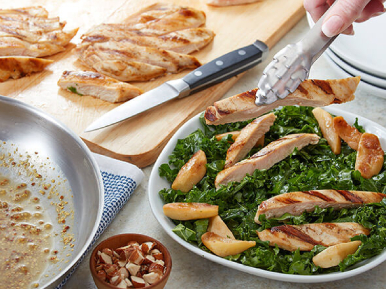 Step Four
Transfer the chicken to a cutting board and slice into serving pieces. Divide the kale between 4 plates. Top with slices of chicken and apples. Pour the warm apple dressing over all and serve.