Chicken and Apple Kale Salad With Warm Cider Dressing
Recipe Source

by the Perdue Farms Culinary Team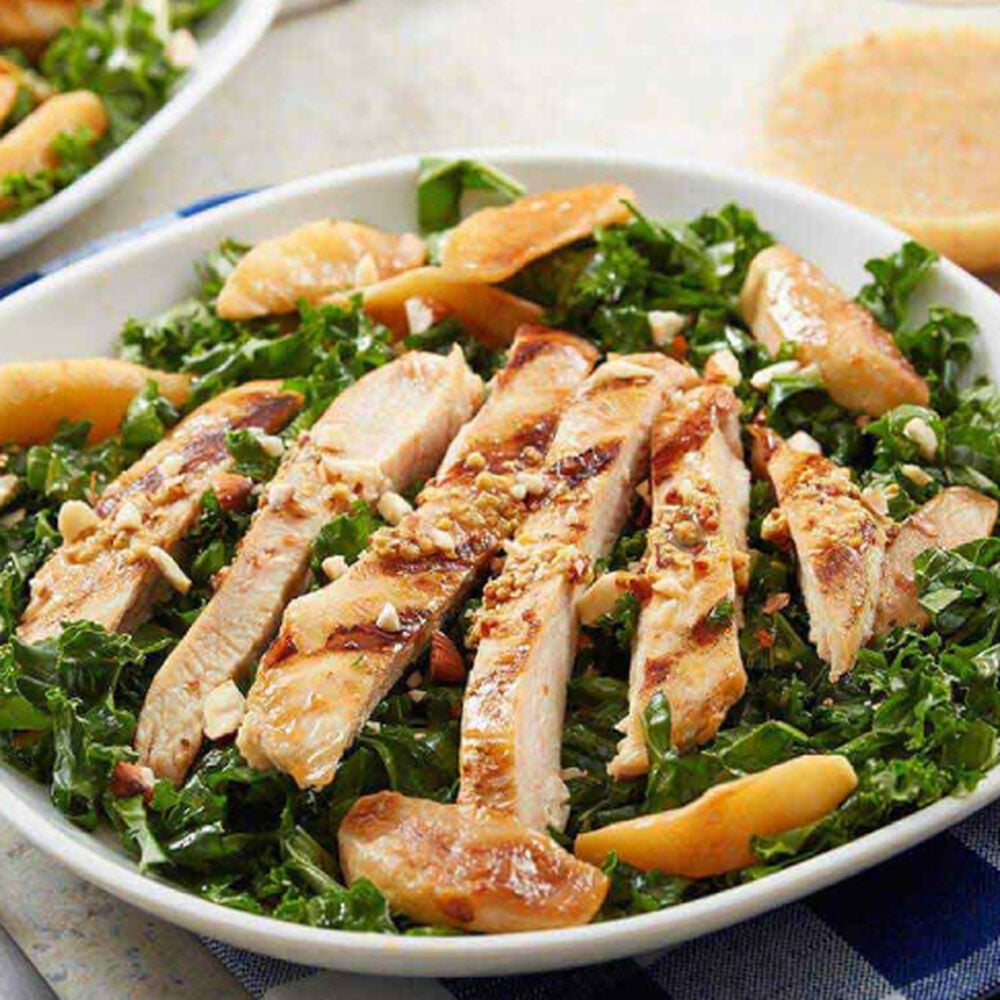 Chicken and Apple Kale Salad With Warm Cider Dressing
Recipe Source

by the Perdue Farms Culinary Team
Apple-picking season is the perfect time to make this tangy harvest-inspired salad. Sauteed apple slices and grilled chicken top a healthy kale salad, which is dressed in a warm cider vinaigrette.
Nutritional Information
4 Servings Per Recipe
Total Carbohydrate: 25.0g
*Percent Daily Values are based on a 2,000 calorie diet.
Ingredients
Ingredients
1 1/2 pounds Perdue Harvestland Boneless Skinless Chicken Breasts
2 Granny Smith apples, peeled, cored and cut into 12ths
2 12-ounce bottles hard apple cider
2 tablespoons brown sugar
1 tablespoon olive oil
1/2 teaspoon salt
1/4 teaspoon black pepper
2 tablespoons unsalted butter
1 tablespoon coarse grain mustard
4 cups thinly shredded kale
Approx. 3-lb. pack of tender, juicy organic chicken breasts ― portioned into three 1-lb. pouches
Step 1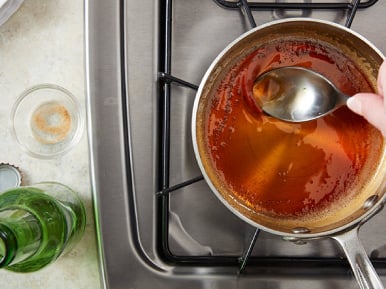 Step 1
In a medium saucepan combine 1 bottle of hard apple cider and 2 tablespoons of brown sugar. Boil for about 15 minutes until reduced to 1/4 cup.
Step 2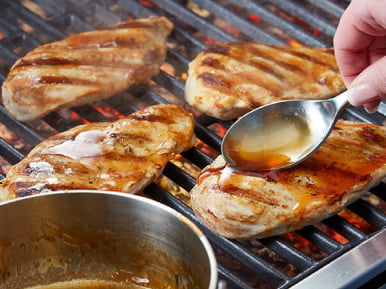 Step 2
Brush the chicken breasts with olive oil and season with salt and black pepper. Heat a grill or grill pan over medium-low heat. Place the chicken breasts on the grill and cook for 5 to 6 minutes per side. Baste with hard apple cider glaze during the last 5 minutes of grilling, being careful not to burn the glaze. Chicken is done when a meat thermometer inserted in the center reaches 170 F. Remove from grill and let rest for 5 minutes.
Step 3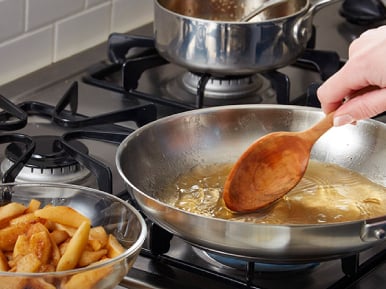 Step 3
In a medium skillet, melt the butter over medium heat. Add the apple slices and sauté for 5 to 8 minutes until browned. Transfer the cooked apples to a bowl and keep warm. Add the remaining bottle of hard apple cider to the skillet and bring to a boil. Reduce the heat and simmer for 5 minutes until dressing is reduced to about 1/2 cup. Remove from heat and swirl in the mustard.
Step 4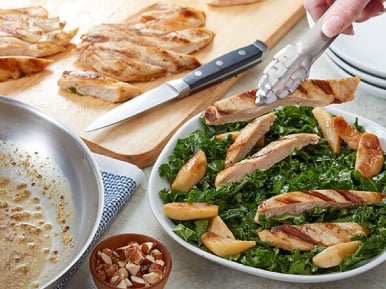 Step 4
Transfer the chicken to a cutting board and slice into serving pieces. Divide the kale between 4 plates. Top with slices of chicken and apples. Pour the warm apple dressing over all and serve.
The Perdue Farms Culinary Team
Chef Chris Moyer, CEC, CRC, and Chef Shawn Reese, CEC, CRC, bring decades of combined culinary experience to their roles at Perdue Farms. The chefs contribute to recipe development, culinary ideation, and all culinary aspects of the company business.
MEET THE CHEFS