Chicken Cordon Bleu Tasty Bites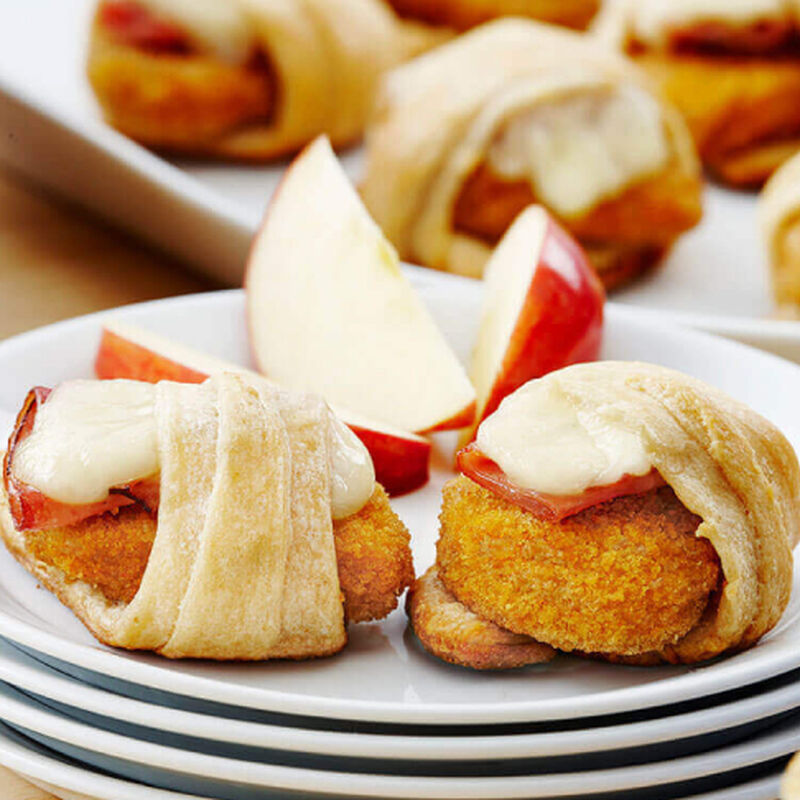 Chicken Cordon Bleu Tasty Bites
Quick and easy treats that the kids will love to make! Our crispy chicken nuggets are paired with swiss cheese and deli ham to make snacks that will tied everyone over till dinnertime.
Nutritional Information
Calories

110.0

Protein

6.0g

Sat. fat

2.0g

Sugar

2.0g
Nutritional Information
16 servings per recipe
Total Carbohydrate: 10.0g
*Percent Daily Values are based on a 2,000 calorie diet.
Ingredients
Ingredients
tube refrigerated crescent roll dough
slices deli ham, cut in half
cup whole grain or Dijon mustard
slices Swiss cheese, cut into 32 strips
Step One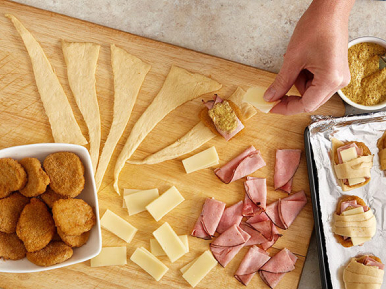 Step One
Preheat the oven to 375 F. Unroll the tube of crescent dough. Cut each triangle in half lengthwise to make a total of 16 triangles. Lay a chicken nugget on the widest part of the triangle. Top nugget with a half slice of ham, a small dollop of mustard and then two strips of Swiss cheese.
Step Two
Step Two
Roll up the crescent dough, wrapping the dough around the chicken, ham and cheese bundle. Place the nuggets on a foil-lined baking sheet sprayed with cooking spray.
Step Three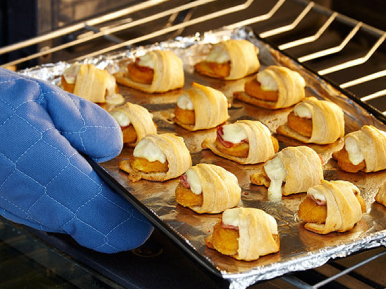 Step Three
Bake the chicken nuggets in the oven for 9 to 11 minutes, until crescent dough is browned, the cheese is melted and the chicken is heated through.
Step Four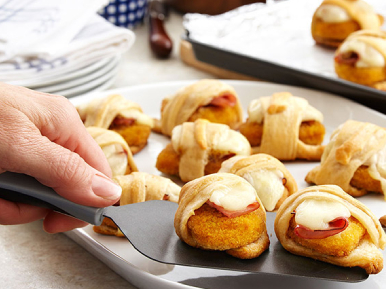 Step Four
Remove the baked bites from the oven and serve warm or at room temperature with remaining mustard.