Chicken and Fruit Kabobs for Kids
Recipe Source

by the Perdue Farms Culinary Team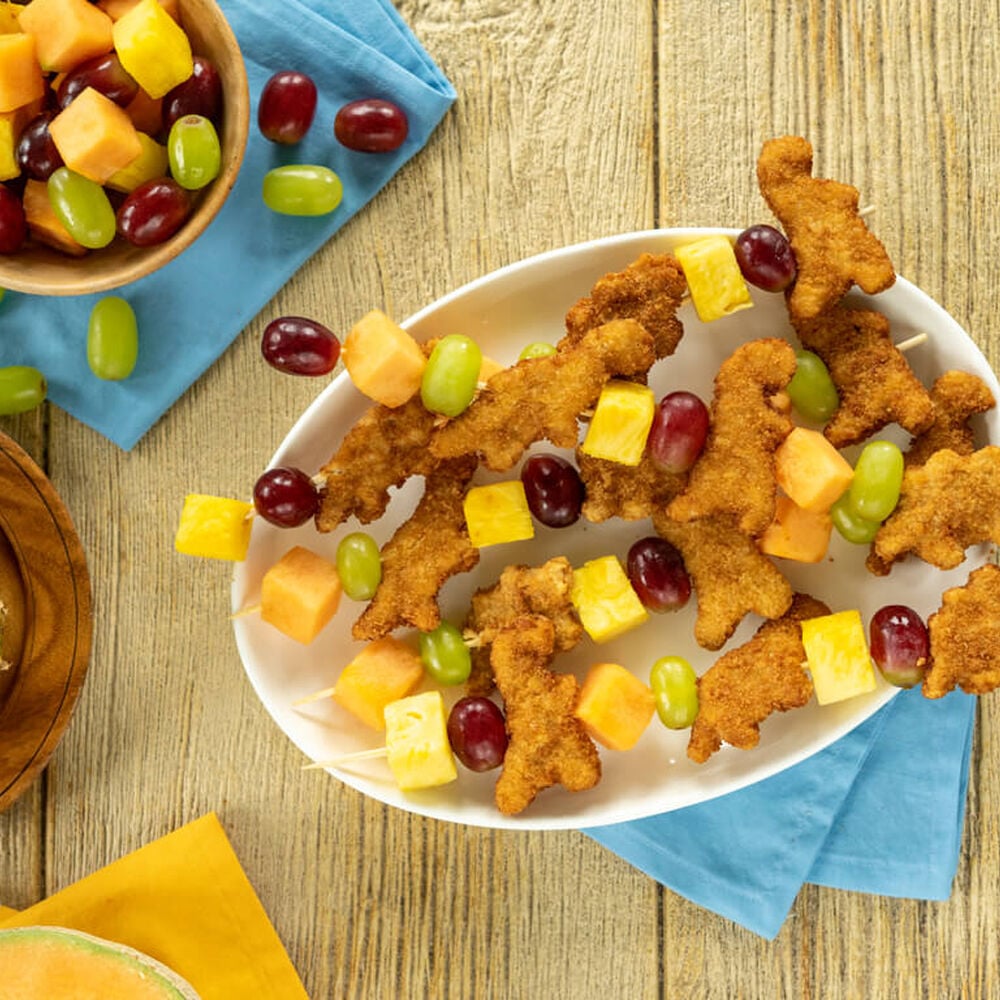 Chicken and Fruit Kabobs for Kids
Recipe Source

by the Perdue Farms Culinary Team
Struggling to get your kids to eat well-rounded meals? This dish may do the trick! Our tender, crispy and delicious dino nuggets are paired with melon, grape and pineapple bites to create fruit kabobs that kids will devour. Perfect for a quick lunch or afternoon snack.
Nutritional Information
9 Servings Per Recipe
Total Carbohydrate: 36g
12%
*Percent Daily Values are based on a 2,000 calorie diet.
Ingredients
Ingredients
1 1/2 pounds Perdue Panko-Breaded Dino Nuggets
9 cantaloupe cubes
9 pineapple chunks
9 green seedless grapes
9 red seedless grapes
Step 1
Step 1
Preheat oven to 425 F. Spray a sheet tray with cooking spray.
Step 2
Step 2
Place frozen nuggets in single layer on the sheet tray. Bake on the middle oven rack for 11 to 13 minutes, or until heated through and internal temperature reaches 150 F to 160 F. Turn the pieces halfway through heating time.
Step 3
Step 3
When cool enough to handle, thread nuggets onto bamboo skewers, alternating with cubes of cantaloupe, pineapple and grapes. Arrange on a platter and serve.
The Perdue Farms Culinary Team
Chef Chris Moyer, CEC, CRC, and Chef Shawn Reese, CEC, CRC, bring decades of combined culinary experience to their roles at Perdue Farms. The chefs contribute to recipe development, culinary ideation, and all culinary aspects of the company business.
MEET THE CHEFS