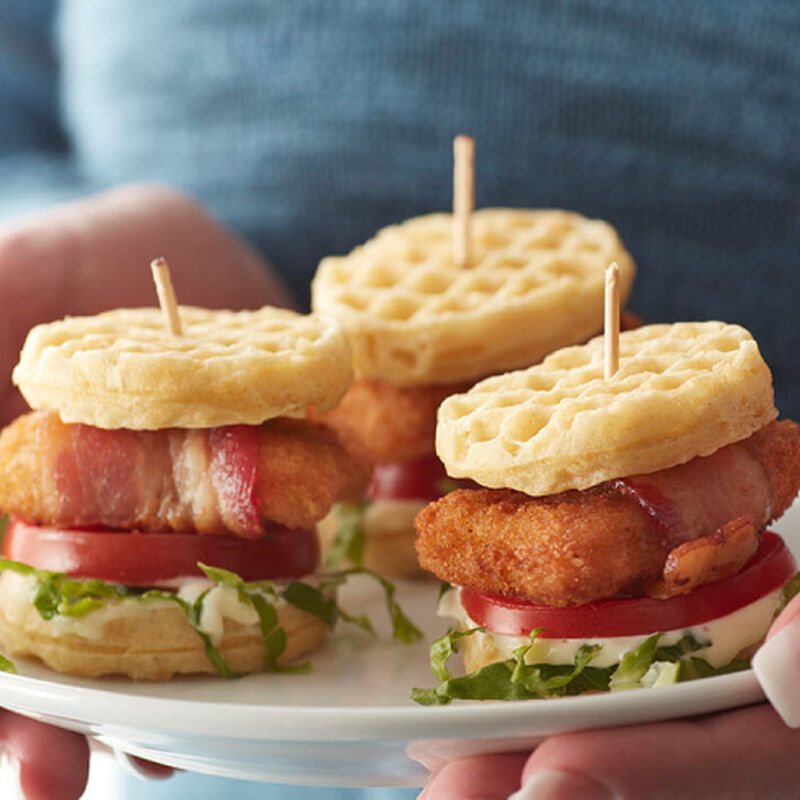 A lunchtime treat or mid-afternoon snack! The taste of classic chicken and waffles is paired with BLT toppings for a bite that's out of this world. Remember to use red, ripe tomatoes and Niman Ranch bacon!
Nutritional information
Calories

130.0

Protein

4.0g

Sat. fat

1.5g

Sugar

1.0g
Nutritional information
Servings per recipe: 12
Amount per serving calories: 130.0
% daily value
Total fat: 8.0 g
Saturated fat: 1.5 g
Cholesterol: 15.0 mg
Total carbs: 11.0 g
Sugar: 1.0 g
Protein: 4.0 g
*Percent Daily Values are based on a 2,000 calorie diet.
The link to Chicken Nugget BLTs has been copied
Ingredients
Ingredients
or
or
Note: Nutritional information based on Perdue Chicken Breast Nuggets
Roma tomatoes, sliced into 12
Step One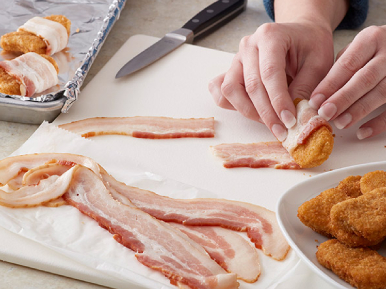 Step One
Preheat your oven to 425 F. Wrap each nugget with bacon, cutting off the excess. Place on a foil-lined baking sheet. Bake for 15 to 20 minutes until chicken is heated through and the bacon is crisp. Internal temperature should reach 150 to 160 F.
Step Two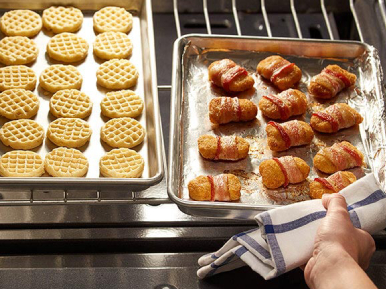 Step Two
Place 24 mini waffles on another baking sheet. Three to 4 minutes before the chicken is done, pop the waffles into the same oven and toast until crispy and warm.
Step Three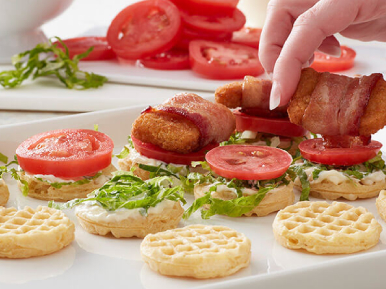 Step Three
To assemble, smear a teaspoon of mayonnaise on each of 12 waffles. Top with some shredded lettuce and a slice of tomato. Place a bacon-wrapped chicken nugget on top of tomato.
Step Four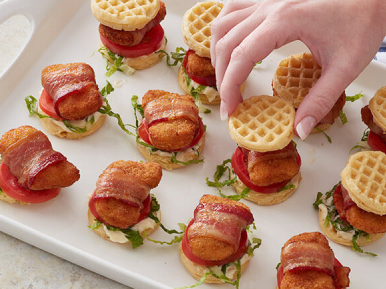 Step Four
Place another mini waffle on top of each nugget. Skewer each chicken bite with a toothpick and serve.