Chicken Nugget Pasta Salad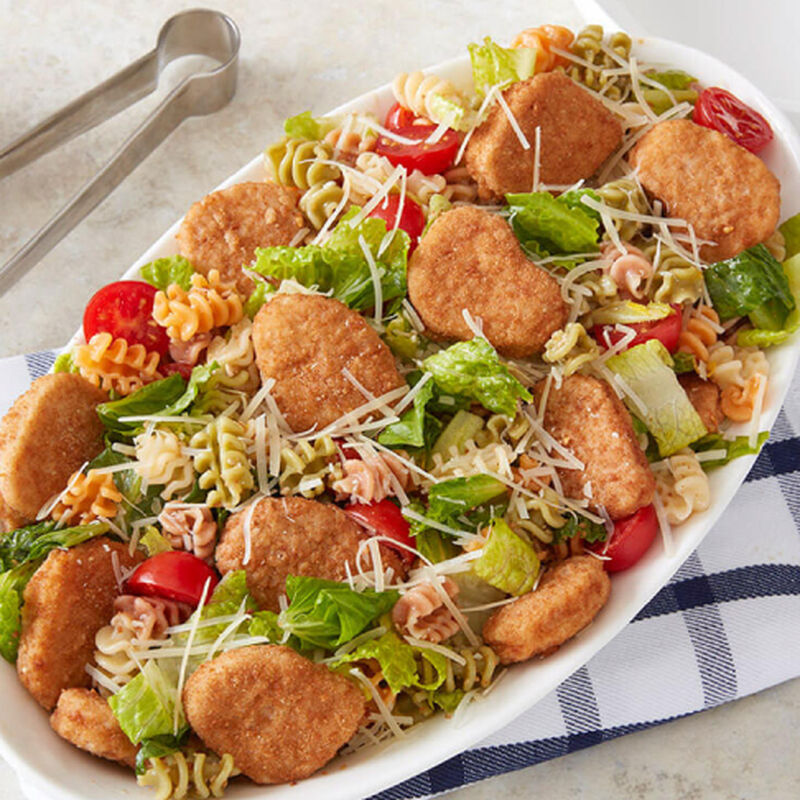 Chicken Nugget Pasta Salad
Caesar dressing lends zest to this pasta salad recipe, which is topped with our tender and juicy chicken nuggets. Serve for lunch or a healthy, quick and easy dinner.
Nutritional information
Calories

570.0

Protein

23.0g

Sat. fat

5.0g

Sugar

5.0g
Nutritional information
Servings per recipe: 4
Amount per serving calories: 570.0
% daily value
Total fat: 28.0 g
Saturated fat: 5.0 g
Cholesterol: 50.0 mg
Total carbs: 63.0 g
Dietary fiber: 8.0 g
Sugar: 5.0 g
Protein: 23.0 g
*Percent Daily Values are based on a 2,000 calorie diet.
The link to Chicken Nugget Pasta Salad has been copied
Ingredients
Ingredients
or
or
Note: Nutritional information based on Perdue SimplySmart Organics Whole Grain Chicken Breast Nuggets
Parmesan cheese, shredded
cups tricolored fusilli or rotini pasta, cooked and cooled (about 8 ounces uncooked)
cup cherry tomatoes, halved
heart of romaine lettuce, sliced into 1-inch slices
Step One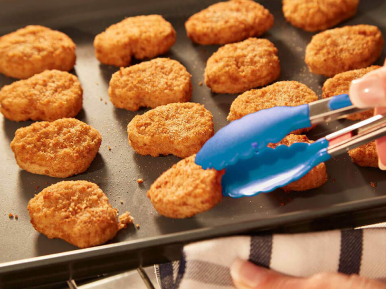 Step One
Preheat oven to 425 F. Place nuggets on a baking sheet and sprinkle with garlic powder. Bake for 9 to 10 minutes. If frozen, add 2 minutes to the baking time. For a crispier product, turn the nuggets halfway through heating time. Let stand 2 to 3 minutes.
Step Two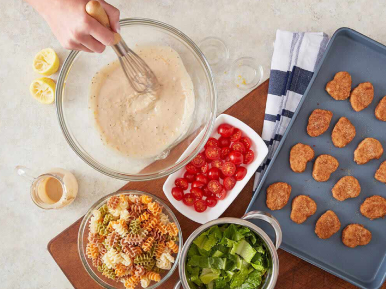 Step Two
In a large bowl, whisk together the Caesar dressing, lemon zest and juice.
Step Three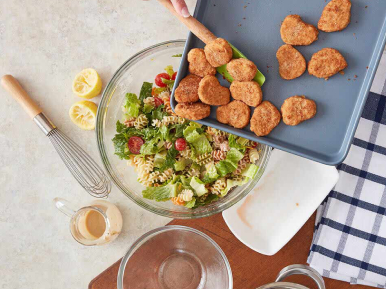 Step Three
To the bowl of dressing, add the pasta, lettuce, and chicken nuggets. Toss well to coat with dressing.
Step Four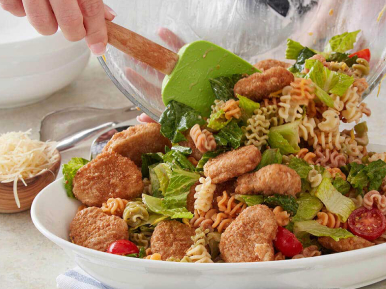 Step Four
Transfer to a serving platter and sprinkle with Parmesan cheese curls.