Chicken Nugget Pasta Salad
Recipe Source

by the Perdue Farms Culinary Team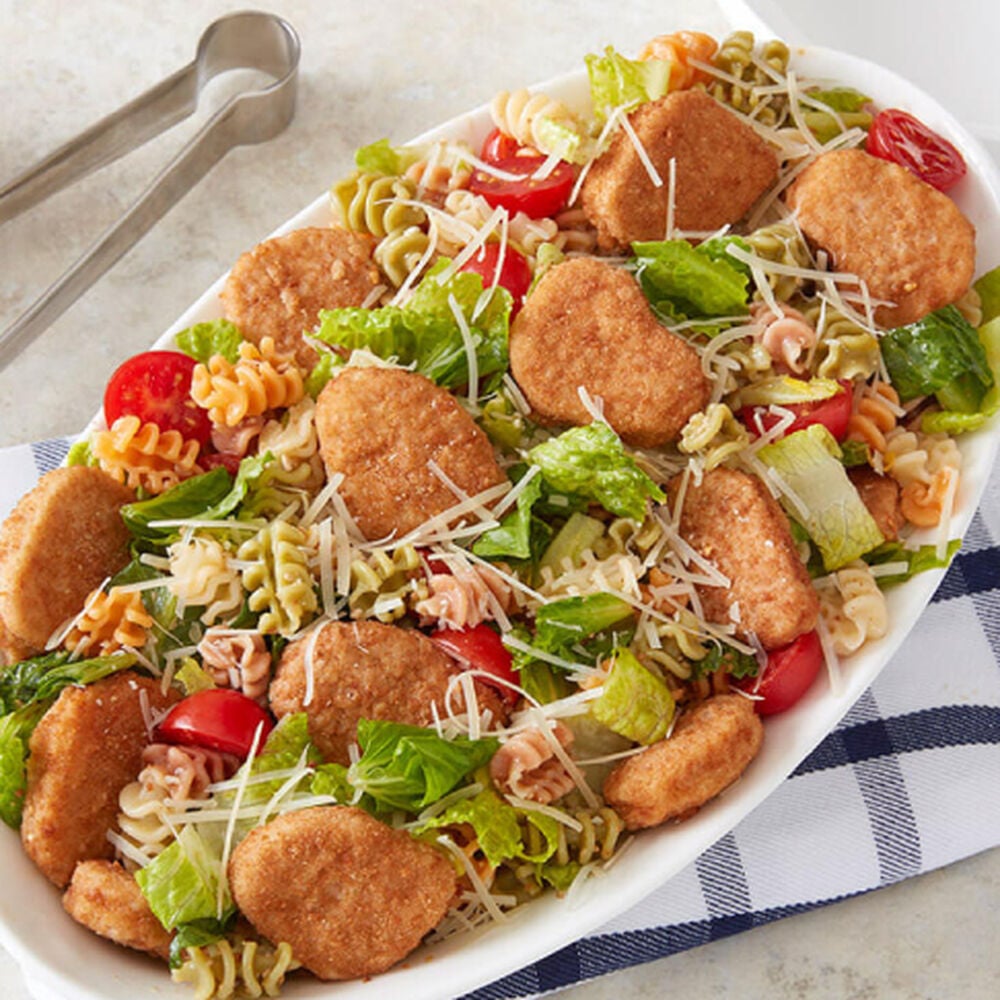 Chicken Nugget Pasta Salad
Recipe Source

by the Perdue Farms Culinary Team
Caesar dressing lends zest to this pasta salad recipe, which is topped with our tender and juicy chicken nuggets. Serve for lunch or a healthy, quick and easy dinner.
Nutritional Information
*Percent Daily Values are based on a 2,000 calorie diet.
Ingredients
Ingredients
16 Perdue Chicken Breast Nuggets
1 teaspoon garlic powder
1/2 cup Caesar dressing
1 lemon, zested and juiced
1/3 cup Parmesan cheese, shredded
4 cups tricolored fusilli or rotini pasta, cooked and cooled (about 8 ounces uncooked)
1 cup cherry tomatoes, halved
1 heart of romaine lettuce, sliced into 1-inch slices
Step 1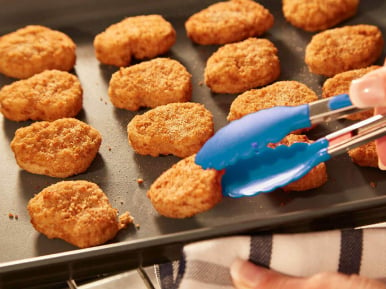 Step 1
Preheat oven to 425 F. Place nuggets on a baking sheet and sprinkle with garlic powder. Bake for 9 to 10 minutes. If frozen, add 2 minutes to the baking time. For a crispier product, turn the nuggets halfway through heating time. Let stand 2 to 3 minutes.
Step 2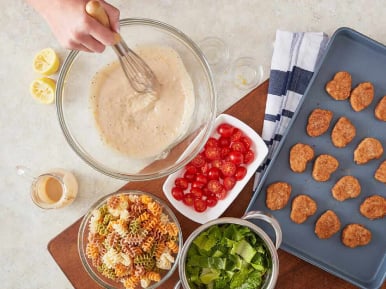 Step 2
In a large bowl, whisk together the Caesar dressing, lemon zest and juice.
Step 3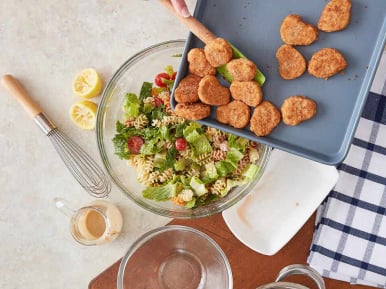 Step 3
To the bowl of dressing, add the pasta, lettuce, and chicken nuggets. Toss well to coat with dressing.
Step 4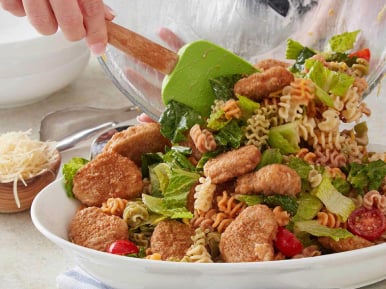 Step 4
Transfer to a serving platter and sprinkle with Parmesan cheese curls.

Nutritional information based on Perdue SimplySmart Organics Whole Grain Chicken Breast Nuggets
The Perdue Farms Culinary Team
Chef Chris Moyer, CEC, CRC, and Chef Shawn Reese, CEC, CRC, bring decades of combined culinary experience to their roles at Perdue Farms. The chefs contribute to recipe development, culinary ideation, and all culinary aspects of the company business.
MEET THE CHEFS