Recipe Source

by the Perdue Farms Culinary Team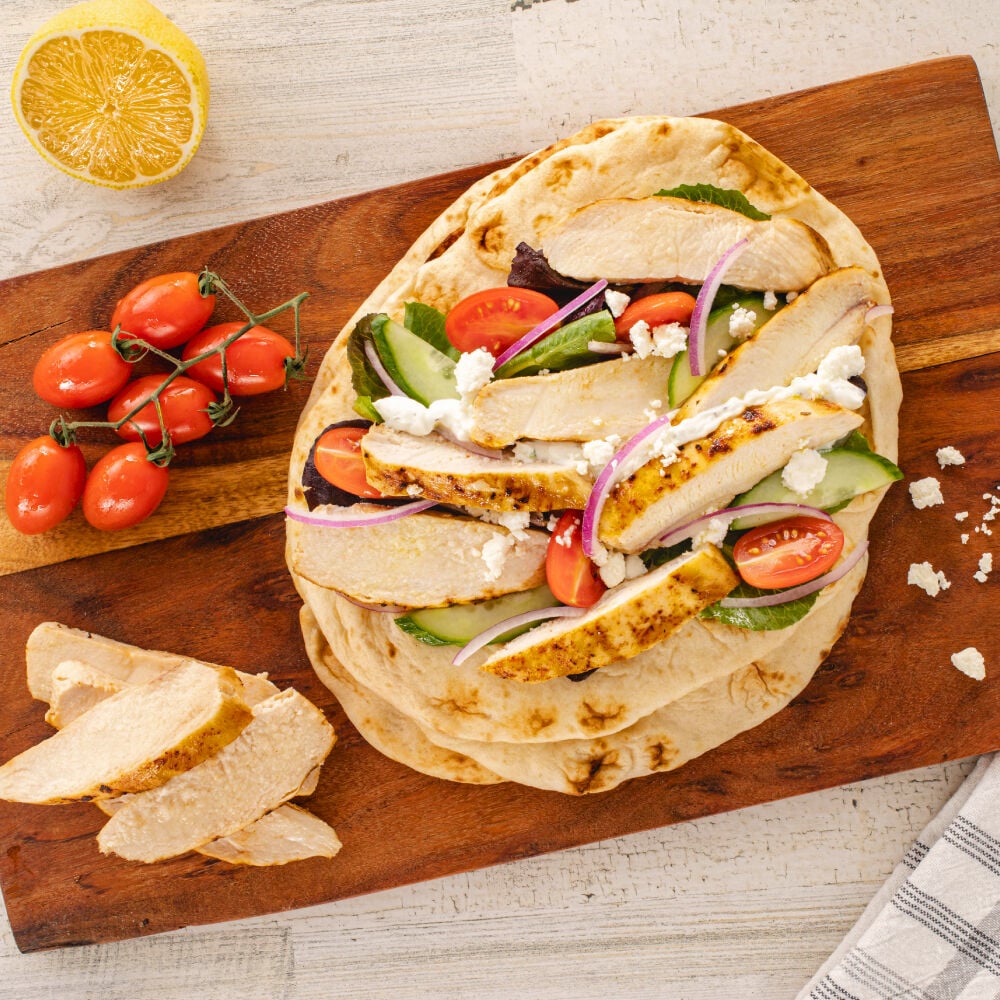 Recipe Source

by the Perdue Farms Culinary Team
Delicious for lunch or dinner, chicken shawarma is quick and easy to assemble ― a recipe ideal for meal prep! Be sure to marinade chicken breast strips before cooking and pile pitas high with your favorite veggies and feta cheese.
Nutritional Information
6 Servings Per Recipe
Total Carbohydrate: 24.5g
8%
*Percent Daily Values are based on a 2,000 calorie diet.
Ingredients
Ingredients
1 pack Pre-Cut Chicken Breast Strips
1/2 cup Italian vinaigrette
6 Greek pitas
1/2 red onion, sliced thin
2 Roma tomatoes, sliced into thin rounds
1/2 cup crumbled feta cheese
1/2 hothouse cucumber, sliced thin halfmoons
1/2 cup tzatziki sauce
2 cups shredded Iceburg lettuce
Fresh dill and lemon (garnish)
Step 1
Step 1
Place chicken and vinaigrette In a large locking plastic bag/airtight container. Place in refrigerator and let marinate for at least one hour.
Step 2
Step 2
Preheat a large saute pan over medium heat. Once hot, add 1 ounce of your favorite neutral cooking oil, followed by the marinated chicken. Saute for 10 to 12 minutes, while stirring, until slightly browned and chicken reaches an internal temperature of 165 F.
Step 3
Step 3
Assemble wraps by placing 2 to 3 ounces of chicken on each pita and layering the remaining vegetables, cheese and tzatziki sauce on top. Fold over and serve.
The Perdue Farms Culinary Team
Chef Chris Moyer, CEC, CRC, and Chef Shawn Reese, CEC, CRC, bring decades of combined culinary experience to their roles at Perdue Farms. The chefs contribute to recipe development, culinary ideation, and all culinary aspects of the company business.
MEET THE CHEFS