Chicken and Shrimp Stir-Fry
Recipe Source

by the Perdue Farms Culinary Team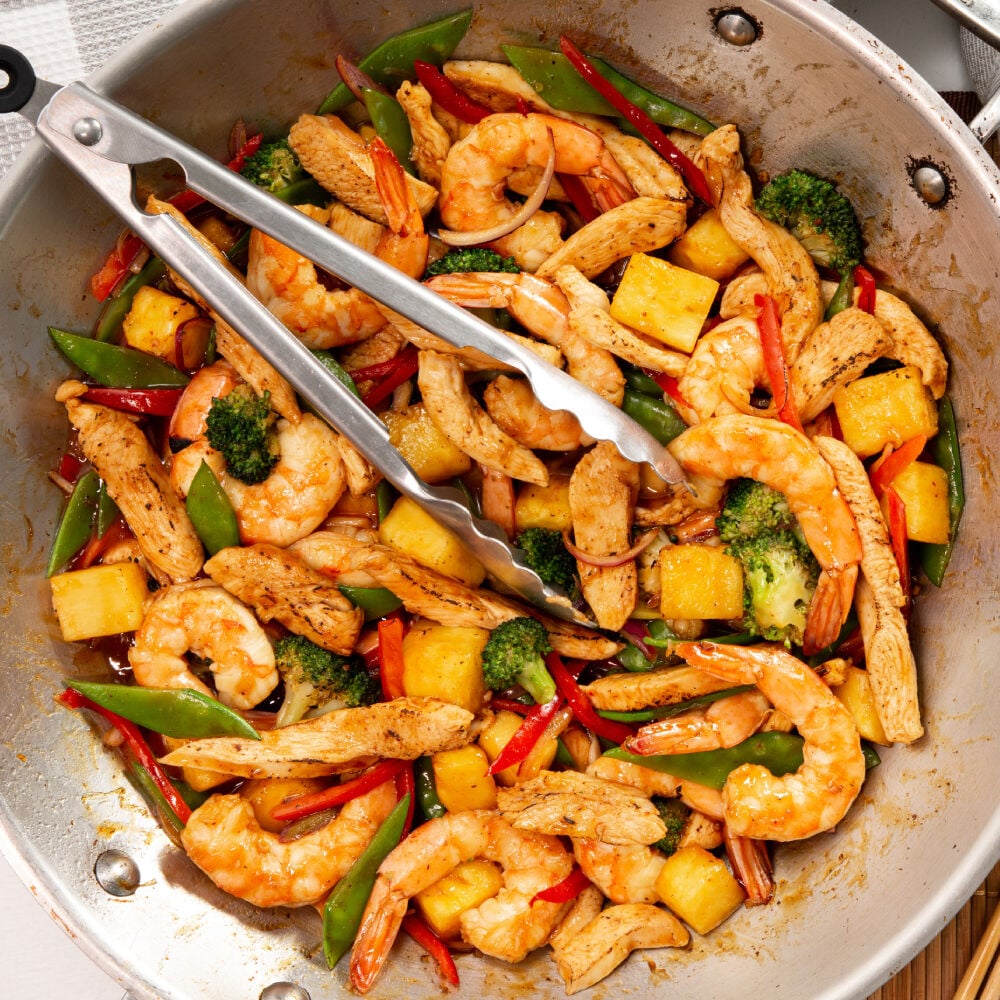 Chicken and Shrimp Stir-Fry
Recipe Source

by the Perdue Farms Culinary Team
Packed with veggies and coated in a sweet and tangy stir-fry sauce, this one-pan dinner is perfect for those who meal prep. Batch cook, store in separate containers and enjoy any night of the week when you need to get dinner on the table quickly.
Nutritional Information
6 Servings Per Recipe
Total Carbohydrate: 102g
34%
*Percent Daily Values are based on a 2,000 calorie diet.
Ingredients
Ingredients
1 package Perdue Fresh Cuts Chicken Breast Strips
2 tablespoons olive oil
1 cup pre- blanched broccoli
1/2 cup julienned red onion
1/2 cup julienned red pepper
1/2 cup snow peas, snapped in half
1 can diced pineapple, drained
1 bag Naked Coast Seafoods Jumbo Cooked Shrimp
1 cup stir-fry sauce or teriyaki sauce
2 cups Chinese noodles
1/4 cup green onions for garnish
1-lb. bag of peeled and deveined tail-on jumbo shrimp
Step 1
Step 1
Preheat a medium-large pan over medium heat. Add olive oil followed by the chicken strips. Saute chicken for 2 to 3 minutes.
Step 2
Step 2
Add vegetables and mix in well. Add pineapple, shrimp and stir-fry sauce.
Step 3
Step 3
Noodles can be added to the pan to heat or heated separately and stir-fry served overtop. Garnish dish with chopped green onion.
The Perdue Farms Culinary Team
Chef Chris Moyer, CEC, CRC, and Chef Shawn Reese, CEC, CRC, bring decades of combined culinary experience to their roles at Perdue Farms. The chefs contribute to recipe development, culinary ideation, and all culinary aspects of the company business.
MEET THE CHEFS