Chicken and Veggie Nugget Mac and Cheese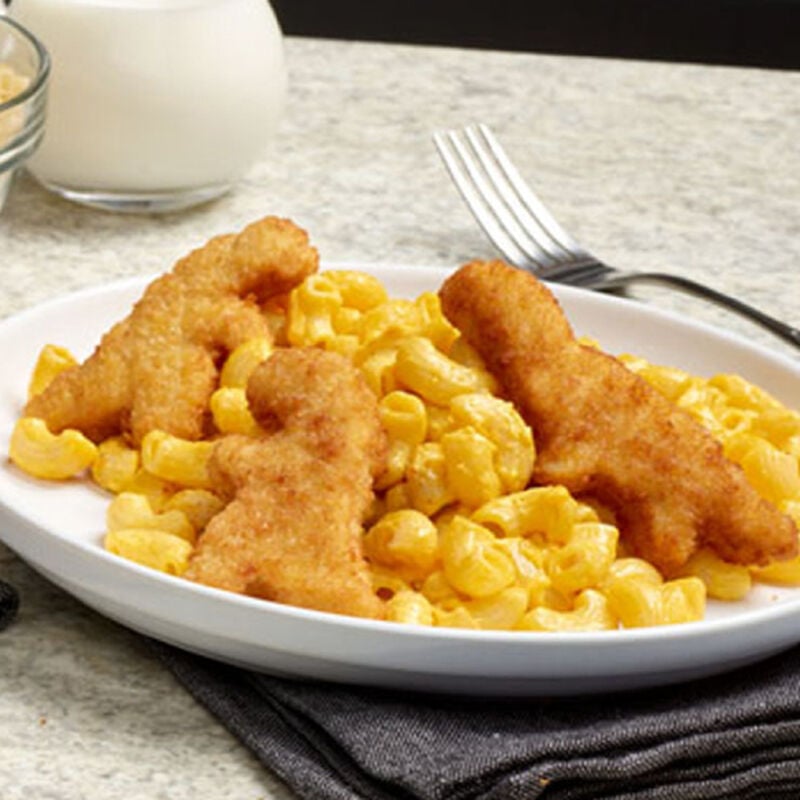 Chicken and Veggie Nugget Mac and Cheese
Sneak some veggies in your kids' diet with this tasty recipe, which features Perdue's chicken and veggie nuggets. Customize the recipe by adding bacon, vegetables or your favorite seasoning.
Nutritional Information
Calories

420.0

Protein

18.0g

Sat. fat

4.5g

Sugar

5.0g
Nutritional Information
4 servings per recipe
Total Carbohydrate: 46.0g
*Percent Daily Values are based on a 2,000 calorie diet.
Ingredients
Ingredients
8 chicken nuggets
1 box (7 1/4-ounce) macaroni and cheese dinner
Timing
Timing
Prep
5 minutes
Cook
15 minutes
Step One
Step One
Preheat oven to 425 F. Spray baking sheet with cooking spray. Place frozen nuggets in single layer on baking sheet. Bake on middle oven rack for 16 to 18 minutes, or until heated through. Internal temperature should reach 150 to 160 F.
Step Two
Step Two
As chicken bakes, make the mac and cheese. In a medium saucepan, bring 6 cups water to a boil. Add macaroni and cook according to package directions.
Step Three
Step Three
Drain the pasta, return to the pot and add the cheese mixture ingredients. Mix until well combined. For a fun twist, try adding bacon, spinach or broccoli to the mac and cheese or dipping the chicken nuggets in honey or adding a few squirts of your favorite hot sauce.
Step Four
Step Four
Transfer the macaroni and cheese to a serving platter and top with the crispy chicken nuggets.