Chicken and Waffle Bites with Honey Bacon Butter
A Sunday brunch essential, this delicious appetizer is easy to cook and assemble!
---
by Perdue Farms Corporate Chefs
|
June 2021
|
Yield: 4 to 6 Servings
---
A classic comfort food dish, chicken and waffles gets a makeover! Perdue Farms' culinary team has partnered with the pros at Nature Nate's Honey Co. to develop an appetizer recipe that's as appropriate for game day as it is for Sunday brunch!
The bacon and honey butter is what truly makes this dish stand out! For best results, choose strips from our Coleman Natural or Niman Ranch brand.

Ingredients
1 package Perdue SimplySmart Organics Breaded Chicken Breast Nuggets Gluten Free
1/2 cup salted butter, room temperature
1/4 cup Coleman Natural Uncured Hickory Smoked Bacon, finely chopped
24 mini waffles
2 tablespoons chopped chives for garnish, optional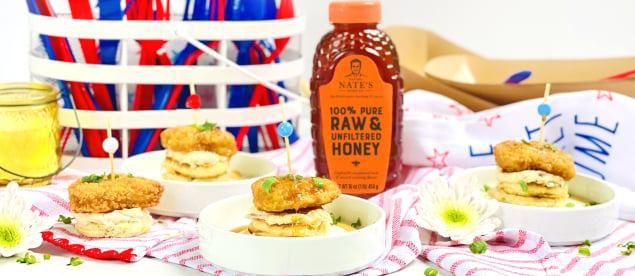 Step 1: Make Honey Butter
Using an electric mixer, whip the butter until white and fluffy. Add honey and chopped bacon. Reserve.
Step 2: Bake Nuggets
Preheat an oven or toaster oven to 425 F. Place frozen nuggets in a single layer on a baking sheet and heat for 11 to 13 minutes. For a crispier crust, turn halfway through heating time. Remove from oven and transfer to a mixing bowl. Add some of the honey butter and toss until well coated.
Step 3: Assemble Chicken and Waffle Sandwiches
In the toaster oven, heat the mini waffles for 3 to 4 minutes or until toasted and warm. Place a dollop of honey butter on each warm mini waffle, then place a chicken nugget on top. Garnish with chopped chives, if desired.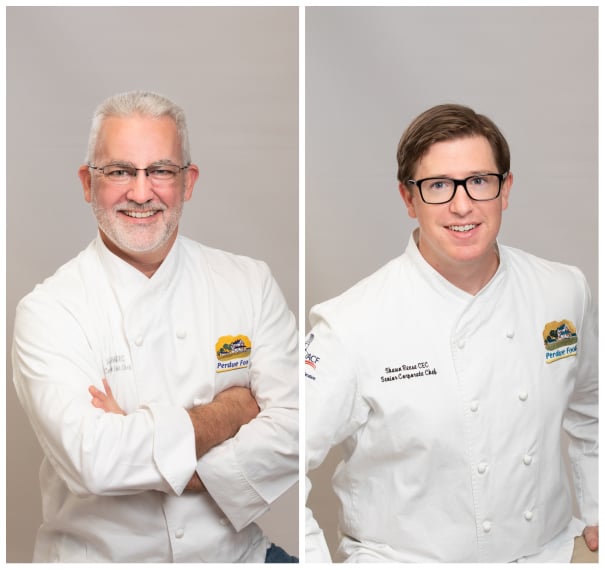 Meet the Perdue Farms Corporate Culinary Team
Chef Chris Moyer, CEC, CRC, and Chef Shawn Reese, CEC, CRC, bring decades of combined culinary experience to their roles at Perdue Farms. Day to day, the chefs contribute to recipe development, culinary ideation and all culinary aspects of the company business. Along with keeping a close eye on emerging trends, new flavors and innovations in the industry, Chefs Chris and Shawn are involved in food photography for Perduefarms.com and head up planning and preparation of meals for both internal corporate functions and external consumer-focused events. The duo represents Perdue Farms and its brands at food shows across the country and remain 100% focused on a positive consumer experience with Perdue Farms products. "We truly love what we do," they say, "and it is exciting to be in an environment that allows us the freedom to be innovative."
LEARN MORE