Cilantro Lime Chicken with Avocado Salsa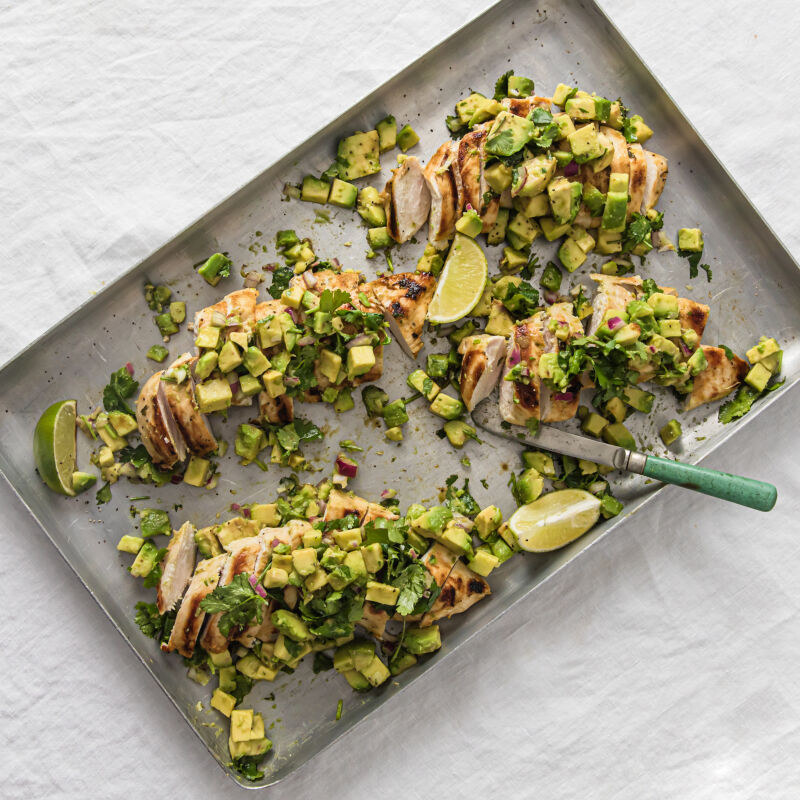 Cilantro Lime Chicken with Avocado Salsa
Nutritional Information
Calories

475

Protein

32.3g

Sodium

540.2mg

Sat. fat

6.8g

Sugar

1.5g
Nutritional Information
4 servings per recipe
Total Carbohydrate: 12.7g
*Percent Daily Values are based on a 2,000 calorie diet.
Ingredients
Ingredients
tablespoons olive oil, for cooking
cup chopped cilantro leaves
small garlic clove, grated
small shallot, finely chopped, or 1/4 cup finely chopped red onion
cup chopped cilantro leaves
Step One
Step One
In a medium bowl, combine the marinade ingredients; whisk to combine. Transfer to a large zipper storage bag, along with chicken breasts, zip closed and marinate for 20 minutes.
Step Two
Step Two
Remove chicken breasts from bag, pat dry and season on both sides with salt.
Step Three
Step Three
In a large pan or iron skillet, set over medium-high heat, heat oil. Place chicken breasts in the pan and cook for about 6 minutes. Flip and cook for an additional 4 to 6 minutes, or until a digital meat thermometer, inserted in the thickest part of breasts, registers 165 F.
Step Four
Step Four
While the chicken cooks, make the avocado topping by combining the diced avocadoes with shallots, cilantro, lime juice and salt in a medium bowl.
Step Five
Step Five
Top chicken breasts with avocado mixture and sprinkle cilantro and lime juice overtop. Serve.