Classic Bourbon-Infused Cocktail Meatballs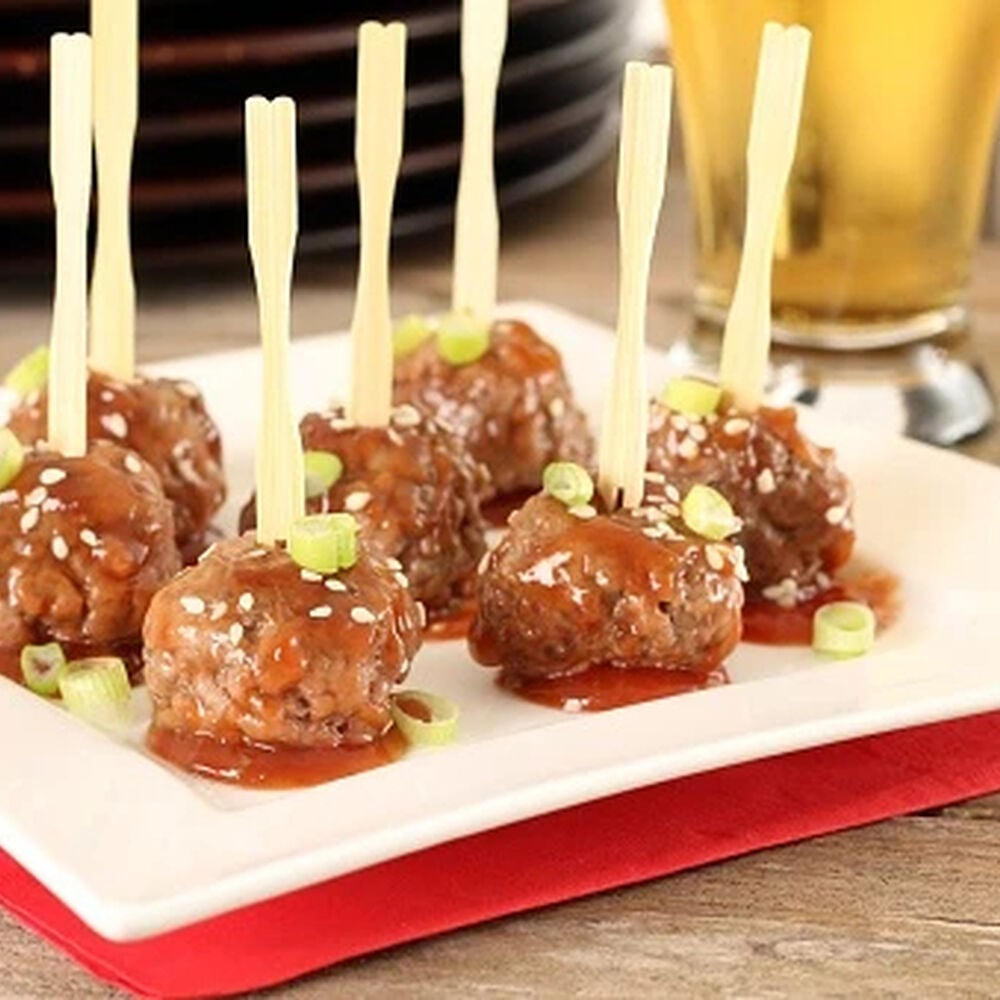 Classic Bourbon-Infused Cocktail Meatballs
These sweet and savory meatball appetizers can be cooked in a crockpot or the oven. Bourbon and brown sugar elevate the flavor of these ground beef bites, a modern interpretation of the chili and grape jelly meatballs most often served at holiday parties and baby showers.
Nutritional Information
*Percent Daily Values are based on a 2,000 calorie diet.
Ingredients
Ingredients
1 pound Panorama Organic Grass-Fed 93/7 Ground Beef
1/4 cup onion, chopped
1 clove garlic or 1 teaspoon dried granules
1 teaspoon dried thyme
1/4 cup rolled oats
1 teaspoon Kosher or pink salt
2 teaspoons cooking oil
1/2 cup Ketchup
1 tablespoon brown sugar, packed
1/4 cup Bourbon whiskey
1 teaspoon apple cider vinegar
1 dash Worcestershire sauce
1-lb. pack of organic grass-fed ground beef
Step 1
Step 1
If using the oven, preheat to 325 F. If using a crockpot, preheat on high for 20 minutes.
Step 2
Step 2
In a medium bowl, combine ground beef, onion, oats, spices and salt. Mix thoroughly until meat has a sticky texture and can be made into a large ball.
Step 3
Step 3
Heat a large skillet over high heat. Add cooking oil and begin to scoop the meatballs into hot pan using a small scoop or a sturdy teaspoon measure. Turn down heat and check that the meatballs are browning nicely, turn as needed and work in batches to make sure at least one side is browned.
Step 4
Step 4
Oven: Place browned meatballs in a casserole dish. In small bowl, combine sauce ingredients and pour over meatballs. Gently toss to coat with sauce and bake in oven for 15 min. Let cool slightly before serving.

Crockpot: Place browned meatballs into preheated crockpot. In small bowl, combine sauce ingredients and pour the sauce over meatballs. Turn crockpot down to low. Cook for 2 to 3 hours; turn to warm setting or cool slightly to serve.