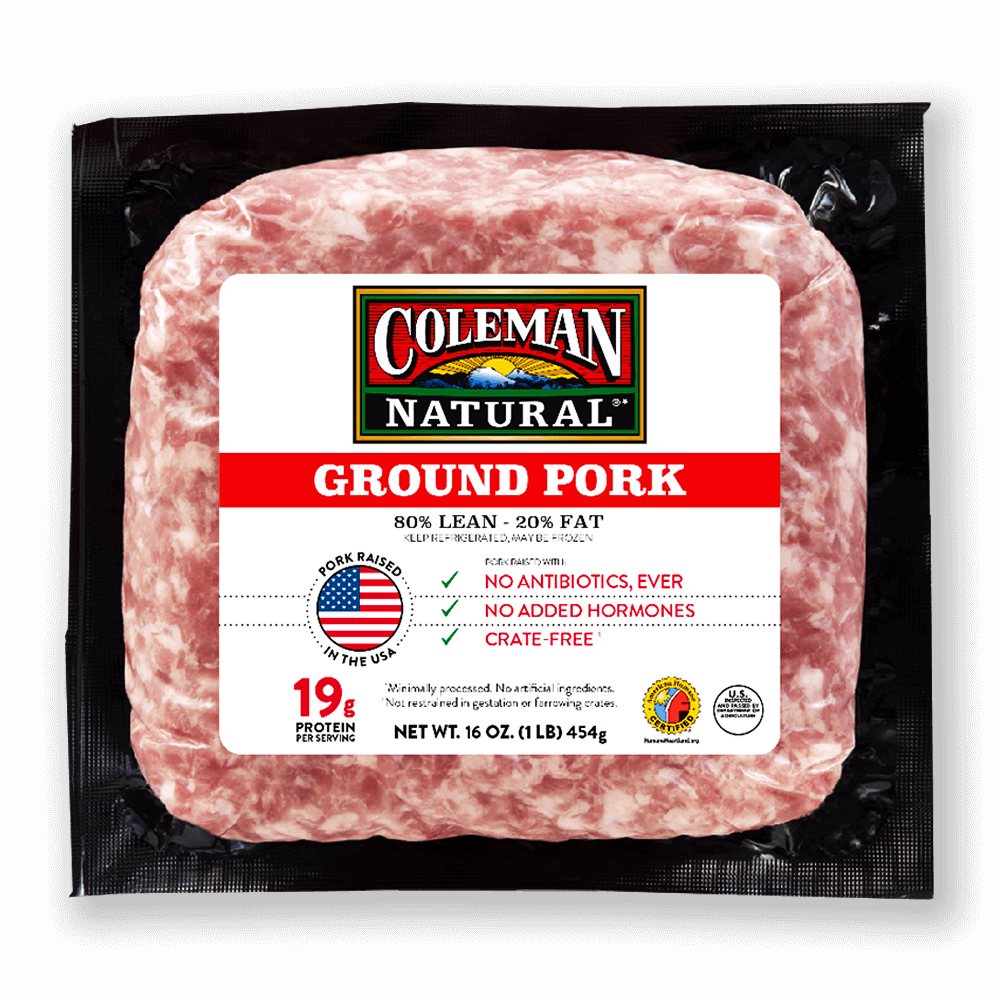 1-lb. pack flavorful ground pork
Your Price
Limited Time Only Save 40%
Regular Price
$9.99
Sale Price
$5.99
Each
---
Hand-Picked Favorites to Fill Your Freezer
Description
A delicious alternative to ground beef, chicken or turkey, our ground pork is a freezer staple you need in your life! A blend of 80% lean and 20% fat, ground pork can be shaped into burgers and grilled, formed into meatballs and slow cooked in your favorite sauce or added to an infinite number of international dishes ― from tacos and pizza to lettuce wraps and queso dip ― to up the flavor quotient. Pork is vacuum sealed and flash frozen at the peak of freshness to ensure optimum flavor.
About Coleman Natural
Coleman Natural Foods, one of the largest pork brands to source 100% crate-free hogs, works with farmers who are American Humane Certified™, never use confining crates and never administer antibiotics or growth promotants to their livestock. Coleman Natural keeps ingredients simple, making sure all products are minimally processed and contain no artificial ingredients. Learn more at Colemannatural.com
Quick Facts
1-lb. Vacuum Sealed and Flash Frozen Pack
Lean, Flavorful; Alternative to Ground Beef, Chicken or Turkey
Made With All-Natural Ingredients*
No Added Nitrates or Nitrites
Gluten Free
Sourced From Hogs:

Raised in the USA
100% Crate Free
Fed An All-Vegetarian Diet**
Never Administered Antibiotics, Hormones or Growth Promotants, Ever

*Minimally processed. No artificial ingredients. **Except for milk protein.
Product Handling
Keep frozen.
Cook and Prep
Thaw and cook to a minimum internal temperature of 160°F.
Ingredients
Ground pork, 80% lean, 20% fat
Nutrition
Nutritional Information
Serving Size 4 ounces (112 grams)
*Percent Daily Values are based on a 2,000 calorie diet.