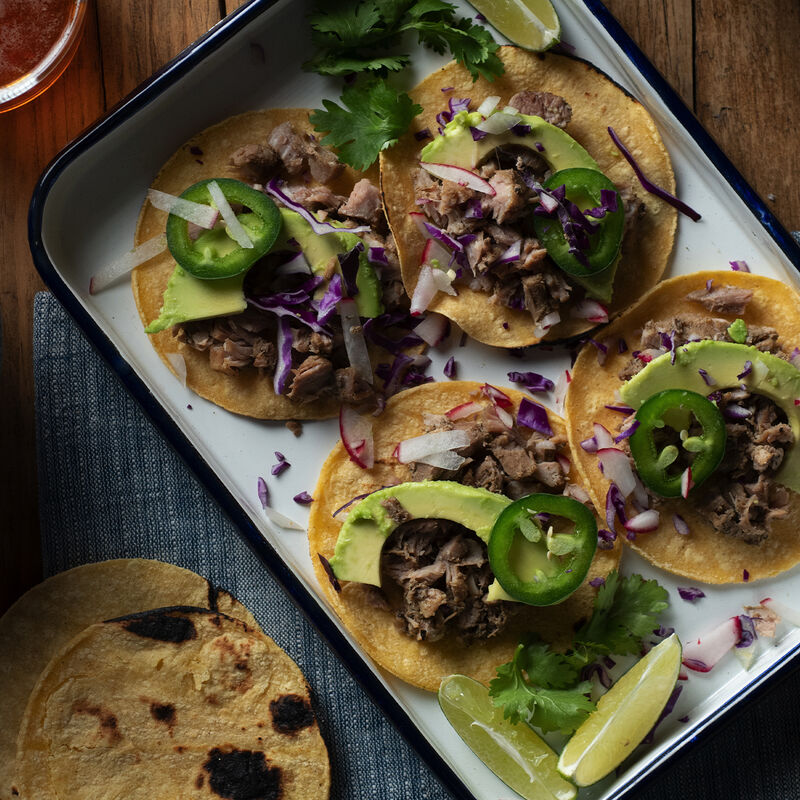 Set it and forget it! This recipe for slow cooker pork carnitas comes together so easily. Let the pork loin roast slowly, while you prepare toppings. Set out a festive spread and let guests build their own tacos.
Nutritional Information
Calories

990

Protein

97g

Sodium

1420mg

Sat. fat

15g

Sugar

9g
Nutritional Information
*Percent Daily Values are based on a 2,000 calorie diet.
Ingredients
Ingredients
4-pound pork loin roast
12 corn tortillas, heated through and slightly browned by cooking on both sides in a dry, heavy-bottomed skillet, preferably cast iron
2 tablespoons olive oil
2 oranges, sliced into quarters
2 limes, slicked into quarters
2 medium onions, peeled and sliced into quarters
4 to 6 cups water
2 teaspoons salt
1 teaspoon freshly ground black pepper
1 bay leaf
1 teaspoon dried oregano
1/2 cup fresh cilantro leaves
2 limes, sliced into quarters
8 to 10 radishes, thinly sliced
2 avocados, peeled, halved and sliced
Timing
Timing
Prep
10 minutes
Cook
8 hours
Step One
Step One
Rinse pork roast and pat dry with paper towel. Rub all over with olive oil, then sprinkle with salt and pepper.
Step Two
Step Two
Place pork roast in slow cooker with fat side up. Add all other ingredients to slow cooker, making sure there is enough water to cover the roast at least two-thirds of the way. Cover slow cooker with lid and cook on high for 6 to 8 hours, or until roast is tender.
Step Three
Step Three
Remove roast from slow cooker and, using two forks, shred into smaller pieces. Add pork to warm tortillas, serve warm with toppings.