Asian Chicken and Slaw Wontons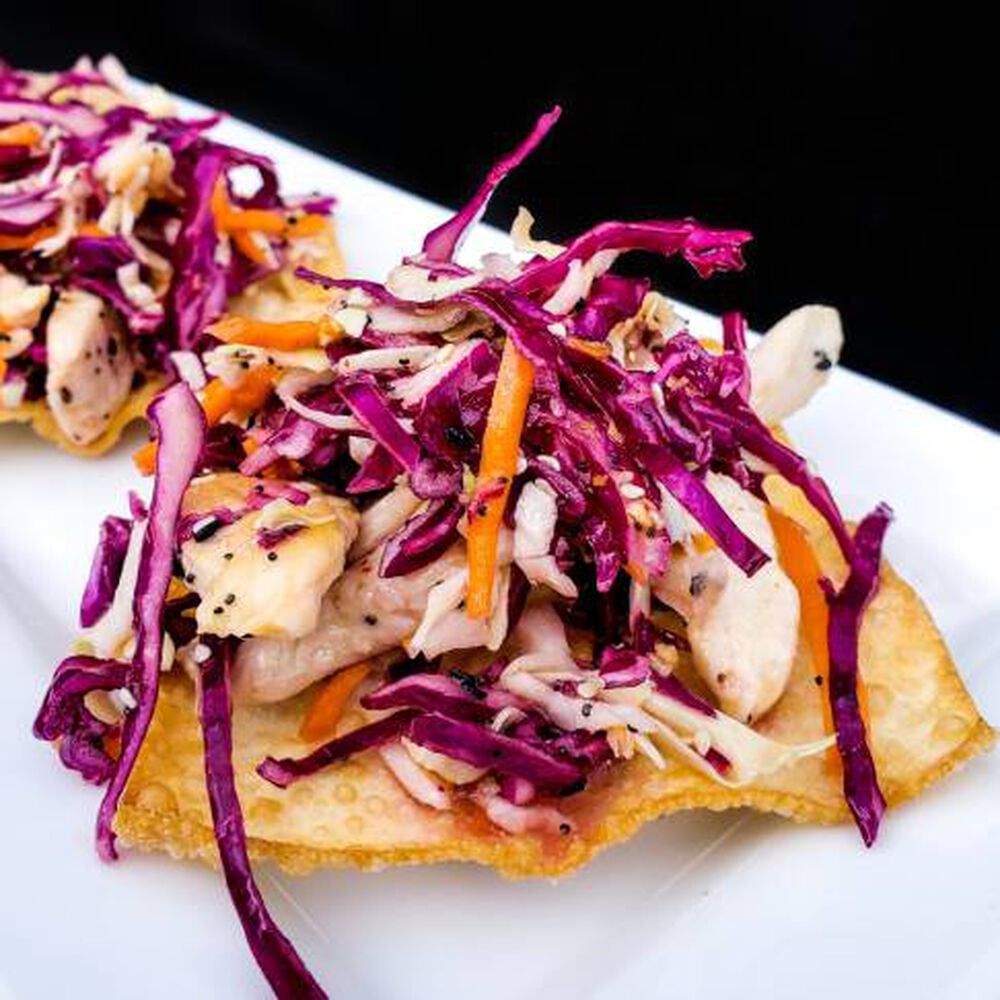 Asian Chicken and Slaw Wontons
Light and refreshing, these wontons make a great weeknight meal or party appetizer. A fun twist on a tostada, you will love the texture of the tangy slaw paired with a touch of heat and crispy crunch of the fried wonton. Wontons fry very quickly, so work fast. Before you start fryling, set up a station with paper towels to drain oil from wrappers. To make wonton salad bowls, use a ladle to push down on the center of the wrapper while it's frying. Fry a few seconds longer on this side, and flip.
Nutritional Information
*Percent Daily Values are based on a 2,000 calorie diet.
Ingredients
Ingredients
1 pound Perdue Fresh Cuts Chicken Breast Strips
1 package Wonton wrappers
2 cups shredded red cabbage
1 package mixed slaw with no dressing
2 cups cooking oil
1/2 cup rice wine vinegar
1/4 cup apple cider vinegar
1/4 cup olive oil
2 tablespoons white sugar
1 tablespoon sesame oil
1 tablespoon sriracha sauce
1 tablespoon "everything bagel" seasoning
Step 1
Step 1
In a hot frying pan, add two turns of extra virgin olive oil, add chicken strips and fry until cooked through. Set aside
Step 2
Step 2
In a medium mixing bowl, add mixed slaw, red cabbage and dressing ingredients, mix thoroughly, add cooked chicken slices and chill in the fridge for 20 minutes.
Step 3
Step 3
In a medium saucepan, heat 2 cups of cooking oil, like vegetable oil, on medium-high heat. Once oil begins to ripple, add one wonton wrapper at a time to the oil. This process goes very fast: Cook each side for only about 5 seconds. After you have fried each side, place on a paper towel to absorb excess oil.
Step 4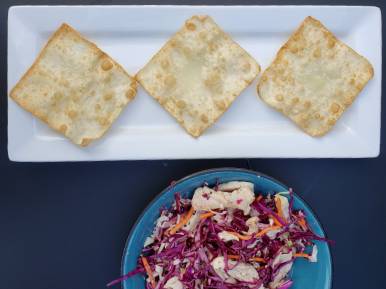 Step 4
After wontons are fried, plate them and top with chilled chicken slaw mix.